Here at EDSBS, we have a special relationship with a certain Alabama-based artist who offers his works here at exclusive discounts NOT AVAILABLE ANYWHERE ELSE. We can't disclose the name of the artist, because that's just how low the savings are! Nevertheless, we think you'll be shocked at just how affordable this MAJOR COLLEGE FOOTBALL ARTIST'S SURPLUS OFFERINGS ARE!!!
Warning: some of these images are TOO SEXY FOR YOUR OWN GOOD.
Samples Alabama fans and college football aficionados will enjoy alike include:
"MAKIN' IT RAIN!" Made with only the most advanced of MS Paint technology, "Makin' It Rain" depicts the brief and colorful reign of celebrated football coach Mike Price at Alabama.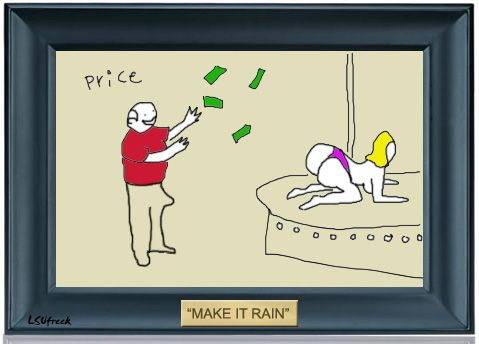 Put it in your "man-cave" for that extra special touch of sexy! Price: $889.00, marked down from $1,599.99.
"CANNONBALL" Ah, the days of summer have never been captured as well as they are by our COLLEGE FOOTBALL ARTIST.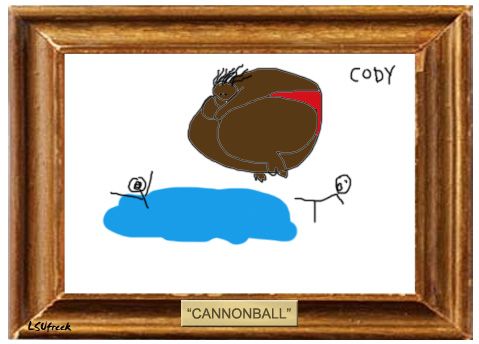 Look out when Mt. Cody dives in your pool! The splash will be as big as the TIDE of emotion you feel every time you look at this fun-loving portrait of a beloved Alabama tackle and local geological landmark. Priced to move at $699.00.
"THE DESK" Explore the more sensual side of Alabama football with the ode to the Mike Dubose era, "The Desk."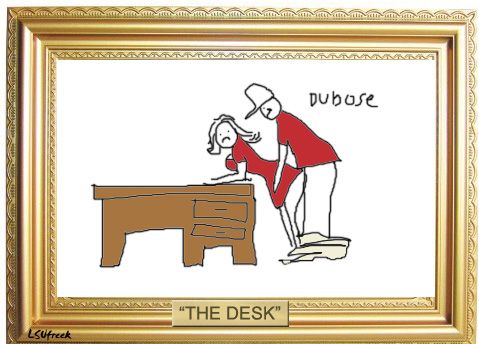 Priced at $799.00, and due to content must be purchased with proof of age as all purchasers must be over 21. Also not to be used as sex toy in compliance with Alabama state laws, so please do not look at it during conjugal activities.
***SPECIAL OFFER!***Steve Spurrier's head may be placed on the woman for ONLY AN ADDITIONAL $399.99!
"SPERM FAIL " The Shula era was emotional for all involved, especially the Shula family. This turmoil is documented in touching detail by our artist here in "Sperm Fail."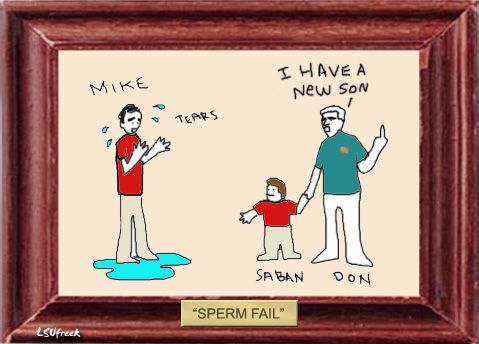 Available for $299.99 with FREE NICK SABAN PLACEMATS.
"THE PROCESS" An internet exclusive! Only available online, "The Process" tells the story of the Crimson Tide's triumphant SEC Championship Game triumph over the Florida Gators. Nowhere will you find a more stirring tribute to what "The Process" truly means!
Order now for the low price of ONLY $2,599.99!
EXCLUSIVE PRICING ONLY AVAILABLE HERE! CALL BEFORE KICKOFF TONIGHT AND RECEIVE A FREE PAUL FINEBAUM MASK, ALSO NOT TO BE USED A SEX TOY IN ACCORDANCE WITH ALABAMA STATE LAWS! ROLL TIDE! ORDER NOW!