...then a fat girlfriend steps into the kitchen,
Says "Coach Leach where's my man, I'm askin' you cause he gone missin'!"
He says "Talk to the guaaaaaard!"
She says "Why's there a guaaa-aaaaaarrrrd?"
Guard says "Cause I'm a guaaa-aaaaaard!"
She says "Why you rushin', you know he got a concussion,"
And then Coach Leach says "I'm tryin' to get fired bitch, so keep up your fussin'
I got to let this boy out
So he can talk to his daddy
So they'll think that I'm batty
Get a new job thanks to this kid bein' bratty."
So Leach says, "Man show this girl that he's fakin'"
The guard says "Coach, you sure you want to mess up your life?"
As he ate a plate of bacon,*
Leach says "YES."
The lady says "NOOOOO"
The guard says "None of this shit makes sense, but here I go."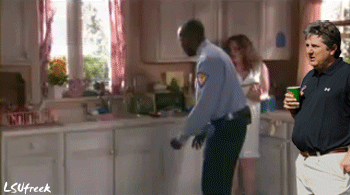 He walks to the cabinet, he's close to the cabinet, now he's opening the cabinet.
Now pause the movie cos what i'm about to say to ya'll is so damn twisted,
Not only is there a man in his cabinet, but the man... is a CRAIG JAMES'S SON!
AND A MIDGET
A MIDGET
a midget...
*Patented R. Kelly dramatic note of no actual consequence or relation to the story.