Opening kickoff and WHOOOOP!!! Down to the 35 yard line and David Akers from...from....
Tom Jackson: (sighs) Louisville.
Berman: Tom, Jesus, sound like you gotta pair. Edit that out. Let's keep going.
Jackson: ...
Berman...and the pick by Fred "Rockin!" Robbins! Tweet! Tweet! Tweedly-deet!
Jackson: Heh. Heh.
Berman: Cut. CUT! TJ, you gonna join the land of the living here? I make a funny, and you're giving me the half-heh. I need a full chuckle out of you to make this happen. You're here to laugh at me and talk a little football. You ready, Chuckles?
Jackson: Yeah. I'm...I'm ready.
Berman: Why are you wearing a white tux, by the way?
Jackson: I'm going to a party in a minute.
Berman: Hey, are you gonna get your man Boomer in on that party?
Jackson: Oh, I will. I just have to wiggle my finger and you'll be in.
Berman. All right. Now let's see some first-rate second banana action here, TJ. Now that's McNabb to Buckhalter! GENERAL BUCKHALTER!!! KLINK! YOU'RE AN IDIOT!!!
Jackson: That Hogan's Heroes reference does it. I'm inviting you to the party right now, Boomer. WHOOOOP!!!! Would it pain you to mention something that happened after 1990? DO YOU KNOW HOW FUCKING ANNOYING THAT NOISE IS?
Berman: What? My WHOOOOO---
Jackson: Finger. Wiggling.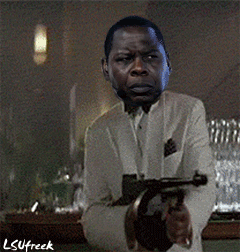 Jackson: TAKE YOUR BUSTED ASS BOOMER SCHTICK TO HELL, BERMAN! STRAIGHT TO FIERY HELL, YOU FAT BASTARD! OR SHOULD I SAY, BACK BACK BACK TO HELL, ASSHOLE!!!
God it's going to suck watching NFL football for the next tree weeks just because of the people who cover it. Especially Chris Berman.