Scene: an unnamed Latin American urban center. Raw sewage flows through the gutters. A hopelessly beautiful child is held at gunpoint by armed thugs who, in addition to being evil for holding up a little girl with an AK-47, are ugly and wearing ugly clothes.
Bandito: And now, amigos, we'll see if the girl gives up the candy!
Girl: Chinga te, cabron!
The girl kicks the bandito in the balls. He crumples. She runs, and turns down a dark alley. The gang scrambles after her. The alley runs into a dead end. The girl stops, her face lit dramatically from above.
Bandito, limping in: And now, chica, I will teech you sohm reeespect!
A wiry, handsome form comes into the frame behind the bandito. It is BROCK CARDINAL, ex-Navy SEAL, Congressman, and former car thief and chemist.
His hair is perfect. His jaw is jutting, and his black skin glistens in the sun. He looks like America. He subdues every gangster in two seconds.
Brock Cardinal: Respect yourself, vato.
Bandito: Who theee fack are youuuu? What did you do to my meeeeen?
Brock Cardinal punches the Bandito in the testicles five times in a row. The bandito reaches for his gun, only to be punched in the balls three more times. He falls.
Girl: Thanks, gringo.
BC: No, I'm sorry. I know you were about to take care of this yourself, right?
Brock Cardinal's commando team shows up behind him. Sparks, his demolition man, is a trigger-happy Southerner wild for fast cars and fast booze; Dr. Elena Hendrix, a psychiatrist and FBI agent, is the heart of the team. She is also Brock's ex-wife. Snoopy is the computer hacker and is quick with small arms. Bento is the contemplative Zen sniper and low-level helicopter ace.
Elena: Are you hurt?
Brock: Only by the constant cruelty of men. He's got two ruptured testicles, though.
Sparks: Woooo---WEEEE!!! When are we gonna get down to it, Brock? Mah killin' hand is gettin' all ache-ified!
Brock: Nevermind the sideshow. We're not here for a fight, Sparks. We're here to find someone. Someone so lost they may not even know who they are anymore.
Whooshing cut to bunker scene. Improbably expensive computer equipment and unnecessary tracking maps glitter in the background.
Brock: His last known location?
Snoopy: [pushes up glasses, wheels chair into desk.] The Rose Bowl. January of this year. Then, after that...POOF! It's like he didn't exist...until last week, when we traced a satellite phone call to this location.
I watched a snail crawl along the edge of a straight razor. That's my dream, it's my nightmare. Crawling, slipping along the edge of a straight razor and surviving....BUCKEYE!!!
Brock: We've got to find him before something bad happens. His country needs him.
Snoopy: [fingers to headset] Wait...WE'VE GOT A LEAD!
A quick-cut montage of cars screeching takes the team to a quiet alley. A man lies crumpled on a doorstep. Liquor bottles surround him. He takes no notice of the cars, or of the team walking up to him.
Brent Musburger: I knew you'd be coming for me.
Brock: We meet again, Brent. Your country needs you.
Brent: Every fall, the same...
Elena: Sir--
Brent: DON'T SIR ME. I know what's gonna happen. I asked for this mission. I prayed for it. And now...now I'm dead inside. I've lost it all. It's not my fight.
Brock: [puts his hand on Musburger's filthy shoulder.] No, it's not your fight. It's ours. And...it's his, too.
Brock reaches behind him. Snoopy thrusts a manila folder in his hand. Brock takes it dramatically, opens it, and hands a photo to Brent.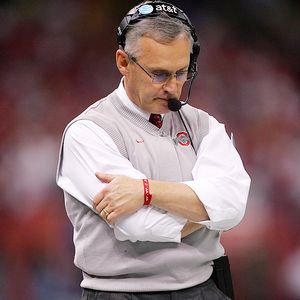 [Brent's expression comes to life. His cheeks tremble. Tears brim at the crusty edges of his bloodshot eyes.]
Brock: Sir, it's time to go.
Brent: [standing up.] You bastards.
Brock: I knew you couldn't say no to him.
Sparks: GO GO GO GO GO GO GO GO GO GO GO!!!!
A chopper lands in front of them. They crouch and board the helicopter.
Sparks: It's time to BLOW THIS PINATA OPEN AND HAVE SOME CANDY!!!
An entire city block explodes beneath them. Balls of orange flame beget larger balls of orange flame. The helicopter is buffeted by the explosion. Civilians scream and wail below.
Brent: Wait...why did you just incinerate a whole neighborhood---
Brock: THERE'S NO TIME FOR THAT NOW!!! GO GO GO GO GO GO GO GO!!!!
[END SCENE]