Georgia began their campaign for a national title in college football with a disheartening loss to the nation of Russia over the weekend, according to international observers and correspondents on the ground.
Using a powerful ground game and a dominating aerial assault, the Russians broke through the vaunted Georgia line "with the ease of a hot knife through butter," according to Major General Vassily Pretsky at a press conference in Moscow on Sunday night.
"We have neutralized the their offensive front with tanks and missiles, and eliminated any threat through the air with a concentrated assault on their defenses. There was little challenge in the matter for us."
"Surrender, Bulldogs of Georgia, before we run out of the mercy we have displayed thus far."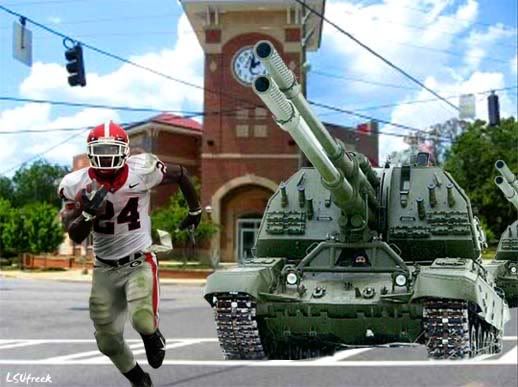 Coach Mark Richt was evac'd to a waiting mobile hospital in Landstuhl, Germany, and is listed in stable condition with multiple bullet wounds. Quarterback Matthew Stafford, and running back Knowshon Moreno are currently listed as "DL, Missing in Action." Defensive tackle Jeff Owens is listed as "knee, missile; 3-4 weeks."
Linebacker Rennie Curran alone was reachable by text message, and described his situation as "Bad, but I'm from Liberia, so it's all relative. Holding steady near Viliskinsk, send Muscle Milk, Ripped Fuel, and protein bars. Good on ammo."
The game was a rout from the beginning.
At the kick, Russian tanks broke through Georgia's defense and rolled around seemingly at will, knocking down apartment complexes, flattening homes, and neutralizing the all-important run game of the Bulldogs completely.
Larry Munson was overheard as his booth was overrun by Russian troops. "They have stepped on my face with hobnailed boots and broken my nose. Literally. The Gators are one thing, but these guys are, if you'll pardon my French, real assholes." The transmission was then cut off shortly after these remarks.
Georgia Athletic Director Damon Evans said the defeat was a natural consequence of an increased emphasis on beefing up Georgia's national and international profile with more out-of-conference games.
"This kind of thing happens with out-of-conference games. You want to play the best. You want to test yourself against the same guys who shocked the world at Stalingrad and at Kursk. We'll grow as a team because of this. We'll learn. We'll get through the rest of our SEC schedule, provided we can recover our team from the piles of rubble they're currently hiding under."
Ennis Johnson, a 46 year old resident of Canton, Georgia, expressed his heartbreak over the ruination of Georgia's national title chances over a cup of coffee and a generous serving of scattered, smothered, chunked, diced and peppered hash browns at a local Waffle House.
"I knew we had a tough schedule, but Russia? I didn't even know they had a team."
"This is what happens when you leave the South. I told my friends this would happen," added fellow Waffle House regular Robert "Bud" Taylor, 41.
"They torched us through the air. Russians can't even make concrete right, much less throw a football. Just imagine what Rudy Carpenter will do to us."
Taylor looked down at his eggs, and then stared out the window. Tears filled his eyes.
"Tech sucks."
Experts found the scheduling of the game surprising. They were even more shocked by the results.
"The speed of the Russians really surprised them," said analyst Mark May of ESPN. "They were much faster and stronger than Georgia expected, and really put pressure on the front four with their rushing attack."
May paused. "They also had tanks. That helped, too."
Lou Holtz, who works with May as a commentator for ESPN's College Football Preview, responded to questions with "TO THE BUNKER! THE SPANISH HAVE ARRIVED!!!" His whereabouts are currently unknown.