Orson and Hannibal go over the week's ledger, trendy style.
HANNIBAL'S BUYS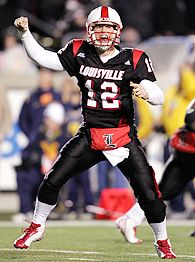 Celebrate! You never go out of style.
Louisville: Knit jacquards with stripe and basketwork motifs
By the laws of cool, the Cardinals should've been all washed up by now. All those naive dreams of peace and love, a touchdown on every drive, it all sounds great in theory, until everyone realize for all the pretension you have no plan for defense. My, though, but how the mood has changed: with just one conference loss, off a convincing, turnover-free win at undefeated Cincinnati with West Virginia, South Florida, Rutgers and UConn still in front of them, the
Cards could still mature into Big East champions. Going with UL may sound like a bold statement, but all-American quarterbacks never go out of style.
Michigan:
Culture of paradox, play of contrasts, new aesthetic rules rooted in the old. Unostentatiously sumptuous, with accessories meant to disrupt the mundane with bright and unexpected accents. Forget those "wardrobe malfunctions" that made the headlines: in its natural setting, with the right accessories, this understated look can't miss. More evidence that layered looks are
about more than just covering up.
ORSON'S BUYS
Hiro could run the Statue of Liberty, no problem.
Boise State. Television division, "Heroes"
Like Heroes, seemed poised for one year of esoteric brilliance before fading back into the basement of geek adoration (superheroes! trick plays! blue turf!). Yet both have come roaring back into form in midseason, admittedly both in unreal fashion (superpowers for Heroes, winning without defense against Nevada in four overtimes.) Hawaii is fading like The Office, as they're both passing into banal self-parody, leaving Boise to assume the humble mantle of saving the world all by its lonesome in the WAC. Boise is a stylish buy going into the WAC stretch with Ian Johnson and his equally esoteric but stylish knit hats as a logical accessory.
Florida Extremely personal personal scents. Oh,Tom Ford may be lambasted for his perfume with just that special whiff of crotchstink, but just you wait--it's the future and you'll be bathing in the stuff like Charles Bronson dousing himself in Mandom in no time.
Urban Meyer's group of young hand-picked mutants may reek of essential teen hormones, but they, too, are the future, and will show it when they cruise off the delicious fumes of defeat anger/bye week rest/essence of preparation against Kentucky. Odiferous, stenchy youth--it's the must-have scent for the Gator fan in 2007. Crave it, you will.
Texas Tech The road-safe rally car.
A VW GTI MkV of a team with nimble skills, ample horsepower, and now an extra tuff crash rating thanks to new defensive coordinator.
HANNIBAL'S SELLS
Wisconsin: Men's flares
You thought the 'retro' thing was cool, huh? Not that we have anything against a physical running game, but you have to remember: playing no defense whatsoever was never cool to begin with.
Miami and Florida State: Flannel shirt (probably tied around the waist; leather jacket
optional over plain white tee).
We're all moving to Seattle! Flannel!
The fastest route to a sure fashion "don't" is to keep trying to look like what you used to look like. Dressing for the team you are today may mean cleaning out your closet and re-building your offense from scratch – don't go on pretending you have the hairline (or the waistline) you did those half dozen times your college band scored actual groupies when the whole world can see you've put on a few and would be better off just slowing down already. Get back to basics: you got by on your looks and charm in the early nineties, but the real secret to your success? Even then, it was the offensive line.
Illinois: Atkins Diet
OMG, you didn't really fall for that low carb, Juice Williams hype, did you? Like, Arrelious Benn may be all that, but until he gets a quarterback who can do something other than take an option look down the line, keep the Illini in the closet.
ORSON'S SELLS
Purdue. Old-man hipster chic.
Oh, old man chic works every now and then. That guyabara you had looked great for three seasons or so, along with the heavy creased poly slacks and the bowling shoes. Joe "Diabeetus" Tiller would have been proud, since he's been pimping the same game for years: munch up early on cannon fodder, then take a 5-0 or 6-0 record into the heart of their Big Ten schedule and end up around .500 for the year. It's time to modernize that look, hipster, before you cross the line between camp and schlock...which is precisely what Purdue's paleo-spread has seemed to have done.
Kansas: Leggings.
BOOOOOO!!!
Oh, Leggings came back for this year, but they're designed to conceal something that should be exposed: talent. Kansas has hidden behind a weak slate of opponents and is sailing into their Big 12 schedule sans matchups with Texas, Oklahoma, or Texas Tech, meaning they'll be wearing a cotton mini with leggings when the championship games and bowl season comes around. As with leggings, trust what you can see, and aside from a matchup with Missouri, we think Kansas is one trend destined to both last longer than it should and disappear with a snap of a stylish finger and thumb.
HANNIBAL'S HOLDS
LSU: Little black dress
When in doubt, don't be afraid to go with a sure thing. So that grad student stole your thunder at the last cocktail party with her heathery deep-V halter. Stay confident next time that your figure can still pull off that slinky number and that overwhelming talent and a rocking defense is still the combination for winning football, and you'll come out ahead.
Penn State: Toggs Amphibious Neoprene Stockingfoot Chest Waders
They're functional, dammit, and if they got the job done in 1982, they'll get the job done while all the hipsters are wetting their black cotton stretch pants cause they lost two games. Get a job.
Missouri: Versatile Gigi wrap
Seeking a trend-proof style that traveled well, Gary Pinkel struck an inspired pose with Chase Daniel, this fall's must-have run-pass threat who could create the "illusion of fit" in any offense. Even Daniel was completely hemmed in by Oklahoma's run defense, he had the Tigers in a position to win late on the road with his prolific arm. Traditionalists may balk, but now that the conservative, broad-shouldered red look is definitely out, the Tigers might prove yet that
perfect "dress down" alternative in the Big 12 North.
ORSON'S HOLDS.
South Florida Music: Maroon 5
We don't turn them off when they pop up on the radio, and their gloriously and unabashedly trashy sound certainly meshes with nouveau-and-not-afraid-to-admit it South Florida. They even combine most of their public attention on their respective front men--fashion-forward types (Levine, white disco suits, Grothe, a white "athletic quarterback.)
But hype around either of these cannot be more overtaxed or overwrought--South Florida will lose a game soon, possibly multiples, and most likely because of the same traits that got them to this point: Grothe's reckless play. He takes chances, wins games--yay, scrambling daredevil banditoback! He takes chances, throws into double coverage for a pick--boo, careless, conceited bastardback!
Either way, both will be overexposed very shortly. You still won't change the channel, of course, but you're certainly not picking up the whole album.