Again: this is a required presentation by Human Resources. That is why it is long and boring! Pay attention or face sanction at the hands of Manny, the sketchy snack bar guy downstairs who you suspect does not wash his hands adequately! He will serve you a filthy Reuben, and it will perturb your bowels like a thousand of Morbo's offspring dancing in your duodenum.
We begin part two of your human resources briefing, which we have titled "The People in Your Neighborhood." This is an attempt to humanize this process by making you associate it with the cuddly, warm feelings of your pampered television childhood. Coffee has been provided, as have starchy, sugar-infused pastries located on the tables.
Morbo suggests you sit down and enjoy part two. He will be watching and attempting not to feed on your stinking but still nourishment-rich flesh.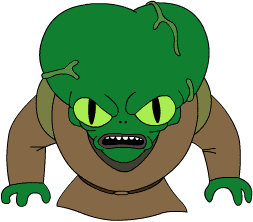 Morbo from EDSBS HR suggests you listen.
Jeff Tedford, Cal.
Status: retread? The biggest message board prediction of 2005--that the spread option wouldn't work in the SEC against fast defenses--may have been true with a slight geographic twist and a tweak of the timeframe. the spread didn't work against defenses in the Pac-10 in 2006, or at least not to the liking of coaches.
Despite having significant success at Oregon, Gary Crowton's modified spread attack is now downloading into the brains of LSU players. The Pac-10's other spread convert was to be Cal, who hired Northwestern's Mike Dunbar to come in and tweak Tedford's offense to bring a whiff of the spread to Tedford's already productive NFL-style offense.
Doing this seemed like giving Serena Williams an ass-lift at the time--an exercise in superfluity to improve something which looked just fine to begin with, frankly. Perhaps the thought was to utilize the more "athletic" talents of Joe Ayoob, a run/pass threat more suited to the spread attack, with all those pesky variable runs out of the shotgun.
Ayoob turned out to be a musketeer, spraying shots in every direction and capable of missing a wide open man with flair that came dangerously close to being a talent in itself. With Nate Longshore (a more traditional quarterback in the Tedford system) running the spread at Tennessee to start the season, the whole experiment went from an orderly mess with a potentially explosive catalyst like Ayoob to being something closer to Kentucky's offense, a quasi-spread of short routes, ineffective shotgun runs, and three-and-outs.
The hybrid still racked up points, as Cal's wont to do. But aside from a four game stretch of absolute carpet-bombing Minnesota, Arizona State, Portland State and Oregon, the offense's productivity went down as the season went on, most notoriously versus USC in a 23-9 loss. After the Oregon State game, Cal's quarterbacks didn't pass for 300 yards once, not even against the cuddly, enabling pass defense of Texas A&M in the bowl game.
Dunbar's return to the Big Ten and the job running Tim Brewster's offense at Minnesota now ends the awkwardness, and also guarantees that Minnesota/Michigan will be a bonified shootout, since spread sets seem to be offensive gonorrhea for Michigan (discomfort, pain, burning sensation--all there.)
Jim Michalczik is listed as the offensive coordinator on their website, but classic Tedford should be back in vogue in Berkeley, naked protesters be damned.
This means joy for offensive whores like ourselves, since Tedford's play-action post play may be one of the most elegantly drawn-up and executed plays in college football, no matter who's throwing it.
Yes, more Youtube to drool over. Really: this isn't football, it's trigonometry in motion.
Jimbo Fisher, FSU.
Status: hot n00b. An odd appellation for such a veteran guy, but technically Fisher hasn't reached his career apex yet: never a head guy, former Auburn coach who then used LSU as his resume builder, and likes to be one thing and one thing alone: really, really confusing.
As noted with Gary Crowton, can out-genius himself at times like a kung-fu master tripping on his own robes. We've watched zillions of hours now of Fisher calling games, and even now it's hard to pick out precisely what he's bent on doing...though that's the point, no? Toss sweeps, countless screens to the wideouts and backs, lotsa play-action passes, power runs to set that up, and every series one bomb to a streaking wideout if he's got a qb with enough arm to do it. (See: Jamarcus Russell)
Throw in some qb draws, a few reverses, and whatever the hell else pops into his brain, and there you go. You basically have to worry about only one thing, and that's everything plus the Dubuque Fakeroonie. You've never heard of that? Too bad. It's coming in the third quarter along with everything else in order to do one thing: make big plays, change field position, and stun people into submission with the best tools you've got.
As exciting as this all sounds, Fisher's braininess might have one impediment: his shattered crew of quarterbacks and the lackluster offensive talent surrounding them. If Matt Hayes says Florida State has explosive talent just ready to be exploited, it means one thing and one thing only: Florida State does not have the explosive talent it once had. Bowden the Younger had no clue what he was doing in any sense of the word "clue," and it showed even in recruiting, which explains why everyone behind the offensive line on FSU spent the last five years backpedaling or picking turf out of their facemasks.
New o-line coach Rick Trickett and Fisher will have a serious, dramatic impact we'd actually like them not to have, being a Florida fan who's benefitted greatly from Jeff Bowden's imeptitude. But it's going to be a rebuilding process on offense--the decay's too deep and embedded--and the Florida State offense won't be in full stride until late in the season, just in time for the Florida game. Um...yay.
John Bond, Georgia Tech.
Status: n00b. But a veteran n00b, and one with a good record of doing what rising offensive coordinators do: piling up points with limited resources. Bond set records at Army prior to the move to NIU, where his offense rode Garret Wolfe 'til the wheels fell off. Heavy on the run, as you might see here, but then again, if you had Wolfe, you would be, too.
Bond will allegedly have free rein to call plays under Chan Gailey. This means he will be co-coordinator, in effect, sticking to Gailey's insistence on calling one half of meaningful football followed by a muddle of counters, quarterback draws, and ineffective passes. Considering Bond's long record of success, this may be a problem for him. We'll continue to monitor the situation.
One positive for Bond is that with the graduation of Reggie Ball, he actually has a quarterback to work with, something his predecessor didn't. Nevermind that Patrick Nix still parlayed his stay at Tech into a job at the University of Miami, possibly on Randy Shannon's assessment of "He beat us with who? Wow--imagine if he had a quarterback. A real, thinking, live-armed qb."
Tech fans, he will be the guy throwing the ball under center. It's been a while since you've seen one.
Mike Dunbar, Minnesota.
Status: Retread. A former head coach at Northern Iowa, former Northwestern OC, and Big Ten vet returning from an unsuccessful one year stint on the West Coast. But who doesn't do that? Yeah, went West for a while. Tried to break into film. Wound up doing porn on weekends and working as a roofer. Glad to be back in the Midwest, but dude, the cold's gonna take some getting used to!
Dunbar, who we would like to point out went west with a legitimate job and did not work in the porn or roofing industry, is back at Minnesota under the very enthusiastic Tim Brewster. The change should be a radical one in terms of basic formations, but not of approach: Minnesota's line is lean and mean, and will adjust well to the running schemes of the Northwestern spread.
The passing game's a whole different question. Tony Mortensen and Adam Weber competed during spring for the helm of what could be a digit-happy offense, but neither's been a starter before. To lessen the pain experienced by Michiganders, we'll refrain from double-posting the Northwestern clip again, and just suggest you look there to see what kind of sets and runs you'll see in Dunbar's offense.
Patrick Nix, Miami.
Status: n00b. Unsure as to exactly why Nix got this job, aside from working a team to a winning record with Reggie Ball under center. His Georgia Tech bio (Miami's isn't up yet) says all you might need to know here:
Patrick Nix spent five seasons at Georgia Tech from 2002-06, including his finally three years as offensive coordinator. He also coached the quarterbacks, his former position as a player.
We're tempted to type NO DATA AVAILABLE here. Nix's offense seemed so unimaginative, rote, and ineffective last year at Tech, but the confounding factors make us think any judgements from last year would be clouded by Gaileyism and his "mercurial" quarterback. Our finally estimate will have to wait until he gets a few games in with his new toys at Miami, whose offense couldn't in (theory at least) regress from last year.
The hater's storyline? Nix working with Kirby Freeman, a FIIGD scrambler with real bizarro entertainment value. If Ball's any indication of his mentoring, Miami fans could be sweating blood if Freeman gets the starting job.