Freshmen typically don't make huge dents in their initial year in college football. If they do, they typically enter two career tracks: the Herschel Walker path-strewn-with-rose-petals career track, where children are named after you before you graduate, or the Mike Vick pattern where a spectacular peak in his freshman season dwindling out in a pitter-patter of injuries and unfulfillable expectations. (Not that THAT ended badly for him. He's still able to afford the finest of chiba, and the elaborate technology required to transport it through airports successfully 99.999% of the time.)
Point is: even if you peak early, you'll still have a peak. That's more than most people can say about...well, about their lives, really. And in trying to write your "WOOO freshman who you should watch!!!" column, you're looking for players who through massive graduation losses, sheer ineptitude by coaching staffs, or dumb luck could have the chance to alter game plans singlehandedly.
They typically tend to be at skill positions like running back, where quick-twitch nothink can get someone very, very far on talent and gall alone. Guile and technique take time, which is why linemen take years of coaching and investment to grow save for the umbrella-handed natural Orlando Paces of the world. There's a few in there as well, but as you'll see they're of the obvious sort. (Hello, Marvin Austin.)
A few of our future Walker/Vick career path selections...
Joe McKnight, RB USC. Potentially horrifying scatback-y type from Louisiana who already fit the USC mold coming in by embroiling himself in a minor recruiting controversy. Allegedly runs a 4.3, allegedly shifty as Juan Pablo Montoya on a road course, and definitely loaded with blue-chip reputation burden. Fortunately for him, so is everyone else at USC, so he's in good company, even in a packed backfield. Carroll (hearts) freshmen, and could use McKnight as Reggie Bush was used early in his career, making appearances on third down, in the slot, split wide, and hopefully not skeezing a free house off a semi-retarded sports agent under his coach's nose.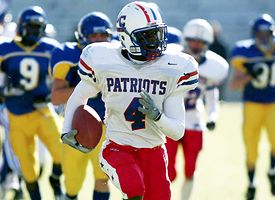 Joe McKnight: elusive, as Les Miles and Ed Orgeron found out the hard way.
Noel Devine, RB WVU. Noted physical freak with academic shortcomings, Devine has qualified at last and is heading to West Virginia. Given the slew of speedy, option-friendly talent already stockpiled there, Devine would seem to have a year of chopping in front of him. Consider that his coach will be Rich Rodriguez,
the best offensive mind in the game today and someone who will find a way for Devine to carry the ball: double halfback sets, direct snaps, wheel routes out of the backfield, bubble screens from the slot, fumblerooskis...he's creative enough to get Devine snaps.
And with recruitnik-porn like this hanging around, why not:
Simply having him on the field simultaneously with White, Slaton, Darius Reynaud (underrated--he's Matrix-move untackleable at times,) and WVU's improving corps of receivers poses angina-inducing problems for Big East DCs. Scoring, as usual, will be the norm in Morgantown. Given the charity of the Mountaineer's 3-3-5 defense, this is good news.
Arrelious. We're already striking the last name a la Pele, Cher, and Oprah. Arrelious (nee Benn) will get his share of looping jump balls this year and undoubtedly snag a few in the watching eyes of the Midwest media for a number of reasons. First, a young quarterback desperate for reliable receivers (see: Juice Williams) will heave the ball to the tree-sized Benn all day if he can. Second, [NAME REDACTED] is desperate for wins and buzz, since two years of insomniac recruiting has garnered him exactly 4 wins. Third, the "youth movement" recruiting pitch has, along with [NAME REDACTED]'s pimped-out golf cart, been the crux of Illinois' recruiting strategy.

Sex on wheels: [NAME REDACTED]'s golf cart brings 'em in.
Last year they threw a panicked Williams out at qb for the wolves just to show their commitment to youth (see: Chris Leak, '03). Illinois will do the same with Benn this year.
Donovan Warren, CB Michigan. California corner who could break the playing time envelope thanks to the departure of Leon Hall, Michigan's only real corner of note. A steal for Michigan in the rubber chicken wars who could pay dividends nigh-immediately, especially given the nice cheatsheet USC gave the universe on how to beat Michigan. (Helps to have USC's ample stocks of robot talent, but still, throwing on every down to the same receiver in an unfair matchup against a flailing Wolverine corner helps.) A blue-chip bandaid on a bleeding wound for Lloyd Carr should increase his mood to "Moderately Grizzled" going into summer camp.
(HT: Brian.)
A.J. Jones, LB Florida. It's good being Chris Rainey, sure. But in a position depleted by graduation, A.J. Jones could step into the recent succession of freshmen animal linebackers at Florida with ease. He's already acquired a reputation for thunderous hitting in spring practice, having knocked Mon Williams into orbit on a hit that took him out for the season with a knee injury. We know that factually, the knee ligaments snapped of their own accord, but we'd like to think Jones hit Williams with such impact the knee simply had to break. With the dapper Brandon Spikes should combine to form two-thirds of a concussion-friendly defense across the middle.
Correction: Jones is coming off a redshirt year due to injury, so is not a true freshman. He is still a budding badass, however.--ed.
This was Jones as a junior in high school. This should also explain why you likely did not get a D-1 scholarship, since we couldn't do anything pictured in this video after six months with a personal trainer and given three pregame lines of high-grade nose candy:
Marvin Austin, DT UNC. 6-3, 300 lbs, and runs a 4.9 after downing a McRib or six. One of the few linemen with real potential to alter blocking patterns simply because the rest of UNC's got so far to go on the talent differential. Should pick up a few of those satisfying, qb-enveloping Kodiak Bear sacks where he blows up his block, swallows the qb, and then falls on his shoulder with all of his barbeque weight. Think about that image and tell us you don't crave football right now, dammit.
Austin will also learn the value of conditioning; with UNC's offense possibly going pass-wacky due to a complete lack of run personnel, the Tarheels defense will be running 10Ks on Saturdays backwards for most of the season.

Marvin Austin bring 300 pounds of happy to a potentially dreary rebuild for Butch Davis.
Von Miller, DE Texas A&M. Lightish at around 220, but buffets and squats should take care of that. Miller's chief asset as a defensive end is blinding speed around the corner. Not capable of defending the run yet, but could be troubling on passing downs especially paired with established rushing threat Chris Harrington.