Letsplaytummysticks of Pinfall Marks answers our call for spring practice updates in fine fashion below with a rundown of West Fuckin' Virginia University and the performance of their football team in the spring game. Shocking news: they've added one play! RUN FOR YOUR LIVES, BIG EAST!!!

Added a play, which is one more than he'll need to run for 300 yards on your ass.
Warning, North American Australians: snow is involved in the HUGE pictures following the jump, so be warned as they may cause your weak-tea-thin-blooded ass serious trauma.
Much thanks, Tummysticks. Over to you:
First of all we should start off by mentioning that Steve Slaton did not play, there were only 9 healthy offensive linemen (of which 5 were walk-ons or former walk-ons), two starting linebackers were out, and the potential defensive breakout Quinten Andrews was held out for showing up late.
In addition Owen Schmidt played sparingly and QBs were two hand touch so Pat White was limited on any option read plays. What I'm saying is that the spring game packed all of the star power of Jesus Christ Vampire Hunter .
The game started off slowly due to the tunnel blowing up into the stands.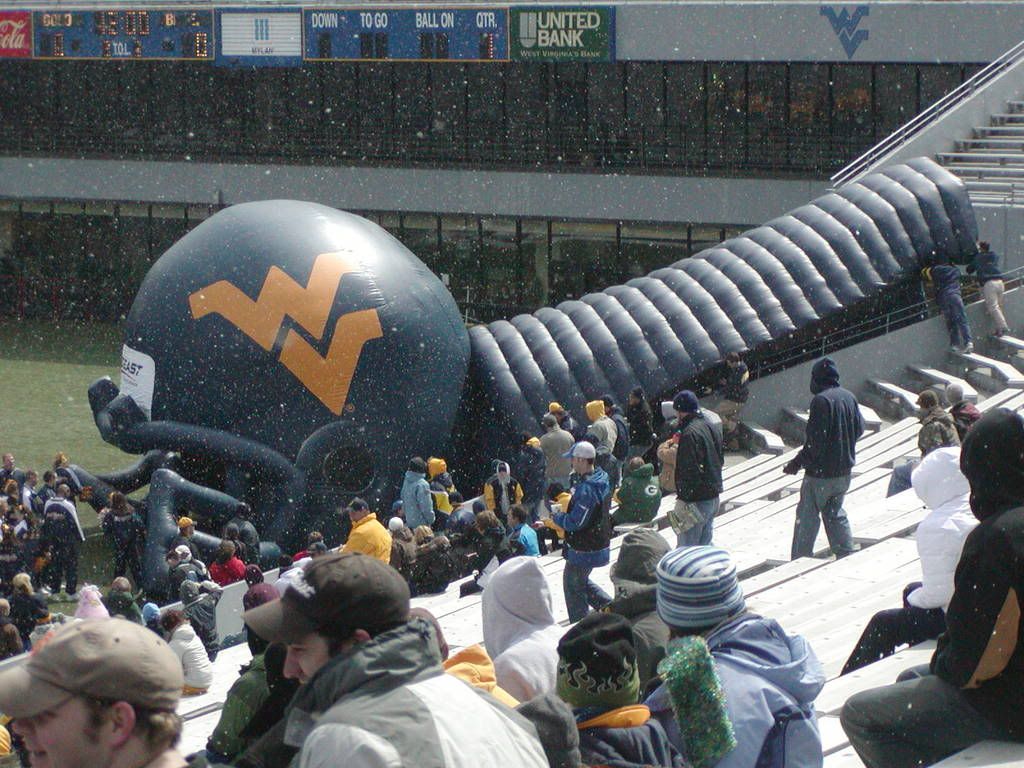 . Therefore after the confused players ran out into the stands they decided to start the first drive in section 120, but it stalled as it was hard to run anything uphill to the left.
The team started with a great display of punting.
This was followed by some extra points and field goals.
With the crowd now on the edge of their seats the weather got involved and it began to snow. At times hard. It really sucked.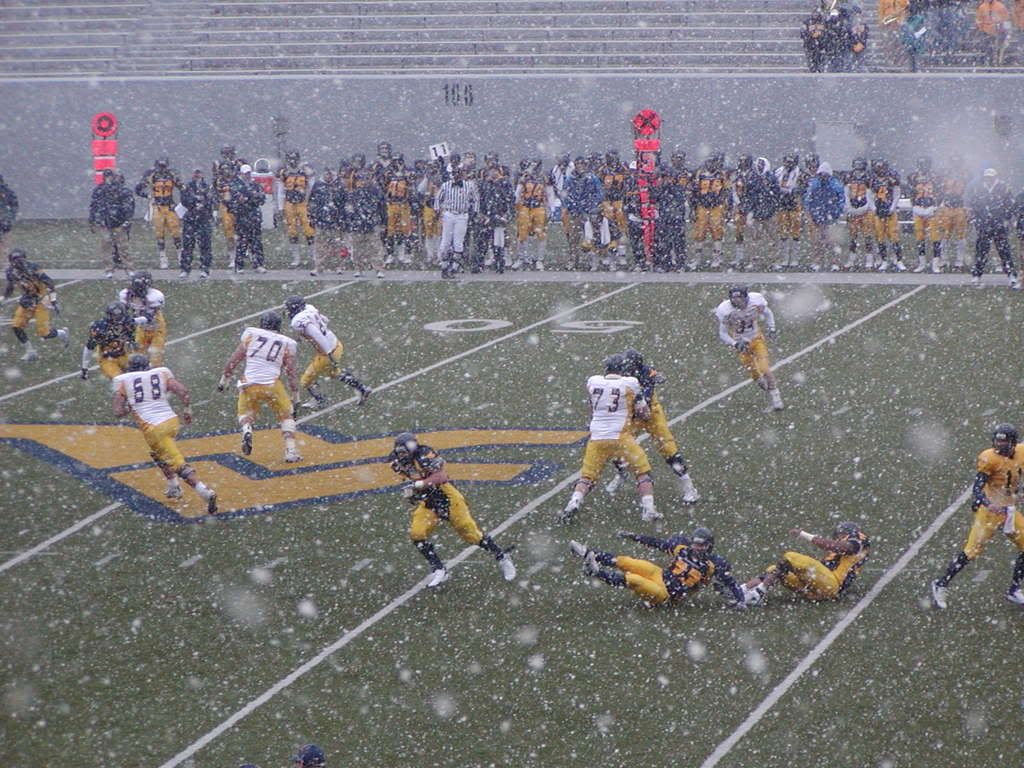 And I was extremely hungover. Which was not helped by the guy sitting behind me shitting his pants and wallowing in it for the next 2 quarters. That is not a joke.
The offense kept it extremely vanilla. The only real addition to the offense that was displayed was a play action slip screen to the option side. The highlights of the scrimmage were as follows. 6 foot 7 inch WR Wesly Lyons caught 3 passes for 76 yards and a score. The offense passed 55 times for 380 yards. It would have been much more as White showed a before unseen touch, but many passes were dropped. This could have been due to lack of previous playing time or frozen appendages. The much maligned secondary still had problems in coverage. Safety Greg Davis did show a talent for smashing wide receivers in the spine. Eric Wicks had 6 tackles and forced a fumble. The backup running backs were workmenlike grinding out 145 yards on 53 attempts. None was able to emerge as a clear backup to Slaton leaving the door open for one of the incoming freshmen to get some reps this fall. During halftime kicker Pat McAfee made field goals from 55, 56, and 57 and then left after injuring his leg. After the game the team left the field before the customary autograph session. Many partially frozen children shed a frozen tear.
Again, exemplary work. Visit Pinfall Marks for all your WfnVU needs. And beware: more Big East spring practices to come, whether you like it or not.