...than getting your recruit's ass shot at a strip club? University of New Mexico recruit Ervin "Una" Smiley was shot four times outside a strip club during a recruiting visit to the University of New Mexico in Albuquerque. (HT: DevilGrad.) The culprit, a well-balanced local "character" named Erminio Gonzalez, sprayed 17 bullets at Smiley and the three Lobo players accompanying him following an altercation at "the Spearmint Rhino Gentleman's Club," a strip club whose name should be bronzed and placed in The Drawer of Completely Awesome Names and revered forever and ever.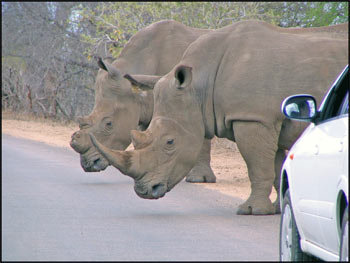 Rhinos: minty?
Smiley is now waiting for the logjam of medical paperwork to unravel so he can recuperate, a process complicated by the his status as a recruit and a verbal promise by the New Mexico staff to "fix it." Smiley will need surgery to repair tissue damage and remove the somewhat pressing issue of the two bullets that remain lodged in his leg. More embarrassingly, Smiley was 20 at the time of the shooting (which took place in December) and was apparently intoxicated during the police interview, showing that booze 'n whores recruiting is alive and well, at least in Albuquerque. (Again: explaining why Bugs Bunny always made a stop, and the inevitable wrong turn, in the Isotope City.)
Not surprisingly, Smiley now leans toward Oregon State, whose coaches we assume have made him a "not getting shot promise" in his recruiting process. His mother, thankfully, bears no ill will toward the shooter:
"I am glad he was arrested and can't hurt anyone else," Janice Smiley said. "I don't know what is wrong with him that he would decide it was OK to shoot someone. I hope he finds God and understands he can't go around hurting people."
And what better place to learn valuble life lessons than prison, kids?

Prison can be very instructive. For instance: did you know you could be traded into ownership for a pack of cigarettes? Every day a lesson!