The rare pleasure of a Tuesday night game comes to us this week in the form of Southern Miss at Central Florida, a Conference-USA matchup of two teams that have both already played Florida this season. Solon, somehow missing that 12-step program meeting yet again, brings us his take on rare opportunity to tempt fate on a Tuesday night NOT involving eight shots of tequila, a unicycle, and a taser. Enjoy--O.
Southern Mississippi (-5) v. CENTRAL FLORIDA
Central Florida "shocked the (college football) world" last season with their run to the Conference USA title game. The one regular season loss they suffered was a drubbing at the hands of Southern Miss by the score of 52-31. That scoreline was a little deceptive; UCF suffered 4 fumbles and the game was out of reach by halftime, 45-7. Despite this, even if one throws that game out and assumes the teams were close to even last season, the season's results thus far suggest that the gap between the two teams is presently fairly substantial. Both teams have played Florida, and while neither was competitive, Southern Miss was much more so. Perhaps most troubling from a UCF perspective was that they were an amazing +4 in turnovers but still lost to the Gators 42-0. UCF has also lost to USF at home by the score of 24-17; USF is an odd team offensively, one with no real strategy on O other than having the QB either run or pass, and their D will likely struggle against a much more balanced (this season relative to last) Southern Miss O. As for Southern Miss, while NC State is regarded as a bit of a joke, their defeat at the hands of Southern Miss was fairly comprehensive, and I think other teams this season will be hard-pressed to match Southern Miss' offensive output of 442 yards against what is still a decent NC State D. Southern Miss freshman RB Fletcher is legit and gives them some balance on O that last year's team lacked; given that the Southern Miss D resembles the units they have put on the field in season's past ( e.g., holding the powerful Florida O to under 400 yards), I think they hold a substantial edge here and should have little trouble getting ahead of this number on the road.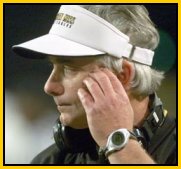 Bower, a superb golfer, should hit the fairways nicely tonight with the Golden Eagles.