Quickly, a microwaveable lunch's worth of spring links for you to peruse:
--El Herald doesn't have much on Meyer and the Gators you couldn't guess for yourself: pressure, tough schedule, offensive hiccups, el blah de blahando hablah blah...
--WVU's Adam Bednarik needs shoulder surgery, which isn't good news since the 'Eers offense happily sends their qbs into the jaws of brain-damaging linebackers on nearly every play. Paul's got Mountain Lair saying none of it matters if the Mountaineers don't beat Louisville this year in the course of suggesting that WVU could be in the running for a national title. First you get the underpants...step three, profits.


Step one: beat Louisville. Step two: national championship!
--Former Florida OC Larry Fedora is running his no-huddle offense as a four-headed beast for the moment at OK State. In Norman, Adrian Peterson looks fine, though the Oklahoma line does not, which could interfere in the long run with AP looking fine in November for the Heisman stretch run everyone's got planned for him.
--Minnesota, the Denver Broncos of the college game, is attempting to sort out who's going to rush for 1,000 yards this season in their backfield. Whoever it is, they will have a guy named Bubba Brinkhaus blocking for them, which is a damn shame since a man named Bubba should by biblical decree be blocking for Tennessee QB Jim Bob Cooter.
--As you would expect, Blue-Gray Sky has every last syllable of Weis' spring presser parsed for you, as well as the Posh Pasha of Pierogies looking every pound-a-sexy:


Sexy, sexy.
--Nebraska DE Adam Carriker gains 15 pounds of muscle since last season and still runs a 4.5. Teammate Corey McKeon insists he's just a "freak of nature;" Carriker attributes it to a new, South Beach-y diet. Unusually strong players on the Cornhusker roster...hmm...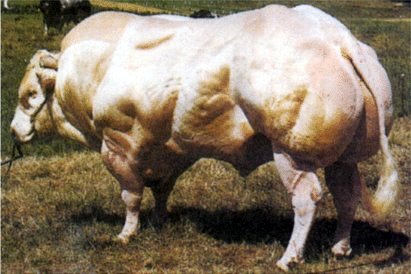 Adam Carriker of Nebraska's been bulking up over the winter.