We continue our huge man-crush on the redfaced Jim Cramer in this week's Mad Money Recap, the internet's most recession-proof weekend review of Week Whatever-this-is's (eight, by the way) games.


Investing in Tennessee right now is like doubling down on Delta stock, baby--slim pickings on a supermodel diet-sized budget. SELL! SELL! SELL YOU GULLIBLE BASTARDS SELL! MY GOATEE COMMANDS YOU!!!
Stranko's buys:
Orson's buys:
Alabama. An ugly, defensive football game with two offenses racing to the bottom. A stoic coach on the sideline watching a golden boy quarterback pull a win out of his ass. A defense with names like "DeMeco" or "Charlie Peprah." The retro fad in college football celebrates its SEC edition this week as Alabama continues to play just like an early 90s Stallings wrecking crew. If only Brodie had a drinking problem, we'd call him the second coming of Kenny Stabler or Joe Namath...
UCLA. QB Drew Olson threw six touchdown passes in what we may call--dare we?--a Cade McNownarrific performance against Oregon State. The nation's least talked-about undefeated team at this point, even though their coach is a dead ringer for Dr. Quinn from Sealab 2021. Besides the alternate reality game USC seems to like to play versus lowly Stanford ("ooh, it's soooo quiet in here...") , the road to the national championship tuns through Westwood. Nestor, we just wanted to be the first one to type that inevitable cliche before Barnhart or Mark May got to it.


Karl Dorrell: a cyborg genius?
Florida. Two reasons: a.) a bye week before the Cocktail party, and b.) Joe Tereshinski, starting qb. A pick made from a position of weakness, yes, but at least we're forthright about it. A potentially ugly game for both teams in a conference that's been cranking out low-grade game in 2005 faster than Master P.
Stranko's sells
Orson's sells
Oregon State. Beavers getting pounded weekly. A retread pro coach pulls an anti-Carroll and turns his opponents' teams into high-scoring offensive monsters with swarming defenses. Boise State's lone victim on their brutal "Limpin' All Over the World" tour of the big boys this year. Agggghhh...
Florida. Yes, we're buying them, too, but only through a shady phone bank operation based in the Cayman Islands through a third party Russian proxy. Florida could turn around and get something going on the offensive side of the ball--it could happen, we suppose. We also could be called by the Australian Women's Soccer Team for that masseuse job we applied for three year ago online, too. (For pete's sake, it's naked female soccer players, y'all---NSFW!!! NAKED! WOMEN! BE SURE NOT TO CLICK IT! BECAUSE YOU DON'T WANT TO BE LOOKING AT NAKED WOMEN RIGHT NOW, DO YOU? NOT EVEN FOR JUST A MINUTE OF WHAT IS SURELY UNMONITORED INTERNET USE, DO YOU? RIGHT?)


Amy Taylor: probably not a co-worker anytime soon.
Purdue. Much as we don't want to see a good mustache go down--wait, er...forget we just typed that. Much as we hate to see a good mustache get fired, the annual collapse of the Purdue Boilermakers may be too much for Joe Tiller, a coach whose sole selling point has been that he brought "basketball on turf" style football to the Big Ten. Now everyone runs elements of the spread and plays defense against Tiller, whose attack doesn't have the same cool points it once did. Remember their preseason hype? Pete Fiutak? Of course, we were the ones who said that the Big Ten still came down to Lloyd Carr versus Cheatypants Sweatervest, so take anything we say with grains of salt and ample shots of tequila at the ready.
Tennessee.. An ugly week of football yields plenty of sells. (6-3, like the Bama-UT game? 7-5, as in the Virginia/North Carolina score? Fucking hell...) We'd like to be the first to bid on www.keeprandysanders.com, since his magic eight ball play-calling and sudden pass-wackiness has handed UT opponents three victories this year: a nip/tuck job at Florida, a submission-hold beatdown at the hands of Georgia, and an outright display of drooling retardation at Alabama. Voluminous brings us the harsh realities of Tennessee's season in a nifty numerical format: the #13 scoring defense in the nation has the shit luck of playing for the 105th-ranked rush attack in the nation. Typing those words in the same sentence as "Tennessee" should summon a blood rain, swarms of locusts, or other signs of the apocalypse.
Stranko's holds
Orson's holds
Ohio State. 3-1 in the Big Ten and still an outside contender for the conference title should Penn State lose. The paleolithic, "flying-wedge" offense appalls us, though, especially with potential turnover demon Smith at the helm. Ted Ginn's hype-meter is lurking somewhere in Ted McGinley territory. A hard game against Minnesota simultaneously offers the opportunity for the Buckeyes to prove us wrong and dredge up college football's least compelling storyline--Glenn Mason vs. the dream job that spurned him!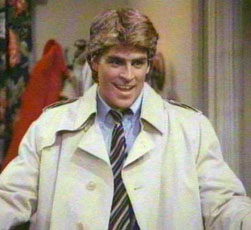 Ted Ginn's career at Ohio State may have jumped the shark into Ted McGinley territory.
Georgia. A hold becomes a buy the instant D.J. Shockley takes the field.
Wisconsin. Are they really 5-1? Besides an awe-inspiring draw run game, we haven't seen anything remarkable out of them...besides being 5-1, of course, which seems to be enough to win the Big Ten this year.