Solon, climbing the long climb out of a deep well of early season misfortune, is seeing daylight with a 32-31 record at this point, despite losing the statistical anomaly of a game that was Cal/UCLA 2005. So no bellyaching about the ghosts of poonanny lost this week--just straight picks from a sailor who just felt the wind blow his way. He pulls himself away long enough from the Caesar's sportsbook and a conversation with his good friend and longtime Caesar's denizen Evel Knievel to drop his picks off for the week.
Despite the content of my column last week, it really is poor form to bitch about tough beats. The point being, shit evens out over the course of the season, and when someone bitches about tough losses it's very shitbird because they'll tend to gloss over all the times they've gotten lucky wins.
So, instead of bitching, let me just present some information. Last Saturday night, I had Cal +1 1/2 points against UCLA. At no point in the game were they behind the number--until the game was over. I can just imagine the scene after the last play of the game in the Hilton Sportsbook in Vegas. Hell, it's such a miracle occurrence that I'm almost not pissed about losing the bet, just blown away by that crazy stat.
Has that ever happened before? This is what you need--you have to have a 'dog, or they'd be down at the start. Then, the 'dog has to be in control the whole game, at least to the point where they never fall behind the number. Then, the favorite needs to score the spread-covering points on the last play of the game. This might have happened at some point in CFB history, but I haven't seen it.
All right, I have picked 63 games this season and nicked the odd game, so I'm on the right side of the ledger for the first time this season at 32-31. I'll try to keep it on the plus side the rest of the way.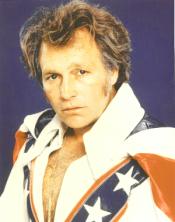 Evel's hoping Solon doesn't crash and burn this week with a full slate of picks.
Here are this week's picks:
South Florida (+2.5) v. PITTSBURGH
Pitt is just flat-out bad, that's all there is to it. Their two wins are over 1-AA Youngstown State and Cincinnati, the worst team in the Big East. South Florida, on the other had, has performed well against what has turned out to be a good schedule.
They lost by 10 at undefeated Penn St, by 20 at 1-loss Miami (Fla), and handily defeated otherwise-undefeated Louisville. Their D, in particular, has played very well. Pitt has yet to face a D anywhere near this good; the two halfway decent Ds they have played this year are ND, against whom they scored 13 points before a late garbage TD, and Nebraska, against whom they scored 6 points. This D is better than both of those. The only issue is whether USF will score points, and given that this is a pretty talented O at the skill positions, I'd guess that they'll be able to get the job done.
Colorado (+17) v. TEXAS
Even if Texas has no letdown after the win over Oklahoma, which you have to figure is going to happen, I think Colorado has a good shot to keep this game close. To slow down the potent Texas O, you have to stop the run and make Vince Young beat you. Ohio St was able to shut down the Texas run O (115 yds on 37 carries) and nearly pulled off the win. Colorado's run D has played very well this season; they are giving up 83 ypg, and held a mighty Texas A&M rushing offense to 74 yards on 27 carries. The Colorado pass D is no slouch either; they have given up only 6.25 ypa this season, and opponents have only managed a 5:7 TD:Int ratio against them. I think they can hold Texas to a score in the 20s, which will give them a shot to win outright. The key to this game is the Colorado pass O; the Texas pass D has played well, but they have yet to face a QB with anywhere near the ability level of Colorado QB Klatt. I think Colorado is the only team on Texas' schedule that has any chance to beat them--either here because of the letdown factor, or at a neutral site in the Big 12 Championship game. No one else in the North or South will be able to get the job done.
MINNESOTA (-6) v. Wisconsin
Whether Maroney plays or not is really irrelevant here. Minnesota, as long as Mason is their coach, will just plug someone in to the RB spot and collect a shitload of yards. QB Cupito, now listed as probable, is the more significant injury. Even though Minnesota does not throw the ball much, the threat of throwing the ball helps increase the production of the Minny running game; given that Cupito is only a marginal talent (and that his backup Mortenson is a non-talent), his non-presence will hurt the offense much more than Maroney's. Wisconsin has already been run over by a couple of potent offenses this season; BG scored 42 on them, and NW scored 51. There was nothing fluky about those totals, as BG managed over 500 yards and NW managed over 600 yards. Minnesota will probably not match those totals, but should score in the neighborhood of 30 to 40 points, even without Maroney. Wisconsin has scored some points this season, but against the one good D they have played (Michigan) their output was been reduced severely (23 points, 287 yards). Minnesota's D is not in Michigan's class but they have been pretty good and will certainly not be overwhelmed by the Wisconsin O. They shut down the Michigan O with RB Hart; Wisconsin RB Calhoun might be his equal but he is not his superior, and I expect Wisconsin to struggle to score points in this spot.
CENTRAL MICHIGAN (-6) v. Ohio
I am kicking myself for not taking CMU last week. The CMU O is pretty strong for a MAC team; in particular, their running game is very potent. They were shut down by Penn St, but now that they have dropped in class they are doing the job, averaging 5.25 ypc against their other opponents. Ohio's run D has been pretty good this season but CMU will still produce. Ohio's O, on the other hand, is pretty inept; other than a 35-point outburst against Kent, they have averaged less than 10 ppg and 215 ypg this season. As good as the Ohio run D has been, the CMU run D has been better (CMU, 3.55 ypc; Ohio, 3.94 ypc), and all the Ohio O can do is run the ball; their pass O this season is averaging 5.89 ypa with a 1:7 TD:Int ratio. CMU should shut down the Ohio running game and they will not have to worry about the pass.
Northwestern (+7.5) v. PURDUE
I have given up on the Purdue football team this season. Even the relatively impressive performance against Minnesota was helped along by a defensive TD, and a fluky 88-yard run that resulted in another TD drive. Their D performed well, I suppose, but they still gave up 292 yards rushing. Other than this, Purdue has a close win over Pac 10 doormat 'Zona, and embarrassing home losses to ND and Iowa. The Purdue D, despite returning all its starters from last season, is horrible; they have given up an average of 578 yards over the last three games. The NW O is as good as if not better than the three Os that have run it up against the Purdue D during that stretch; they have averaged 35 ppg and 510 ypg this season (and, note that this includes a game against the Penn State D--in which they scored 29 points and gained 405 yards). The NW D is not great, particularly against the run, but I do not think the Purdue O will be able to outscore the NW O by more than a TD here.
Bowling Green (-24) v. BUFFALO
Buffalo's O might be the worst in the nation. Despite having played a fairly average slate of Ds, they are only averaging 6 ppg and 218 ypg. BG's D is pretty bad, but the last couple of weeks against Temple and Ohio they seem to have found their footing, having only given up 21 points and 491 yards in those two games. Certainly, I do not believe that Buffalo will be able to exploit the BG D the way that Wisconsin, Boise St, or even Ball St did. The BG O seems to be back to its best, and they have scored at least 38 points in each of their last 9 MAC games; even if Buffalo breaks that streak they may not get the win here, given how poor their O is.
TEXAS TECH (-14) v. Kansas State
I am not a believer in Texas Tech. That said, I do believe that K State is a very bad team. Their win last week over Kansas was a miracle on both sides of the ball. They only managed 182 yards on O; now that they have started playing equals, their O has disappeared. As for the K State D last week, the Kansas O had 8 drives inside the K State 37, but only scored 3 points. Despite the fact that I do not think this O is as good as their O's from year's past, I do not believe Texas Tech will be so profligate this week. A very modest Marshall passing attack threw for 262 yards against K State; Texas Tech may come close to doubling that number. Texas Tech should be very pissed off after their relatively lucky win against Nebraska and may want to do something special for the home crowd.
Connecticut (-7.5) v. CINCINNATI
Connecticut's D is not world-class but last week's game indicated that they can shut down bad offenses. Fortunately for them they have another poor O on tap this week. Cincinnati has managed a 2-point win over EMU and a 4-point win over 1-AA Western Carolina; in their other games they have been dominated. They should struggle to score against a UConn D that is giving up 3.39 ypc and an amazing 4.18 ypp against 1-A opposition. On the other side of the ball, UConn's gameplan should be similar to that of last week's, with QB Bonislawski out; run the ball, play conservatively, try not to turn the ball over. They should be able to run with purpose against the Cincinnati D (giving up 4.39 ypc); they managed 300 yards rushing last week against a much stouter Syracuse D, and this week backup QB Hernandez will have had a week to prepare.
Alabama-Birmingham (-3.5) v. MARSHALL
I am unable to figure out what the hell happened to UAB last week but I am willing to bet it was aberrational. In any event it was by far their worst performance of the year whereas Marshall's OT game against SMU two weeks ago was par for the course. I have long thought that Marshall is just going to suffer this season. They are unable to run the ball, and I am not sold on their passing game, which is the vast majority of their offense; they tend to throw for a lot of yards, but it takes so many passes that their efficiency is poor. That said, it appears the way to beat UAB this season is to throw; Rice and Troy couldn't do it against them, but they are shit and can't do it against anyone. UAB's other opponents this season (Tennessee, 1-AA Jacksonville State, and SMU) have thrown for an average of 7.87 ypp. Regardless, I think this is probably the second-best O Marshall has played this season, and they should light them up the way VT did, and I do not believe that Marshall will be able to keep up.
Other games of note:
LOUISIANA STATE (-6.5) v. Florida
I really have no clue how this game is going to turn out. I lean toward LSU, because Florida's resume is a bit thin and it's entirely possible the Alabama game wrecked their season; their performance in the Miss St game was not the response of a team that had put a crushing defeat behind it. LSU, on the other hand, responded to the Tennessee loss with a dominating performance at Miss St; while admittedly LSU did not pull away from Vandy until late, the 12-6 score at the end of 3 quarters could not have been less indicative of how much they had dominated the game up to that point. Bottom line, I'm more inclined to believe that LSU will turn out to be a good side than I am that Florida will. But Miles is a fucking idiot, so you never know.
Southern California (-11.5) v. NOTRE DAME
ND has had a good season thus far, but they are up against it here. They have faced one elite offense thus far--Michigan State, who scored 38 against them (in regulation). USC's offense is more potent, and, at worse, should match that output. The difference, of course, is that the USC D is much better than MSU's, and ND will not be able to keep up with the output of the Trojan O. USC will have learned their lesson and the hype surrounding the game almost guarantees that they will come out focused and play for 4 quarters. Weis is a great coach but he will not be able to sort Carroll out this season.