Gary Barnett is eager to coach Colorado and deserves a contract extension, says Gary O'Hagan. That's good of Gary, since he is Barnett's agent and should be saying those kind of things, but he's not the only one thinking this these days: Colorado has begun contract negotiations with Barnett, who has a two million dollar bonus due under the terms of his current deal if he stays through 2005. For an 8-5 coach with the stench of scandal surrounding him, this seems outrageous. Colorado, though, may be doing something very sane by renegotiating the deal: creating a win-win situation for the University with a new deal crafted around the dual options of keeping Barnett if he rolls the 2005 schedule, or dumping Barnett for less back-loaded money while creating convenient loopholes needed to hire an emerging coach come November and the speculation season.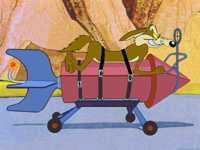 Gary Barnett, Super-Genius, ready to light the candle on his contract negotiations.
Gregg Brandon is one suggestion, especially with his Colorado ties, but taking the job after his old boss Barnett is pushed out might not appeal to him. We think the ideal match currently coaches 90 miles north of Boulder in Laramie, Wyoming. Joe Glenn is hot, he's regional, and he's eminently likeable, which would count for something in comparison to the tone-deaf Barnett. (Who, by the way, is not a girl, and therefore not terrible.) If Barnett doesn't impress this season, Colorado could do well to get a cowboy to reestablish order on the ranch.