Yes, there was a scrimmage in Gainesville this weekend, but there was only one real game: Orson Swindle versus his brother-in-law, thumbpad legend Jimmy K, in a titanic matchup of virtual gridiron acumen. Yeah, we went to the game, but we put in the requisite number of hours with the XBox, including playing the greatest game ever in the long history of our video game rivalry.
History matters here, and we both have plenty of it. Weaned on the classics, we both worked our way through Tecmo Bowl, Joe Montana Football, and Sega Genesis Madden and National College Football Championship before meeting in 1995 for the first of many Madden 95 games. (It's important to establish this: playing VGF is a lot like practicing kung-fu; the instant you call yourself a master, endless challenges await...challenges you will likely lose 56-3 to a fast-thumbed person half your age.)
We were both in college, fortunately; this allowed for irresponsible amounts of gameplay, with Jim playing any number of teams, and me manning the controls for the Nashville Oilers, pre-Titans and pre-control for Steve McNair, who would overthrow every receiver on routes over ten yards deep. This really didn't matter since the good people at Madden decided that the Oilers' wideouts would be designed without the benefit of hands or arms. I don't think I ever, ever completed a pass to Willie Davis, and only on rare occasions did I hit Derek Mason on a post, a moment worthy of frenetic dancing and a visit to the fridge for a cold Miller High Life. You made do by throwing to Eddie George, running with Eddie George, and for two plays a game, passing with Eddie George on a HB pass. Throw in five or six fake punts and FGs and a pass or two to Frank Wycheck, and you had yourself a game plan; a shitty one, yes, but in Madden 95, shitty could get you a loooong way.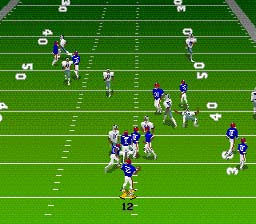 The unstoppable fake punt in Madden 95
The games usually unfolded in the same pattern: I score tons of points in the first half off the "FB Under" and "All Streaks" play, with Jim throwing like mad to his tight end and keeping even by going for it on 4th down and inevitably scoring long touchdowns off the gamble. In the second half I bog down as Jim's defense tightens up, he starts to run the ball, and I lose with Al Del Greco missing a last-second field goal. I scream "Goddammit!" and soothe my pain with a slice of Five Star Pizza, which is almost always somewhere in a three-foot radius from where we are playing.
Lather, rinse, and repeat until 1998, when I go to Taiwan and don't touch a console for-brace yourself-an entire year and a half.
The 64 and the advent of the XBox have brought us to about even, since Jim's wild 4th down gambles and punkass fake punts-sometimes the most effective offensive play you could run in early VGF games-have been written into reality by programmers who finally understood that going for it on your own twenty did, on most occasions, result in total disaster, not 80 yard touchdowns for you. This doesn't keep Jim from still making the grand wager, of course: he won one game this weekend by making a difficult 4th and 4 with a brilliant TE Boot play to keep a drive alive. But we split our games now, usually in tight fashion, but with the appropriate number of trick plays and wildass gambles you expect a quality VGF player to make.
All were true in The Greatest Game Ever, played sometime between 3:00 and 4:00 a.m. on Saturday, April 9th, 2005 in Jim's Apartment, Gainesville, FL. Platform: XBox. Game: NCAA 2004.
We chose Missouri for me and Iowa for Jim, since we were trying to do an all-Big Ten matchup. Yes, Missouri's in the Big 12, but it was late, and I wanted to mess around with Brad Smith, and who could't really buy into Missouri being in the Big Ten? They're agricultural enough, it's cold there, and they've got chunky-but-mysteriously-hot farm girls there, too.
Close enough for the Big Ten, I say.
The game got off to a slow start. I can't get Brad Smith around the corner on the option. He can't get a pass off without it getting batted down. We trade punts from deep in our territory until Jim hits a play-action pass, breaks a couple of nice runs off the right side, and pounds his fullback into the endzone for a 7-0 lead. On the next drive I stagnate again on my own forty, punt, and get the ball back after a three and out and a magnificent punt by Jim pinning me at my own five.
I wiggle through some precious space on a few shotgun options to push the ball to the fifteen. On first and ten, I call a play-action pass, and Brad Smith heaves the ball 85 yards for the longest touchdown my gaming self has ever thrown. It was one of those beautifully programmed video game moments where you can, in painfully rendered replay, watch the corner bite, see the safety dive in for the run, and then watch a completely open receiver float under the ball for the catch. We're tied, I'm twitching and running to the kitchen for cookies, and another brutal series of defensive series we're at the half, tied 7-7.
The virtual cheerleaders stop prancing around, and we get into the third quarter. Grinding drives end with nothing. Jim's linebackers are cracking skulls, and I've figured out a way to get my nose tackle into the backfield on every other play. Brad Smith has next to no yards, and we spend the whole third quarter watching our defenses rampage and our punters get tired. Jim and I wonder out loud if we're really watching the unheard-of happen: a defensive struggle in a video game. It actually looked and felt like a real game.
Somewhere between the tail end of the third and fourth I start moving the ball, mostly grinding runs mixed in with horrible losses off the option compensated for by long, desperate passes off the back foot to the tight end and flanker, who carry the weight receiving wise. Forty seconds or so into the fourth, I score to take the lead 14-7, capping a three and a half minute drive with a TD run for the halfback, which in real life would be like a seven minute drive: draining, defense-killing, and demoralizing.
Down with four and a half minutes, Jim responds by calling the most befuddling, aggravating series of plays I've ever seen on a short clock. It was like he was channeling 1980s era Bill Walsh: short passes, draws, hard off-tackle plays, counters...running into a draining clock, and I couldn't stop him. I called 5-2, 3-3-5, 4-2-5...considered calling FG block just to see if that would work , but decided against it when he interrupted the series of runs with a play action that cost me fifteen yards. When he finally scored, my digital defense crawled off the field, there were 14 seconds on the clock, and we were tied, 14-14.
At that moment, we knew we were in the presence of some form of greatness. If this were the ESPN Sportscentury segment on the game, we'd both be in softly-lit profile, saying how we knew something special was happening, with strings moaning softly in the background and montages of black and white photos of us, cords strung across the foreground, all our energies and faculties focuses on the tv. It would probably sound like this:
JIM: I knew we had overtime. Just knew it. All we had to do was kick deep and hold. That's it. (smiles rueful smile, shakes head)
ORSON: We had 14 seconds, and our D was gassed. I thought we'd die in the first series of overtime.
And like a real college football game, disaster struck in the most basic of mistakes. Jim lined up, set the kick meter in motion, and stopped it...just a hair outside of the zone indicating direction in bounds. The ball bounced out of bounds at the fifteen, a little yellow pixellated flag went flying, and I get the extra yards to start with.
Twelve seconds to go.
Brad Smith, who since the 85 yard bomb hasn't hit the broad side of a barn, hits the HB on an out route, which would have gone for seven yards if the linebacker didn't miss the tackle, giving an extra ten yards before he's knocked out of bounds. I run a WR hook to the other side, press dive to toss the WR to the sideline, and look up at the clock: one second on the clock, and thirty-nine yards for a field goal.
This, if you'll remember, is the old Jim-Orson script: when given the chance to win or tie with a field goal at the end of a game, I will miss, scream, and look for pizza. The kicker is no great shakes; he's already missed one at the end of the first half, dribbling it wayyyy short of the crossbar from thirty-five. The kicker lines up on the left hash, I swing the meter in motion, and hit it full and on the mark, a high, pop-fly of a kick. The ball drifted left, almost in line with the left goalpost; it had no chance whatsover.
It fell over the crossbar, a pixel short of bouncing off the crossbar, perhaps the weakest winning kick ever. Me, 17, Jim, 14. No bitterness, though; we both realized we were in the presence of a meaningless recreational greatness the likes of which neither of us would ever see again. A notice appeared on the screen: "Congratulations! With a score of 1067, you have achieved the highest greatness score ever!"
We couldn't have agreed more.