INTERIOR, OFFICE: [Julie Hermann, suit spattered in blood, picks up a telephone]
HERMANN: I need your help.
A FEW MINUTES LATER: [Jim Delany enters]
DELANY, sternly: What is it this time, Julie?
HERMANN: I... I had to, Jim. He said he was going to go to the media. He was going to tell them everything.
[camera pans to the lifeless, badly beaten body of Maryland's Testudo on the floor]
DELANY: We're going to fix this, Julie. TV money got you into the Big Ten, and TV money looks out for its investments. [picks up phone] Bring the team.
A FEW MINUTES LATER: [doors open]
OLIVIA POPE: I'm the best there is. I'm going to make this disappear. I'm going to make out with the bad guy from Ghost, let several close personal acquaintances get killed in predictable ways, and then make this disappear.
ANNALISE KEATING: I'm even better than she is and my show is newer. Also, I've never made out with the bad guy from Ghost.
THE MENTALIST: [smirks, says something witty, but like- Dennis Miller witty, you know, dumb people witty]
HERMANN: I never watched that show.
DELANY: Lying to us won't solve your problems, Julie.
HERMANN, softly: I own four seasons on DVD.
THE GUY FROM BURN NOTICE: We're going to clean this all up. My show had 111 episodes and you don't even know what channel it was on. Also, who's this other guy here? He's not on TV.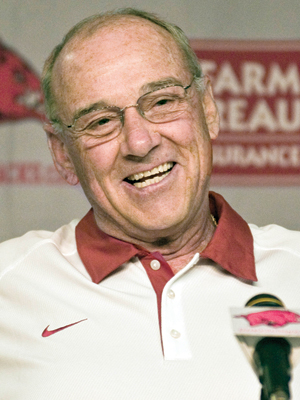 JOHN L. SMITH: Oh, this is my thing. I come in after things get messy. Also, I was recently on an episode of Cash Cab!
KEATING: That show was cancelled years ago.
THE MENTALIST: Mmm, yes - you accidentally robbed a cabbie, John.
SMITH: aw, hamburgers
DELANY: This crack team is going to clean up Rutgers' troubled image. Player arrests and athletic meddling in academic affairs is nothing we haven't dealt with.
HERMANN: ... you don't know the whole story, though.
POPE, looking up from conspicuously positioned Windows Phone angrily: You tell us everything. EVERYTHING.
HERMANN: Boosters have been paying recruits.
DELANY, unimpressed: That happens everywhere.
HERMANN: We've been forging grades for years.
KEATING, unflapped: Iowa isn't even a school. We just made it up. No one ever checked.
HERMANN: We've been running a pill mill out of the stadium.
BURN NOTICE GUY, YOU KNOW, FROM THAT SHOW THAT WAS ALWAYS ON WHEN YOU WERE FLIPPING CHANNELS? BRUCE CAMPBELL IS IN IT, BUT THIS ISN'T BRUCE CAMPBELL: We call that a Barry Switzer Tuesday Morning.
HERMANN: Gary Nova sold arms to Assad.
THE MENTALIST, sitting casually on a tasteful sofa he brought himself: Tuesday afternoon.
DELANY: There's nothing this team can't make go away, Julie. Just look at the Bobby Petrino Era at Notre Dame.
HERMANN: well, okay, b ... wait, the what?
POPE: Exactly.
HERMANN: More than any of this, though, here's the truly damning thing: I think we might be really shitty at football.
DELANY: We have just the thing for that.
JOHN L. SMITH: So are we just ignoring the big dead turtle here or