The 2015 season will be upon us before we know it, so now is the time to unveil a tool that you, Enthusiastic College Football Fan, will find extremely useful this fall.
Yes, Enthusiastic College Football Fan, you will probably have a beverage or seven at some point this season. And you will probably think to yourself, "shit, I am REALLY hammered." But how hammered are you? The College Football Drunk Spectrum provides you with a precise answer to that very question. Some highlights:
WISCONSIN DRUNK (THEORETICAL)
The drunk science community is split between those who insist the current spectrum is inaccurate because it does not include the elevated state of Wisconsin Drunk, and those who maintain that all our measurements indicate that Wisconsin fans can drink to a point that transcends traditional notions of drunkenness.
We have no firm opinion on this topic, other than to agree that, if Wisconsin Drunk exists, it supersedes all other drunk levels. Its existence can only be proven by the construction of a LHC (Lagavulin-Hefeweizen Collider), a circuit where a beer and a shot are are spun in opposite directions around a vast, circular track and collided at lightspeed into a Wisconsin fan's mouth. The result should produce the first measurably drunk Wisconsin fan in recorded history.
Research coordinator Barry Alvarez promises construction will be complete sometime in 2018 provided the chief engineer doesn't run off to somewhere else.
WAZZU DRUNK
There's this story about Swedes a woman from Stockholm told us. "These are Swedes. Everything is fine and everything is good and then one day Uncle Olle runs drunk and screaming into the woods in the dead of winter after burning his house down. Then he comes back a week later and everything is fine." This is Wazzu football every Saturday.
ARMY/NAVY DRUNK
Distinct from Army Drunk or Navy Drunk. If you doubt this ranking, talk to anyone who went to Annapolis or West Point.
VIRGINIA TECH DRUNK
A sick hybrid of hunting drunk, coal country drunk, and football drunk. Most lethal when combined with cold weather drunk. Play a country song over it and towns downwind receive evacuation orders. (God help us if they ever get a Nashville-ified version of "Enter Sandman.")
IOWA DRUNK
You know how anesthesiologists have a hard time getting drunk because of prolonged exposure to aerosolized drugs? Iowa fans, already superpowered from years of inhaling fertilizer and pesticide fumes, now have ingested years of the most powerful numbing agent known to man: Kirk Ferentz football. You can crack a two-by-four over an Iowa fan's skull at this point. They feel nothing. They would like to feel less in the future.
LSU DRUNK
It is at this point on the CFB Drunk Spectrum that we see a major downgrade in drunkenness, but take care: LSU Drunk is still inebriated enough to commit uncomplicated property crimes and acts of violence. The primary difference between this and Iowa Drunk is you haven't sobered up by the time you're arraigned when you are Iowa Drunk.
OHIO STATE DRUNK
Symptoms include complete memory loss prior to the 2013 season.
MICHIGAN STATE DRUNK
"My liver is truly the Littlest Giant of them all."
APPALACHIAN STATE DRUNK
Placement on the spectrum is complicated by the fact that App State Drunk always involves being App State High. Further research is planned.
LOUISVILLE DRUNK
Many argue the following data is evidence that Louisville Drunk should be higher on the spectrum.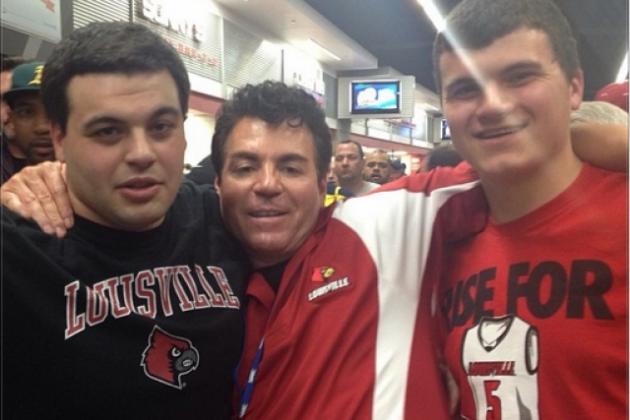 Consider, however: two Louisville fans were sober enough to support him, so Louisville Drunk cannot be that intoxicated. Schnatter Drunk, however, may well exist somewhere higher on this measurement, sad, lonely, and insisting that he will dunk on Peyton Manning you call him right now.
PENN STATE DRUNK
Like its slightly tipsier neighbor in East Lansing, Penn State Drunk is a blue collar state of being, the kind of drunk that comes from the knowledge that Friday's paycheck can pay for either a new washing machine or Capital One Bowl tickets, and goddammit you're going to Orlando.
WEST VIRGINIA DRUNK
Slightly lower than one might think due to the number of people in West Virginia who've been drinking so long that their bodies use grain alcohol the way yours uses water.
FLORIDA DRUNK
A steady, mean inebriation that almost always ends with heat stroke. Remember, you can't spell "fall semester" without EMS.
BOISE STATE DRUNK
Broncos fans work on a skewed distribution of sequoias and saplings. If sober, among the soberest; If drunk, they are three steps away from falling into a mineshaft. (If there is alcohol in said mineshaft, they will refuse all rescues not led by Kellen Moore himself.)
CINCINNATI DRUNK
Our only data is the existence of Skyline Chili and that is more than enough to earn a high ranking.
RUTGERS DRUNK
It'll get you through the first half and, really, you don't want to stay past then.
MIAMI DRUNK
True Miaminess is only having two beers but doing things that suggest you're far, far more under the influence. For example: if you crash your Celica into a police van but you only blow a .007, you are probably Miami Drunk.
DUKE DRUNK
It's just hard to drink that much champagne in a sitting.
BAYLOR DRUNK
The Big 12 actually has ten teams, and a six-pack in Waco usually has four beers left in the rings.
BYU DRUNK
You have committed an honor code violation by reading this blog post.