[two men of deep Beer Fandom stand blocking the counter at the local specialty store, sampling this fall's newest batch of beers]
BAYLOR (8-0, #6 CFP)

BEER GUY #1: [HOLDING UP A GLASS, SWIRLING IT IN THE LIGHT]
Mmm, yes, I believe this is the Judge Joy Reynolds Farmhouse Ale. [sips] Bright, flashy start. Delightful burst off the tongue, effervescent mouthfeel. It reminds one of licking a nine-volt battery brushed with mango peel. Light funk pushes through the backend as it ages in the glass. I'd enjoy this in the summer but it lacks the substance one seeks in late fall. 4.8 stars of 5.
UTAH (8-1, #10 CFP)
BEER GUY #2: [NOSING A SNIFTER WITH EYES CLOSED]
Ahh, the Folly of Utes DIPA. A younger entrant on the market, no? Availability may vary - I had to trade a bottle of Mora the Younger to obtain this low-distribution player, and I don't regret it a bit. [smacks lips loudly and unnecessarily] It's resinous, earthy, crisp and refreshing at the same time. Rougher notes on the edges, redolent of sagebrush fires and the nagging feeling that you didn't close the garage door. I don't see it as one of this year's top entrants, but I respect the effort from an upstart outfit. 4.75 stars of 5.
LSU (7-1, #9 CFP)
BEER GUY #1: [HAS POURED IT INTO A SAUCER, LAID THE SAUCER ON THE BAR, AND HAS HIS HEAD VERY CLOSE TO BUT NOT QUITE IN IT, IT APPEARS HE'S ACTUALLY LISTENING TO THE BEER]
Now this is an exciting take on a familiar recipe - this is the Miles per Gallon American Porter. Tarry and brash, notes of marshgrass and kudzu. Punches the tongue with an almost militant hop tilt. Tantalizing but ultimately disappointing as the verdant early notes fade into a bitter follow, reminiscent of a washcloth stuffed in your mouth as an older brother sits on your head and plays with your Legos. 4.7 stars out of 5.
IOWA (9-0), #5 CFP)
BEER GUY #2: [HAS AN APPARENTLY UNOPENED BOTTLE TUCKED PARTLY INSIDE HIS CARDIGAN AND HE IS SOFTLY SINGING A LULLABY TO IT IN SERVICEABLE FRENCH]
It's rare and exciting to see this one hanging around so late in the year - it's usually gone from stores by October. [offers the bottle its own bottle] Are you hungry? No? The County Fair'entz American Wild Ale is cottony and light, with a playful tropical snorkeling and a mild ethanol warming. I don't know how much more production we'll see from this run, but I think we'd all be delighted if they can churn out a bit more. 4.8 stars of 5.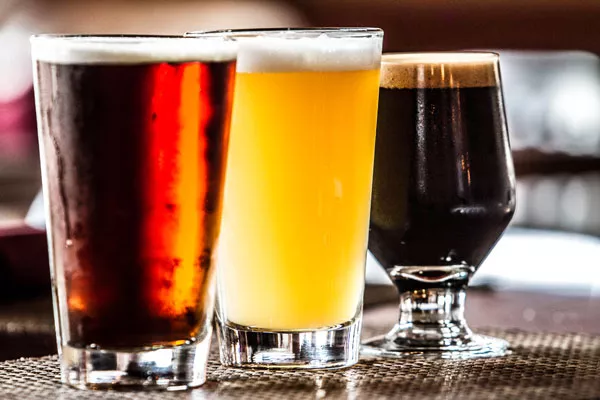 STANFORD (8-1, #7 CFP)
BEER GUY #1: [HAS EXCUSED HIMSELF TO A PRIVATE SIDE ROOM, WHERE HE SOMEWHAT BREATHLESSLY CONTINUES TO REVIEW IT THROUGH A CLOSED DOOR]
This is a consistent annual performer, and I think many have undersold it this year - the Pale-o Ale-to Shaw't In The Arm American Ale. It pours slow and it drinks slow, developing a three-finger head that's as thick and burlappy as municipal zoning meetings. Deep, woodsy notes and a heavy tongue-roll, like there's six tight ends in your mouth blocking doubts that you'll ever create anything of lasting value. I would not count this one out when flashier entrants have faded and fizzled. 4.69 stars of 5.
NOTRE DAME (8-1, #4 CFP)
BEER GUY #2: [HE'S JUST LAPPING IT OUT OF HIS CUPPED HANDS]
A crowd-pleaser, and this one's going to have a lot of eyes on it if it hangs around on shelves for another month. The Mishawaka Missile Crisis Gueze pours with a lovely golden head and a subtle white collar. The first burst of citrusy miasma is followed by an intense, horseblankety cheese funk, evocative of barnyard regret and crushing Indiana ennui. I love this beer like I loved the children who no longer speak to me. 4.85 stars of 5.
BEER GUY #1, interjecting: This beer is garbage and you should be jailed for drinking it. It markets itself as a microbrew but it's backed by soul-crushing big-money conglomerates. [with a tone of deep disgust] 4.5 stars of 5.
OHIO STATE (9-0, #3 CFP)
BEER GUY #1: [HE'S BLOWING IT OUT OF A VUVUZELA, THEN RUNNING AROUND IN THE MIST LIKE A MODEL PUTTING ON PERFUME]
Now this is a true winner, unlike that big-money swill you're peddling. Pedigree and performance all in one, this is the Department of Hopsing and Urban Development Tripel. Just a great, balanced, savage entrant. Crackery with a malty exoskeleton. It starts slow, with a puttering meander across the palate, like a driver who's turned down the radio while squinting to spot the address of the house the dinner party is at, but returns with a suave, clove-flecked bittering late punch. I think sensitive palates might detect hints of Cotton or Orange in its finish. 4.9 stars out of 5.
BEER GUY #2, actually serving the first guy with a civil suit he's just filed: A truly advanced palate sees nothing more than citrus and buffalo wings in the overdue finish to this insipid rainwater.
I've always hated you, Kenneth. 4.6 stars out of 5.
ALABAMA (8-1, #2 CFP)
BEER GUY #2: [IS CARVING AN OLD-TIMEY WOODCUT IMAGE OF HIS FEELINGS ABOUT THIS BEER, WHO HE'S UNSUCCESSFULLY PROPOSED MARRIAGE TO TWICE]
The true champion in the mix. Succulent and smooth bitterness in the Yellowhammer N' Sickle American Strong Ale. No carbonation, just pure, throaty muscle. Pours a flat, cola-looking dark-brown-to-black color that reminds one of breaking down on the highway at night and hearing wolves in the distance. [sips] It's powerful on the palate. Thick, smoky and mineral-laden, it accosts the senses with pride in its own process. 4.96 stars of 5.
BEER GUY #1, alarmed: Carl, that's just a pint of motor oil you're drinking.
BEER GUY #2: Trend-chasers and Philistines always doubt old-fashioned fundamental beers, and they're always proven wrong in the end. [takes a deep chug] Roll Ti-[collapses]
BEER GUY #1, running to door: SOMEONE CALL AN AMBULANCE I CAN'T LOSE HIM [softly] he's my only friend
CUSTOMER, stepping over convulsing body: hey y'all got anything cold?
COUNTER GUY: Yeah, there's some Clemson in the cooler.
CUSTOMER: It any good?
COUNTER GUY [shrugs]: Heard it's alright, haven't tried it myself.
CUSTOMER: eh it's probably fine