It was not a pretty weekend across the Midwest.  The Big Ten suffered embarrassing defeats and near-defeats across the conference, leaving their playoff hopes in shambles and existential questions in spades.
Let's not dwell on the past, though.  I've got a Five-Point Plan to fix what ails the Big Ten:
1. RECOVER
The immediate solution? It's gonna get better. After Week 2 debacles against strong intersectional foes like Oregon, Notre Dame and Virginia Tech, the Big Ten's top teams can breathe a little in Week 3. On paper, the toughest matchup looks to be the Illinois-Washington matchup, which we'd all pegged as a marquee game in preseason. (Purdue playing Notre Dame does not count. We do not interfere in the internal affairs of Indiana.)
Lick your wounds, hit the training room, and for the love of god don't lose to Miami of Ohio next week.
I think you can handle these guys. I think.
2. RECRUIT
Top recruits have outright said it: when it comes to aggressively pursuing them, the Big Ten doesn't have the fierce, all-out push that the SEC does - and it's borne out in the on-field product. If you're going to compete at a national level, you need to recruit at a national level, and sell hard. Sure, it may be tough to convince recruits to overlook the South's fine weather, lovely campus culture and eight-year run of national titles. You've got to sell the recruits on the positive aspects of living in the Midwest, like:
If you're really good, top-draft-pick good, you're going to end up getting drafted by Cleveland anyways, so you might as well acclimate now
If you're not actually very good, you can probably still play in the NFL for Cleveland, and hey, it's close by
If you end up not being good at all, there'll be Cleveland games on TV, so that'll make you feel better about not having to play there
and more!

"Yeah, this is what it feels like."
3. REBRAND
College football, with its fast pace,schematic complexity and never-ending stream of fresh faces, can be difficult for the average fan to grasp. Even some professional announcers can't tell the zone read from the air raid. There's value in accessibility. We can sell that accessibility!
An average re-run of The Big Bang Theory draws about twice the viewers you'd get for Breaking Bad or Mad Men. People don't want plot depth. They want warm, familiar plot lines like "punting from your opponent's 40" and "losing to SEC teams on national TV" and "Kirk Ferentz". Bazinga! Leave that Oregon offense to the effete coastal elites. You're here to watch the Big Ten: Large-Print Football.
4. RESCHEDULE
As fans, we complain every year about it: outside of perhaps LSU, America's premier conference, the SEC, makes little effort to strain itself in non-conference scheduling, avoiding marquee matchups in favor of weak regional patsies from the Sun Belt and Southern Conference. They make for lousy games, but where did ambition get you this weekend, Sparty?
The Big Ten needs to recognize the value in easy wins, and that's why we suggest scheduling weak non-football-centric schools from the region, like [squints at list] Purdue! Iowa! Northwestern!
5. RECONCEPTUALIZE
These fixes might help, but in the end, the Big Ten needs to focus on changing the game. The faster, stronger, larger athletes are probably going to keep going to the SEC, Big 12 and Pac-12. In response, you'll need to structure your teams around a tighter, more fundamentally sound brand of football. Maybe even think about employing a rounder ball, one that's easier to hold on to. Avoid these hot-climate games. Can you play indoors? Wait, you know what, I'll just work up a sketch of what I'm picturing for you.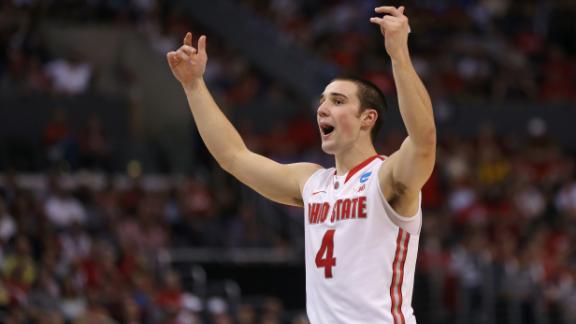 Yeahhh, that's the stuff.