Washington's Hau'oli Kikaha is a terror to opposing quarterbacks and a legitimate threat to become only the third player to record 20 sacks in a season since the NCAA started tracking them. Blocking him is a truly miserable proposition.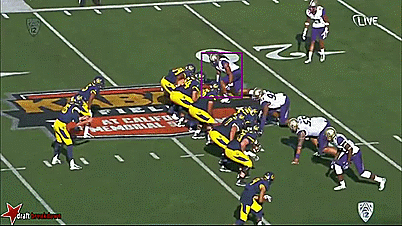 Poor guy. You got spun around and wound up on your ass watching everything disintegrate in front of you. You're like Bruce Wayne watching his parents get murdered except yeah, it's definitely your fault.
What is an offense supposed to do when facing Kikaha? We have a few helpful strategies.
1. Don't assume you can just block him with a single player, even a larger one. Kikaha's not huge at 6'3, 245, but he's really strong for his size, and his speed won't give a single blocker time to recover once they've lost him.
2. Consider reading him. A classic solution to the question of "what does one do with an unblockable player?" The answer: do not block him, and instead place him in option situations where he must decide between tackling two offensive players.
3. Avoid him altogether. Run away from his side of the line. Roll the quarterback out of the pocket and buy some distance. Kick a field goal on second down. He can't legally sack the holder.
4. Find him off the field, push a stack of hundreds into his hand, and film the entire ordeal. Send immediately to Pete Thamel or Darren Rovell for best results.
5. Line up a panda opposite him. Pandas are adorable and super cuddly and no way Kikaha risks the public backlash by pancaking a panda.
6. Kikaha has pancaked your panda. You're going to have a motherfucker of an apology to write to the People's Republic of China now. Sorry, Larry Scott.
7. Consider traffic humps. They slow traffic on residential streets well enough.
8. Steal his identity. Excuse me, Chris Petersen, but that man can't be Hau'oli Kikaha. I'M Hau'oli Kikaha! See, I have this out of state trucker's license to prove it!
9. Play on another field and do not tell him. (No one check in on Facebook! That's how he'll find you!)
10.