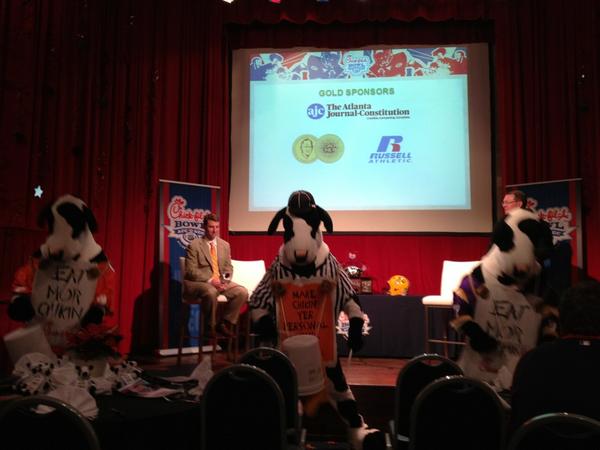 It was a rough day on the ranch logistics-wise, but there is this image of Dabo Swinney watching cows play on a drumline. He's smiling, but in his head is roiling a series of questions you know Dabo Swinney has to be thinking: How do they hold drumsticks without thumbs? How much am I supposed to smile? What the hell does this have to do with me jacking recruits from Will Muschamp? Those aren't real, right? What do we call real, anyway? Who am I? Who are you? Do cows have five stomachs? Does that work like I think it does? Because I bet that fifth stomach is lazy. Stupid lazy cow stomach. Gotta get motivated, stomach five! Get in the digestin' game! Bet all of Les' stomachs work. Just chewin' away on all that grass.
I bet Nick Saban got a gizzard.
I just bet he does.
P.S. Nick Saban does not have a gizzard, and we'll be back tomorrow with a full schedule of content.