LIVE FROM NASHVILLE OH GOD COVER YOUR EYES PLEASE WE REGRET EVERY TELEVISING A SECOND OF THIS.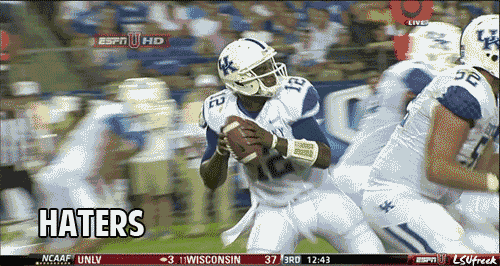 Kentucky is supposed to be SEC, yes, but in case you're unaware we will inform you of the Curley Hallman Monkey's Paw. Once Curley Hallman, former SEC football coach and grown man named "Curley," brought back a cursed monkey's paw from his travels in "the Orient." For Hallman, that meant "thrift shops in Mississippi," but we all have our understanding of the outside world, and we'll forgive him that.
Anyway, as part of the SEC's basic charter, this monkey's paw is passed between SEC teams randomly, and affects the bearer of the paw by instantly crippling the team's offense. This touchdown anemia lasts for the duration of an entire season, and possibly longer if the paw decides it likes you.
The paw loooooved Sylvester Croom, who thought it was a nice paperweight and just kept it around without ever reading the helpful pamphlet that came with it, "The SEC's Monkey's Paw And Why Your Team Pees On Its Own Shoes Every Time It Tries To Piss Past Their Own 40 Yard Line." Like most coaches, he wasn't a big reader. Florida had it last year, and upon his resignation to accept the Temple game  Steve Addazio mailed it to Joker Phillips.
Last night Addazio's Temple team scored 42 points against Villanova. Kentucky scored a fat 14 against Western Kentucky, and was outgained by the Western Kentucky Hilltoppers in every important offensive category. This included turnovers, and that's why they still won 14-3, but let it be known: Kentucky is holding the Curley Hallman Monkey's Paw this year. If a FedEx arrives to your football team's offices from Lexington, immediately forward it to your rival, and then write us a thank you note for saving your season. Don't help them share the Cat-tastrophe.
NEVER IN DOUBT.  Syracuse enjoyed a calm, controlled, and easy scrimmage against Wake Forest last night.
WE'LL GET THAT FIXED. Georgia Tech passed--that is correct, the thingy where you take the ball and sort of just throw the ball up in the air and hope it goes to someone you're looking at--they ppassed for over 300 yards last night against Western Carolina. Paul Johnson apologizes wholeheartedly, and promises you will never see this disgusting display ever again. (This is fiction. Paul Johnson doesn't give a fluorescent rat's ass what you think. He got the fluorescent rat's ass from the labs at Georgia Tech. Don't ask why they have some. It's very important and has something to do with freedom and America.)
WE KNOW HOW THIS IS HAPPENING. Mississippi State scored over fifty points because they have someone who can call an offensive football game and Costco Tebow, and because Dan Mullen is the tits, but watch everyone who didn't know this marvel at this new coaching wonder anyway.
CHEESETOAST YOU DID WELL. ALL RUSSELL WILSON EVERYTHING. There are only two bad items from Wisconsin steamrolling UNLV. First, Rece Davis said nothing during footage of Craig James deftly carrying a person sized sandbag up stairs at Camp Randall, leading us to believe he was silently connecting the dots between his broadcast partner and the Highland Park Ripper. (He shouldn't! It's not true.) Second, Wisconsin's defense did allow perhaps a few too many yards, and that might be an issue once they start playing teams not named UNLV. Other than that, Private Cheese Toast acquitted himself beautifully, and tubas paraded around playing "Roll Out The Barrel" while Badger fans did a shot. How many shots? ALL OF THE SHOTS.
BURFICT HOMICIDE WATCH: Zero homicides, zero penalty flags, and three sacks against UC-Davis last night. Good Burfict! [/throws huge slab of grass-fed beef at him, runs]
READ THIS. But don't, but read it, and shit it's sad as hell but just read it.
LUKE, VIA IM THIS MORNING: "LOL Gerry DiNardo got into the sherm this morning, brah." Luke also, in his duties as the architect of Queefcore Studies, points out that ESPN is so driving the movement here.