COME AT ME YOU COCK-A-ROACHES. Well, it's been a busy morning. And then again, it was a busy night, and not all of us made it. RIP, Sebastian.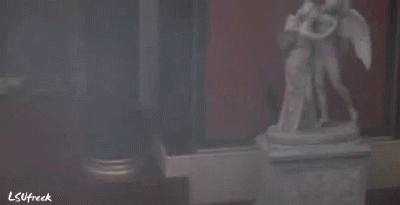 Don't blame Charles Robinson: it was just business. A brief SitRep on the situation is here, and lists the long roster of dead and wounded left in the wake of Charles Robinson's calculated shotgun blast to the back of the Miami program, contracted at distance by Nevin Shapiro from prison. You can call him Big Meech, or Larry Hoover. Both are in prison, and won't be out for a very long time, so they're both appropriate here. 
The Seventh Floor examines the bounties and finds that Devin Hester was the biggest beneficiary of Shapiro's program. We would continue to argue that any program that attempts to take Chris Rix off the field is a program whose very architecture is a framework of gilded stupidity. Brian profiles ESPN's attempt to correct the narrative and remind us that the most important sports story is really the Atlanta Braves, guys. Hinton was on it first, and is right: the death penalty, while not a certainty or even proposed by anyone official yet, is certainly on the table. Luther Campbell had a Twitter moment with Friends of the Program, and this is so NSFW so do not click on it no do not it is MS Paint genius but DO NOT BECAUSE SERIOUSLY IT'S WAY NSFW OKAY you've been warned.
PLEASE REMEMBER THE IMPORTANT PART. Kellen Winslow crashed a jetski into a boat. Debate the rest of the case: whether we should trust a convicted felon even if he's got massive documentation, whether Yahoo's milking an outrage that has long since petered out past cynicism into something even more tired and factual, or whether this is yet another dagger in the heart of the concept of amateur athletics. We dismiss those serious debates for the moment in recognition of this fact: Kellen Winslow, he of the soldiery monologues, he of amateur motorcycle stuntwork, can indeed crash any form of transportation. If there were a gif of this moment, we would display it on a flatscreen television 24 hours a day, 7 days a week with the audio "I'M A SOLDIER!" running under it.
For this visual alone, we owe you, Charles Robinson. Oh, and reform restructuring seriousness blah blah blah.
ONE MORE NOTE. Al Golden isn't hitting the eject button yet, but he's at least making sure he knows where it is.
CLIFF HARRIS TELLING A COP "WE SMOKED ALL THE WEED" iS LIKE SLOT NUMBER THREE TODAY. Cliff Harris committing all the crimes on video is the third spot, and we're honestly kind of out of hyperbole for it other than to say that you really should feel for the trooper here since he pulled over a car full of people, found only one of them with a license and mostly high as hell, and then had the choice of arresting all of them for a zillion tiny paperwork-intensive things or letting them drive away with the one person at the wheel. We'd have done the same thing, which is why we'd make a terrible but very popular highway patrolman.
RUSSELL SHEPHERD MAY BE SUSPENDED. Though reading through Les Miles' prose turns that into a matter of deeply debatable semantics, thus reaffirming our estimation that Les Miles is the Jacques Derrida of college football soundbites. He also said the word "apprecialtively," but that is to be expected. Les Miles' language is too big and too adventurous to be limited by your primitive "English." In related LSU news, their tailgates remain more delicious than yours.
"GUYS, JUST GO DO SOME ELLIPTICAL OR SOMETHING." Now that's more like Michigan Man fitness, young man. Wouldn't want to wrinkle the dickies.
QUARTERBACK WHO NEVER EVER TAKES PICTURES IN HIS UNDEROOS HAS MRI. We have permission from Casey Pachall's mother to report that he is receiving an MRI on his sore shoulder.
MARKEITH AMBLES NOOOOOO NOT HIM. Lane Kiffin continues to run a tight ship. This is not a typo. USC fans last night, btw, all shot Paul Dee the finger at once, a psychic force that totally knocked a few magnets and papers off his refrigerator.
FOR ME MAAAAA. Even in the midst of scandal, he waits.