1. Via GoBearcats.com: Mardy Gilyard, Cincy Wide Receiver and gourmand on his childhood of what we'll call "cooking on a budget:"
"Take a mayonaisse sandwich, toast it just slightly and it will taste like a porterhouse"
2. University of Oregon offensive coordinator Mark Helfrich on Oregon's running backs (via Ken Gordon.
"LaMichael is our guy, and LeGarrette gives us a good counter-punch."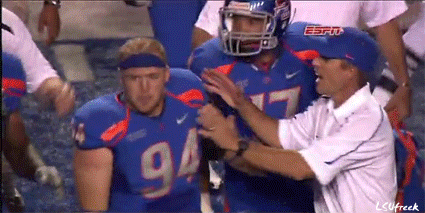 Love you forever, Falcon Punch gif.