This Alphabetical brought to you by Joe Paterno. Oh, no reason.
A is for AARP. Perhaps they could step in at Florida State, since they have magical powers like finding buffet-style restaurants within five miles of any point in the United States and getting codgers discounts on insurance for the large, poorly driven Town Cars and other huge vehicles they enjoy plowing slowly into curbs, walls, and occasionally pedestrians. Bobby Bowden refuses to give up his license; he'll drive this thing as long as he likes, even if he's got Jimbo Fisher strapped to the hood, and even if all of those people on the sidewalk won't get out of the way.
The family's noticed the problem for years, mostly because Grandpa's very likable, and he did do all that good stuff for them decades ago. Remember the time he paid for law school for you with a wink and a grin? Or the time he won two national titles and came within dadgummin' distance of a few others? Sure, he's been dodgy lately, but your brother really deserved the chance to build your dream house instead of a qualified contractor. Giving family a chance to ruin your dreams while pursuing theirs is important, and if nothing else, you've seen the dangers of an improperly wired house up close and personal. (This is your Jeff Bowden metaphor. The house burned down sometime around the 34-0 home loss to Wake Forest.)
The underwriters, however, have had it with Grandpa carelessly slamming the Caddy into avoidable objects like fire hydrants labeled "Boston College with no offense whatsoever."
"We are dependent on the goodwill and the financial resources of thousands of people to make this program work effectively," Smith said. "And we don't have any goodwill out there right now. … People have had it.
"The Board of Trustees, and I think, the President — we can't ignore that. That's a fact."
In short: the pursestrings will snap back when nothing else can.
Those who hired Bowden--those who aren't dead, and those who still separate the university from the football program from the coach--will have him exit after this season. Honestly, we did not think this was possible, since the banana republic tyranny scene seemed to be on an endless loop in Tallahassee. This, however, is the end. The guys at the Elks Lodge are going to take his license while he spoons up a few ladles of the chicken and dumplings, and pop a few spark plugs out of the engine while they're not looking.
B is for The Battle Of Handjob Hill. The sight of ignominy for the upstart army of Kevin Sumlin, whose Houston team racked up the most improbable stat line of the young season: 664 yards of total offense, 42 points, and a loss to UTEP, a team that nearly gave up fifty in a half to Texas last week without scoring an offensive touchdown in the process. Houston had to settle for field goals on two occasions, fumbled twice, and politely declined to stop UTEP running back Donald Buckrum's 262 yards and 4 TDs on the ground. Case Keenum put up the career passing yardage of some 80s quarterbacks in a single game: 51/76, 536 yards, and 5 TDs, but when 1245 yards hit the stat sheet, the football gods start looking for someone to slap around in retribution for the complete lack of defense in this game. As Mike Price leading his charges into Juarez for a victory celebration, Houston's BCS insurgency died a miserable death, as frenzied, messy, and as unsatisfactory a distraction as its location's namesake.
C is for Consistency. Meet Iowa, the amazing machine capable of grinding any material into a uniform sludge of disturbing consistency and appalling smell. The opposite of fun, a team designed to obstruct and slow any game down into a muddlng strangulation. If Florida cannot comply with the EDSBS request to win a national title, we are now openly rooting for them to make the national title game if only so we can watch what would be the most horrific, limping, blood-spattered, moaning abomination of a football game since the OSU/Miami title game where the big play came via a recovered fumble by Maurice Clarett. Hey, we play defense! Yes, you do. The rest would be substituted at no loss of quality by punting on third down and occasionally faking field goals. Iowa beat [insert team] by a score of [victory margin=1-3 points or so.) Just repeat that, hand Jim Tressel some lotion, and leave the room when the game comes on. If that happens, it's about to get sexy time in there.
D is for DOA. If you are playing Les Miles in a one point game in the fourth quarter, you may want to select the "surrender" option and skip the futility of actually playing the fourth quarter. Dr. Les-ter has only pain and worse in store for you, and resistance is futile.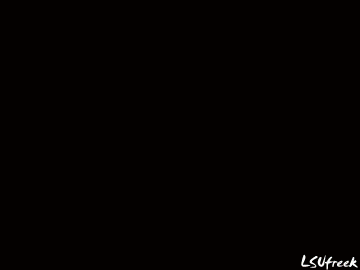 If you are going to beat Les Miles and a Les Miles-coached football establishment, obliterate them before they get to the fourth, because that is when Miles' close personal friend Mayhem appears, opens its wallet, and begins making it rain crazybucks all over the field. Somehow you knew that not only was UGA going to score, but that LSU would, under implausible circumstances, drive down the field and get the field goal at the least. You may blame the unsportsmanlike call for giving the Tigers some field position, but the Bulldogs surrendered further concessions with bad kickoff coverage on Holliday and a five yard penalty.
Charles Scott busting a long TD run on horrible tackling was just a style point, really. This game was over as soon as the four appeared next to "QTR" on the scoreboard, and Les Miles' magic hat started glowing a magical shade of pulsing white.
E is for Ergs. The winner for most efficient use of calories-to-points on Saturday was Michigan, who had three quarters of meh-xcellent play, six points, and diddly-poo on the stat sheet leading into a furious fourth quarter against the Spartans, who very nearly blew the game before Tate Forcier threw a game-ending pick in the endzone in overtime. If there is optimism to be had, it's that you went to overtime against a team despite only playing one quarter of football. Always look on the bright side of life, especially when Mark Dantonio won, but is still a man of constant anger and sorrow.
F is for Flying. Eric Berry is the merchant and distributor for so much collected momentum on so many nasty hits against so many people. Eventually, someone was going to demand a refund, and that person was Ben Tate.
Credit Tennessee's defense for Alamo-level last-stand tenacity: they limited Auburn to 26 points despite 459 yards of total offense with five defensive starters out for the game. The more worrying thing for Auburn, and something that should harsh the buzz of being ranked and 5-0 after this week, is their defense giving up over 400 yards to Tennessee, a punchless offense with one weapon (Montario Hardesty, playing on a drained knee like a live angry bastard) and a giant catfish at quarterback. A giant catfish, mind you, who threw for two TDs on your defense. That's a defense that's lookin' Ted Roof-y if we've ever seen it, the drug slipped in your drink where you wake up a year later to a defense exactly 30 percent less effective than the year before.
G is for Grendel. Cal got their arm ripped off and nailed to the Great Hall's crossbeams for all to see in a 30-3 demolition by your usual collection of calm, collected, and calculating Trojans. This marks the sixth year in a row Cal has failed to turn the corner, buckled beneath the pressure of your Next Big Thing wager, and proven to be an 8-5 team with high-side variance up to the ten game level. The new wrinkle? New offensive coordinator Andy Ludwig's amazing ability to make a 5' 10" 195 pound rocket disappear. Jahvid Best's line against USC: 14 carries, 47 yards, and zero TDs. Cal is the hairy beast that feasts early and loses to the hero in the oldest storyline in the history of epic tales. (Barkley didn't look bad, either.)
H is for Hot Potato. Greg Paulus threw five INTs versus South Florida, contributing to the nine total turnovers in the game between the teams. Rest assured: they were sterling interceptions of only the most inspiring and uplifting quality, veritable McDonald's All-American-quality heaves of pure leadership. If this happened at any school where people paid attention to football, Doug Marrone would be hoisted on the nearest petard and posted at the city gates as a warning to those who would attempt the same. At Syracuse, it's an "experiment." (So was Chernobyl.)
I is for I. Juice Williams. Where the I stands for "incomplete." Eddie McGee will start next week, there will be further tweakings, but give [NAME REDACTED] blue-chip talent thread and he will knit you a sweater made of FAIL every time. See: below.
This message brought to you by EDSBS: firmly committed to reminding you of the constant coaching ineptitude of [NAME REDACTED] since 2005. If you'll excuse us, we have to call 911, since a man in Champaign-Urbana has his penis caught in a hot tub pump. We're keeping names confidential here, but the suspect should be obvious.
J is for Juvenile. Chuck Amato allegedly took a swing at Jimbo Fisher on the way to the BC game. If true, this confirms that Chuck Amato is the most useless coach in the universe. If Fisher swung back and missed, it would confirm that Fisher has trouble scoring points on and off the field, especially at close range.
K is for Kleptomaniac. Charlie Weis keeps robbing the banks because that's where they keep the money, both in the sense that he really should collect his paychecks wearing a ski mask, and because his team keeps stealing games from the jaws of defeat at the last second. Addendum: sometimes they steal helmet-to-helmet penalties at the last second, too.
Leaving your feet, leading with the head, and knocking the shit out of D'Andre McCarthy helmet-to-helmet: that is by any measure of the current rule a 15 yard penalty on Kyle McCarthy, who drew no flag for any of that at the end of the U-Dub game while Goodwin lay twitching like a bug on the turf with his arms in sickening involuntary spasm. This is not about any lack of absolute value in the Irish win: this is a separate issue entirely, that of enforcing a supposed emphasis fairly at every level. NBC's broadcast team overlooked the hit in the hubbub, as well, cutting to the alma mater while everyone in the room wondered what in the hell was happening to Goodwin. Deplorable described U-Dub's redzone offense in the game; what happened on the final play was worse by degrees, though. Um, we mean WOOO YOU GOT KTFO'D, FOOOOOOOOOOOL!!!
Please see comment for further elaboration. It's not so much that we're condemning the hit; it's the ambiguity that bothers us more than anything, since there are crews that would have called it, and calls that would not have called it, and some who would have conferred and flipped a coin because they wouldn't have a clue what to do.
L is for Leveller. Al Groh has returned from his annual seven month vacation, dismissed the body double who conducts his business most of the year with a series of "ehs" and grunting noises, and has now begun UVA's triumphant march through the ACC to an eight win season with a 16-3 victory over North Carolina. You may wonder why other coaches ooh and coo over the way Groh runs his program. Your answer: efficiency. No other coach can get away with taking the first three or four games of the season off and keep their job year in and year out. Other admirable perk? Al Groh has been wearing the same sweatshirt for four years straight. Coaches admire that kind of faith in a garment. Shows character.
M is for Mentalists. Mark May and Lou Holtz's record over the past two weeks in picks: 3-17. When you're beating random chance, you're doing something extra special, much like Gary Crowton in full lather at the controls of his offense throwing out formations and play-calls with the zeal of a crazed monkey with a basket of assorted candies heaving it at screaming children.
N is for Noggin. This is your reminder that Tim Tebow still has a concussion, and would be forbidden from fighting for another three weeks minimum if he were an MMA fighter.
O is for Obviously. Taylor Potts also joins the concussion club at qb. Mustache protection index for head trauma: 0/1 for 2009 season. Texas Tech still racked up 48 points with Steven Sheffield under qb, because all Red Raider quarterbacks are mind-puppets of Mike Leach, and essentially interchangeable fleshbots. (FYI: Potts did not suffer the concussion as the result of being punched by Mike Locksley.)
P is for Pipp'd. Demaryius Thomas quietly has more yards receiving than AJ Green. Sadly for Thomas, he plays in an offense with more than one other player who touches the ball.
Q is for Quizzical. How Toby Gerhart continues to rack up yards is baffling, and let's not shy away from why: it is bizarre to watch a white running back crank out 100 yards a game against anyone, much less a BCS conference's defenders. 29 carries, 134 yards, and 3 TDs is not an accident or product of an overwhelming offensive line alone, and nor did you think this all looked normal. In 2009, it's just odd to see a white running back bowling through for that kind of yardage. New England will draft him and he will become their number one selling jersey in two years. Invest now.
R is for Resistance, Vive La. TCU remains alive for BCS-vandal status, strangulating SMU with only 9 first downs allowed. Boise looked droopy versus UC-Davis in a 34-16 mockery of a game, but no team escapes the curse of UC-Davis' evil, hexing statuary.
S is for Schnellywatch. The most dapper coach in football lost 30-28 to Wyoming, but he did look sexily defiant in doing it. (11/13 in this slideshow.) He blamed the loss on "humidity and a lack of squirreliness," and then retired to his luxury tugboat to play canasta with close personal friends Harvey Keitel and Merle Haggard until 3 in the morning.
T is for Terminus. Steve Kragthorpe lost his eighth straight game against D-1 competition as Pitt beat them 35-10. We hardly knew ye, Steve Kragthorpe, mostly because every time we looked over you were being crushed beneath a pile of rubble or blown out of your own stadium with great force.
U is for Upset. Why were LSU players vomiting all over the place on Saturday? Don't bother scraping the turdlines out of the crawdad--we know that's where the real flavor is, and a little outhouse two-step is sometimes the price one pays for el sabor mejor. You could blame the flu, but that fad has come in gone in the SEC. We'll double down on "intentionally poisoned pregame barbecue" for $500, Alex, and let that ride.
V is for Vaseline. The substitute for gloves in West Virginia, evidently. The Mountaineers kept one of the nation's most spastic defenses busy chucking "downward laterals" to the groung by fumbling the ball 5 times and losing four against Colorado. The Buffaloes remain too hapless to take advantage of even a bumper crop of turnovers, still have the coach's son at quarterback, and no money to buy out their coach. Other than that, they're awesome, man. On a related note, Jarrett Brown is Jamarcus Russell with even less of a natural ball-security instinct and willingness to overthrow receivers downfield, but with an added spice of Rob Johnson/John Parker Wilson "let's get sacked scramblng 20 yards backwards" feel. Tell him the same thing coaches attempted to tell him at LSU: PROTECT COOKIE JARRETT!!! COOKIE IMPORTANT!!!
W is for Wistful. Charlie Weis was crying in the post-game interview. No, really. We have footage.
Bugles. I love bugles. He was truly emotional after ND's win on Saturday, which is nice to see given his PR image as an arrogant, soulless Belichickite with acid for blood and a gaping black chasm where his heart used to be. There can only be room for two of those in college football, and he's preparing for LSU this week.
X is for XR2 Whistle whistle, blow blow, Jevan Snead just wants to throw...though he doesn't particularly care who he's throwing to, or why. Snead threw 3 TDs and 3 INTs on Saturday against Vanderbilt, an exercise in teasing thanks to Vanderbilt's limp offense and inability to cash in on said turnovers. Snead may throw eight picks against Alabama or laser-rape them for 4 TDs and 0 INTs. He is capable of either, because he's like a kid out there! Soiling himself and delighting you all in the same game! POSITIVELY FAVRE-IAN WE TELL YOU!
Y is for YEEEEEHAW. A deathless moment in copy from the summary of an otherwise hideous 47-19 whooping of the TAMU Aggies by Arkansas:
The more lopsided the score got, the more folks went for long strolls to check out the $1.15 billion stadium built by Arkansas alum Jerry Jones.
Arkansas also struck up an "S-E-C!" chant, which was then subject to a $5,000 "Chantin' Fee" from the ol' Double-J. For the Aggie fans who shelled out triple digit dollars to see this game in the Jerrydome: there is a special place in the Hall of Great Fan Devotion or in the Museum of Historical Rubes, or possibly both. We haven't decided, but holy hell A&M is bad.
Z is for ZZZZ. LSU fans, WHAT!!!
Athens-Clarke police arrested an LSU fan for public intoxication about 6 p.m. Saturday after he locked himself in a downtown store's employees-only bathroom and passed out, according to an Athens-Clarke police report.
The police found the man with his pants around his ankles, and he said he had been drinking since noon. Or he could have just shown him his purple-and-yellow hat, a.k.a. his state-issued public intox permit in Louisiana, and asked if Georgia reciprocated said permit. (FYI: they do not.)