Greg McMackin sits in a clutch of reporters at WAC Media Days. He discusses Hawai'i's disappointing bowl game loss to Notre Dame. Digital recorders sit silently recording syllables.
McMackin: I know most of the coaches in the country are rooting for us to beat Notre Dame," McMackin said. "Charlie gives this talk, 'We do something special at Notre Dame,' and (the players) get up and they do this little cheer ... this little faggot dance.
Giggles. Then: sudden realization, followed by nauseating regret.
McMackin: Don't write that 'faggot' down. I was misquoted," he said. "Just please … cover for me," McMackin said. "Go ahead, say 'faggot dance.' No. Please cover for me on that, too — right Karl? I'll deny it. Anything else?
Reporter one: Could you clarify that, please?
McMackin: No, seriously. Please don't print that. It was--
Reporter one: I just want to make sure you know what you're saying here. What exactly is a "faggot dance?"
McMackin: No, really, I'm sorry, I chose my words poorly, and I--
Reporter two: [turns around laptop, points to picture.] Like this kind of dance?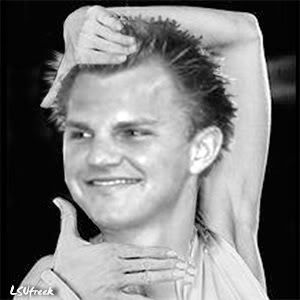 McMackin: [cocks hip to side.] Now, that's a bit too static. Too Paris is Burning for my tastes. When I said it, I meant--
Reporter three: How about like this? [turns around laptop, points to picture.]