Questions you will not hear at Big Ten Media Day in Chicago (which you may watch here.)
"Bret! Can you hit this shit, Bro-gaine?"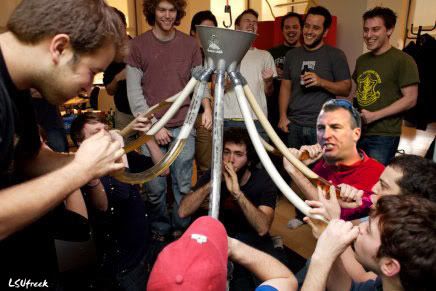 "Coach Fitzgerald, tell us a bit about having a quarterback convinced of his meaningless places as a faceless drone in an absurd bureaucracy, sure to be be punished for no reason at any point in a rigged and insane trial, or possibly seconds away from turning into a giant insect?"
"Coach Hope, can you shed any light on the dark details of Pete "Maverick" Mitchell's father's death?"
"Coach Tressel: Thong or French cut?"
"COACH BREWSTER, I NEED TO VERIFY THAT YOU ARE LISTENING. THAT'S WHY I'M USING THIS BULLHORN. YOU LIKE IT? OKAY, I'LL KEEP USING IT. YOU SEEM COMFORTABLE WITH IT. TALK TO US ABOUT YOUR FABULOUS STADIUM. WHAT DOES IT RUN IN THE FORTY?"
"Kirk, tell me: how long has Ricky Stanzi been in the Witness Protection Program, and...what? That was off the record? Shit, I'm sorry."
"Coach Paterno, am I a wiseguy, a schnook, or a punk? As an expert, please elaborate on the fine differences among them."
"Would Indiana's head coach please identify himself...yes, I'm to understand you do have a coach, correct? As in, what you do is actually coached? Yes?"
"Coach [REDACTED}, can Juice Williams hit this with a football? [/points to broad side of barn]"
"Coach Rodriguez, have the lambs stopped screaming yet? Freshman quarterback? That would be a big fat no, correct? GRAB HIM! TAKE HIS BELT AND SHOELACES!"
"Coach Dantonio, have you ever accused chestnuts of being lazy? Don't deny it. You have. I'm just asking to see if you'll lie about it in public."
If you are watching it, go back and boggle at Jim Tressel's astonishing pablum. It's a baroque kind of verbal blandosity usually only heard in Congressional speeches. (Not hot crazy like you'll get from House members.) Tressel's inevitable march towards becoming the junior Senator from Ohio began a while ago, but this only confirms what you already knew: he is a savant at saying absolutely nothing with a slew of words.
Tim Brewster, in contrast, is full of fun and definite nonsense: not only does he support the splitting of the league into divisions and a championship game, he also thinks Minnesota receiver Eric Decker is the best wideout in college football. This is, of course, impossible because Decker is a "possession receiver," even if he does have a compellingly themed highlight video.