This is just the tip of the iceberg for Oregon's uniforms in 2009, really. Wings? Drake, pleeeeaaaaase. There are so may other ways this could go well, and by well I mean "with Oregon fans gouging out their eyes with plastic concession stand forks before kickoff."
Like a mad hippo with radioactive paint on his ass. For instance: tackling LeGarrette Blount is hard already, but have you tried it in the dark? As part of Oregon's revolutionary new effort to be the greenest football program in the nation, join the Ducks for the night game against Purdue, where the "Lights Out For the Earth" night will feature college football's first light-free night game!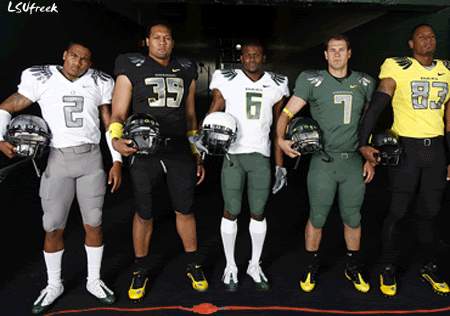 PS. Don't tell Purdue.
PPS. Don't worry about the health risks of the possibly radioactive dye used in these uniforms. The Burmese tykes who stitched these together seemed just fine last time we saw them, and they were practically rolling in the stuff.
These are strictly non-denominational, of course. Holidays got you down? BAM! Festivity in cleats comin' atcha! No way you spend another Christmas with scotch in one hand and a handgun in another with Oregon's joyous new holiday attire, the Festivus Shockers.
Chip Kelly's offense: so effective you can literally tie a huge red light to someone's head and it still works!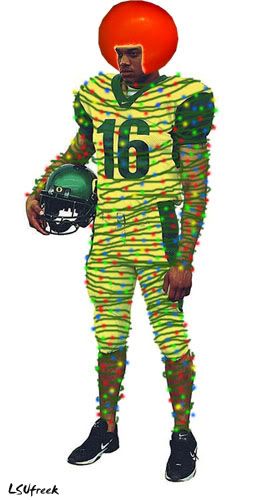 God rest ye Merry Gentlemen, indeed: the headpieces on these things weigh thirty pounds alone, and heat up to 170 degrees. Try cooking an egg in one if you don't believe us!
Bustin' Loose! The literal may seem whimsical, but the "Quack Attack" edition will not only fluster defenders with gales of crippling laughter, but will prove to be nearly untackleable as a triple layer of detachable feathers keep defenders from getting a sure grip on Oregon ballcarriers.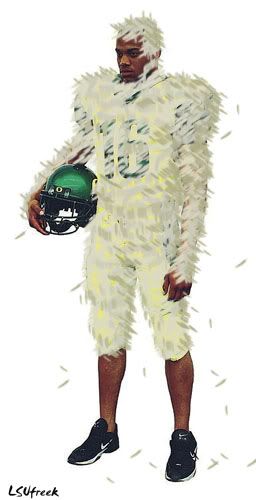 Also, the last thing a defender sees before a knockout hit will be a cloud of feathers heading toward him. Intimidation, gentlemen and ladies! That's what we're shooting for here.
The Duck is Dead! Long Live the Duck! For the urbane, artistic crowd, we'll throw in the Dada Duck.
You'd be surprised at the force that Urinal Helmet can bring. I'm sorry, you asked something? Of course it has an iPod in it. If you actually want to piss in it, though, you'll have to buy the drainpipe separately from an Apple store or dealer, and then only buy the Apple-compatible pipe provided by your Apple store or dealer.
Finally, Our Most Addictive Uniform Yet. Ultimately, Nike has determined that the problem with any football player's uniform is that it and the player in it will be tackled. The solution? Create a uniform people would rather fiddle with than tackle. The revolutionary answer?
The Bubble Wrap Warrior 1.0
We're just beginning to scratch the surface of what's possible here, people.