Los Angeles. Charlie Weis, Pepper the Notre Dame Comeback Dolphin, and a random woman Pepper picked up in a bar in LA.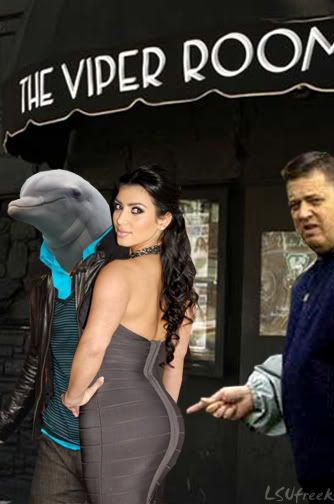 Pepper: WHO'S THE MASTER RECRUITER NOW, CHARLIE?
Charlie: You said you were going after a tight end. That was misleading.
Pepper: SHE'S GROWN INTO A RUNNING BACK! AH AH AH!
Charlie: Okay. I've gotta get out to Oaks Christian see another of the Montana kids. Jesus, there's like eight of them. Joe breeds like a brain-damaged rabbit with three dicks.
Pepper: AH AH AH! THAT'S THE SPIRIT, CHARLIE!
Woman: I've never slept with a dolphin before. Only a Saint. Ha! That's a joke!
Pepper: TALKING IS UNATTRACTIVE, LIKE YOUR SISTER!
Woman: You're mean! And right. Where are we going?
Pepper: TO MY HOTEL WHILE CHARLIE GOES TO RECRUIT. YOU BETTER PUT IN A BETTER PERFORMANCE FOR ME THAN YOU DID ON THAT VIDEO.
Weis: Game tape wasn't too impressive, lady. We demand championship effort at Notre Dame.
Woman: Where?
Pepper: AH AH AH! LAID THERE LIKE A WILLINGHAM LINE RECRUIT! TOTAL LACK OF EFFORT.
Weis: Just unacceptable, ma'am. I gotta grab my car from the valet. Wait, is that---
Pepper: OH NO.
Woman: An Asian guy! With a taser!
A disco ball drops into the street suspended from cables. Music strikes up from unseen speakers. Norm Chow begins dance seductively toward Pepper.
Pepper: STALKING AUTOTUNE HACK!
Norm Chow: You can't deny my love forever, Pepper.
Weis: Legendary offensive coordinator Norm Chow?
Pepper: CHARLIE RUN. YOU DON'T WANT TO HEAR THIS.
They run for a city block. Charlie Weis keeps up a shockingly good pace with his cane. They turn a corner, and...
Pepper: NOOOOOOOOOO!!!!
Norm Chow awaits, rose in hand and shirt open to mid-sternum.
Norm: Girl, you've been on my mind, and I got something to tell you. 3..2..1..
Pepper: I HAVE RESTRAINING ORDERS, NORM.
Weis: So that's why he's never been a head coach.
Pepper: A FANTASY DOLPHIN STALKING FETISH WILL DO THAT TO YOUR CAREER, CHARLIE. RUN!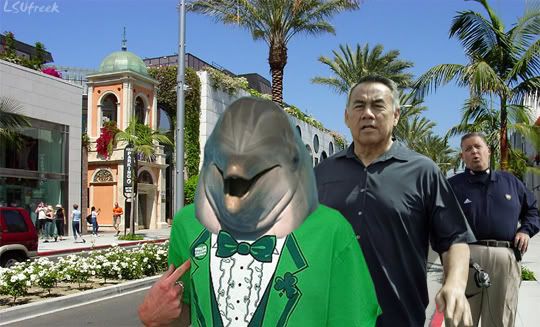 Woman: Oh god. This is grosser than the time I found out Reggie went to college.
Weis: Well, that depends on your definition of college, sweetie. They're looking into that now.
Pepper: RUUUUUUUNNNN!!!
They flee.