Tuscaloosa, Alabama. A television studio. A single chair sits off-center on a carpeted platform. The offseason edition of the Nick Saban Show is set to begin, but in the spot where co-host Tom Roberts usually sits instead holds a flat screen television.
Enter COACH NICK SABAN.
Coach Saban: Christ, I think I ate some bad sausage. Tell those people on the Gulf they cook like old people jump.
Personal Assistant Nancy: Yes, sir. Now, if you'll please have a seat, sir. You only have to do three of these in the offseason.
Coach Saban: Right, right. Christ, it feels like I've got a sackful of puppies wriggling around down there. Call the doctor and have me intubated for a film session. I'm gonna need an IV. When are those people going to learn to clean the shrimp?
Nancy: I don't know sir. Now, there's been a change in the--
Saban: Where's Tom?
Nancy: Due to some budget cuts, there's been a change. Tom's no longer the co-host.
Saban: I don't like this. Where the hell is Tom?
Enter PRODUCER ED.
Ed: He's pursuing other opportunities. Listen, Coach. The recession's hit our donations, and we've got to take some steps. We've saved money one way by outsourcing the job of co-host to a company called International Media Solutions. They're out of Bangalore.
Saban: India? So I'm just supposed to talk to this tv? Who's gonna be on it?
Ed: IMS has provided a host who will read our questions. They also have some graphics ready for us, produced in house by them.
Saban: So who's gonna be hosting this?
Ed: They've provided a guy. Pretty sure he's a pro, but we're going to do a dress rehearsal to find out.
The tv crackles to life. DALER MEHNDI appears on the tv.
Daler Mehndi: hallo coach saban this is can you hear me daler mehndi questions for you this is NICK SABAN'S SHOOOOOOOOWWW.
Saban: I can't understand what he's saying.
Producer Ed: Daler, if you could, I'd like to rehearse some questions.
Daler is delayed. He stares and smiles a gigantic smile into the camera.
Daler: Yes, but intro? We will watch the intro? I suggest we watch the intro first.
Saban: Hey, um..."Dollar." I'm on a schedule and...
Daler (in thunderous baritone): JAAAAIIIIIIIIIII GANESHA!!!!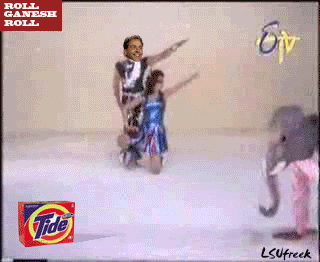 JAI GANESHA JAI GANESHA JAI GANESHA DEVAA (ROLL TIDE!)
MAATAA JAAKII PAARVATII, PITAA MAHAADEVAA (ROLL TIDE!)
EKA DANTA DAYAAVANTA, CAARA BHUJAA DHAARII (ROLL TIDE!)
MAATHE SINDUURA SOHAI, MUUSE KII SAVAARI (ROLL TIDE!)
JAI GANESHAA...
A tiny woman with a screeching voice comes on and bellows away in Hindi...
ANDHANA KO AANKHA DETA
KORHINA KO KAAYAA (ROLL TIDE!)
BAANJHANA KO PUTRA DETA
NIRDHANA KO MAAYAA (ROLL TIDE!)
JAI GANESHAA...
PAANA CARHE, PHUULA CARHE
AURA CARHE MEVAA
LADDUANA KO BHOGA LAGE
SAMITA KAREN SEVAA
JAI GANESHA...
The camera switches back to Daler. He smiles broadly. Saban, Ed, and Nancy sit speechless. After ten seconds, Saban speaks.
Saban: I'm...let's just try some questions. Go.
Daler: YES. Questions. He digs up a notecard. Coach, please discuss the game with Utah.
Saban: Well, I think we just--
Daler: What transpired there WAS IT THIS?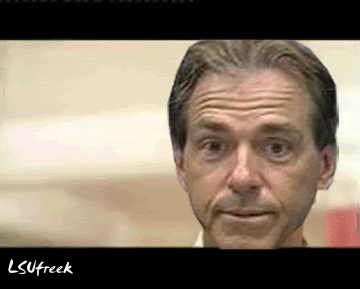 Dramatic screeching 70s horns blare for a minute straight: DAH! DAH! DAH! DAH!
Saban: Ed, I don't think this is going to work. It's just not...
Daler: YOU SHALL DEFEAT THE GATORS WITH GANESHA-MAN SABAN AT THE HELM OHHHHHH JAAAAAIIII GANESHA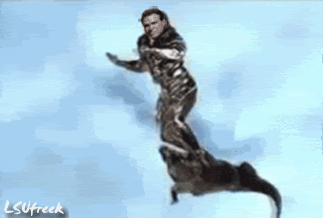 Saban: I don't have time for this shit.
Ed: Get Tom on the phone. Tell him we'll give him dental this time.
Nancy: Count to ten, Nick. Count to ten.
Daler: JAAIIIIIIIIIII GANESHA!!!