In part three of Jim Tressel's Vacation, a.k.a. Where in the World is Carmen, OhioSanDiego: A cheap, weathered envelope sits in the mailbox in Ohio. It is covered with numerous inscrutable postmarks. Inside it is a simple postcard and a photograph.
Front:
Back:
Dearest--
Thank you for understanding my yearly walkabout, and for your patience and devotion. Mogadishu is lovely this time of year, as it always is. It's good to see good friends again, even if many of them have lost limbs and eyes since the last time I saw them.
I will be home after an expedition with my old friends on the Horn of Africa. I have enclosed a picture of the unique collateral I brought with me this time to fund our yearly adventures.
The picture: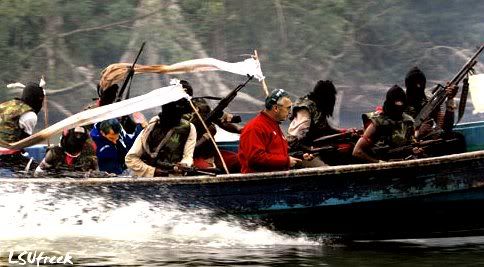 We-Are! Being-Held-For-Ransom!
LOL,
Jimmy
ps. "Lost" my passport in Afghanistan please file for a new one love again ly jim
pps. I am going to spank you like a Somali shepard whips a camel when I get home, but only in the loving, consenting way we always do. XOXOXOXO --J.