Two things:
1. DISSA JUSTA RUMAH BUTTAHEARD DACOACHO ANDA LESSAMILES DONNSUM TAWKIN' ATDA LOOOSIANASTATE FOOTBAW CHAMPEENSHIP DISSAWEEKEND. NOFUTHA INFOBUTTA GOTTA GETEXCITED BOUTDA COACHOPOSSIBLY GETTINDAFINEST AH FURSFORTHATIGAHS INNABATONROUGE..
2. LSUFreek remains a genius, as the Jay Jacobs press conference in Baghdad Auburn did not go well.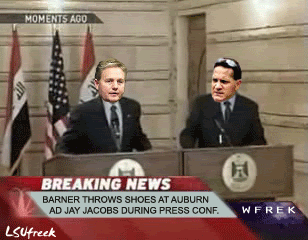 Some reflexes on that man, there. Unfortunately, the shoes are likely to come thick, heavy, and fast at him over the offseason unless Chizik makes some genius hires here shortly.