If you were watching the noonish Bowling Green/Miami game on Saturday and wanted to watch the end of the game, here's what you saw instead: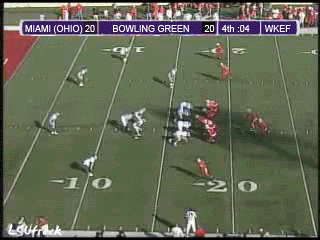 Or something like that, actually, at least for the poor Miami and Bowling Green fans whose game was ditched in the fourth quarter on local television in Cleveland and elsewhere in favor of the Buckeyes trouncing the Michigan State Spartans by a score of WHATEVS to WHO CARES, because the people want their MACtion, and THEY WANT IT NOW!. (But in a polite, Midwestern kinda way, if you wouldn't mind so much.)
The heartbreak of the small town Bailey MAC fan being cheated in favor of the Potters in the Big Ten may be found here at Miami Hawk Talk. Remember: Jim Tressel controls the horizontal, and Jim Tressel controls the vertical.