We held onto this for a couple days, debating whether to run with it or not. Our source has served EDSBS the choicest intelligence more times than we can count, but this...this is unsettling.
Kirk Herbstreit, the WWL's Golden Frosted Boy, is not a bad guy. We believe that. And we're all about the dude-on-dude love, believe us. But there are LINES, man. Somewhere, there's got to be a line, and we draw it here.
It brings us absolutely no pleasure, in fact, to share the following video, because, again, gross: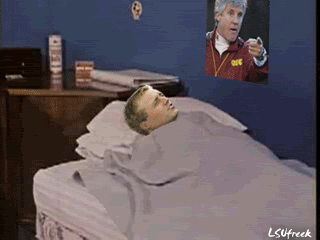 THE HUMANITARIAN HAS TRANSCENDED SEX, HERBSTREIT. HE IMBIBES THE ESSENCE OF THE SUN AND MOON AND FLOATS A FULL FOUR ATMOSPHERIC LAYERS ABOVE YOUR DESIRES OF THE FLESH. For shame, sir. For shame.
(LSUFreek, world without end, amen.)