Recover with all due haste, you gravelly-voiced devil: Larry Munson, the voice of college football, is recovering from brain surgery after suffering a subdural hematoma Thursday. Send kind thoughts to:
Larry Munson, c/o UGA Athletic Association, P.O. Box 1472, Athens, GA 30603.
Hunker down, sir. The thought of a fall without you has a Gator typing this through welling tears.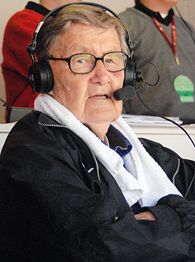 Hang in, Larry--we can't let you go out on a Cocktail Party victory, dammit.