Mistakes: we make them. The corrections for the week of 3/31--4/4/08 follow.
--On Thursday, in our piece on the spread option, we suggested that Rich Rodgriguez played the lead role in the 1992 horror film Dr. Giggles. This role was played by Larry Drake. We regret the error.

We regret the error.
--Earlier in the week, we reported that Rick Neuheisel was seen escorting a dozen rising high school seniors to Scores, a downtown Los Angeles strip club. They were actually spotted at Spearmint Rhino. We regret the error.
--We also reported that UCLA "may have serious offensive line depth issues." This was inaccurate, and we apologize. UCLA has no offensive line, and therefore no issues.
--In a piece on Notre Dame quarterback Jimmy Clausen, we reported that his early spring passes "fluttered through the air like the flight patterns of his totem, the emu." The emu is a flightless bird. We regret the error.
--On Monday, we listed Frank Beamer's hometown as "Mt. Airy, North Carolina." There is no such state as North Carolina, and as it turns out, no such town as Mt. Airy. His true hometown is Gritnails, West Virginia, a small town outside of Barbedwiredsburg. We regret the error.
--In our weekly ACC roundup, we reported that Virginia's Al Groh took the news of his players' latest legal woes in silence, with merely a raised eyebrow. Further research indicated that Coach Groh was actually sleeping at the time and dreaming of a particularly intriguing dish of tapioca. We regret the error.
--Yesterday's Daily Ryan Perrilloux Blotter post reported that the LSU quarterback's latest banishment from the practice field resulted from his hijacking of a paddle-wheel boat in a nearby bayou last weekend. The vessel in question was a pontoon boat. We regret the error.
--On Wednesday, we showed video of old Michigan workout routines. We apologize: this footage was actually from Olivia Newton John's "Physical" video. The correct footage is posted below.
--Tuesday's spring practice report stated that Seminoles head coach Bobby Bowden has been teaching flat-footed receivers to dance the Maypole to improve agility. The players have been learning "Bad, Bad Leroy Brown." We regret the error.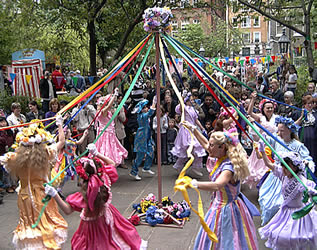 Monday's "TV Bulletin" reported that the Miami/Florida game on September 6th has been moved to 6 p.m., EST. This is incorrect. A representative from the Miami program requested a move to kickoff the game at "10:00 p.m. or so-ish" in order to allow locals to be on time and lookin' right and shit. We regret the error.