Scene: Charlie Weis' office in South Bend, Indiana. Weis is about to hire Jon Tenuta as defensive backs coach and assistant coach, but wants to see the goods first. If he can ever get off the chirp...
Weis: (talking into Nextel) "Reg, seriously, I will take that under consideration."
Nextel: (CHIRP!) "Seriously, Charlie. No one's run the wishbone in years! It'll be Greek to everyone, and Clausen will love it!"
Weis: "Sure, Reg. Sure. I'll take that very carefully into consideration. Now if you'll excuse me, I have an interview with--"
The door flies open. A large man with gray hair, a wild look in his eye, and an ill-fitting grey suit stands in the doorway. Jon Tenuta enters carrying the shoulder of a fly-ridden deer carcass and a play book.)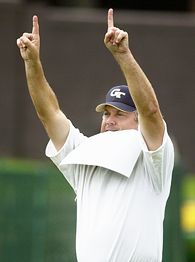 Tenuta: YOU CALL NUMBER ONE TAH-NOO-TAH?
Weis: Yes. We're looking for a new defensive backs coach, and possibly someone to help give some more bite to our defense. I called around, and your name seemed to come up quite a bit.
Tenuta: HAW HAW HAW TAH-NOO-TAH KNOWN FAR AND WIDE! HIS NAME MAKE PEOPLE PEE AND CRY SAME TIME! HAW HAW HAW! (takes bite of deer carcass.)
Weis: Did you...did you kill that your self?
Tenuta: NOT THIS TIME. BOUNTY OF HIGHWAY KEEP TAH-NOO-TAH FED AND HAPPY TODAY.
Weis: Well, that's....anyway, I wanted to ask you a few questions. Talk about defensive philosophy and what you'd suggest we do to make our defense even better than it was last year.
Tenuta: YOU NEED GET WHITE SAFETY OFF FIELD OR MAKE BLITZ!--
Weis: --yes, he's gone, so don't worry about him.
Tenuta: TAH-NOO-TAH LAUGH AND CRY SAME TIME WATCH HIM PLAY PASS COVERAGE!!! (takes huge bite of deer carcass.)
Weis: --yes, yes, well, he's graduated, and Tom did a lot of good things for our football team.
Tenuta: ME ALWAYS TAKE WHITE SAFETY AND BLITZ, BECAUSE WHITE SAFETY NO RUN. POLYNESIAN, MAYBE. BUT WHITE---
Weis: Um, perhaps you could show me what you would show and do against an Ace, 2-tight formation, Jon?
Tenuta: TAH-NOO-TAH NO SCARED! ME BLITZ!
Weis: My, that's...aggressive. I almost like it. Is that...
Tenuta: TOTAL BLITZ! NO FEAR TAH-NOO-TAH SHOW!!!
Nextel: (CHIRP!) Charlie, have you thought about getting the guys to train with this new Wii Fit thing they've got now? My grandkids just love it, and even Joy and I have gotten into it. I've lost three pounds just messing around with this thing! Imagine what it'll do for Clausen--
Charlie: (Picks up nextel) Reg, little busy here, but I'll take that under consideration--
Tenuta: YOU WANT ME SHOW OTHER SCHEME?
Weis: Sorry about that. Yes, please show me an I formation set-up, and how you'd line up against it.
Tenuta: ME NO FEAR I-FORMATION! BLITZ BLITZ BLITZ BLITZ!!!!
Weis: Again, aggressive. I like it. Now, for recruiting. If I want you to describe your philosophy about recruiting--
Nextel: (CHIRP!) Charlie, this is Regis. How about those PowerBands I've seen? Feldman's been using them, and he's ripped. RIPPED, I TELL YOU! For a gay producer, that is, but still--
Weis: --Reg, please, I just need a minute here.
Tenuta: TAH-NOO-TAH FEAR NO RECRUIT! DIAGRAM EXPLAIN!!!
Weis: Again, very aggressive, Jon. I like the way you think.
Tenuta: HAPPY COACH WORDS MAKE ME! YOU WANT BITE? (Tenuta takes another huge bite of the deer carcass, consuming skin, hair, and bone in muscular bites.)
Weis: No, um, thank you. Speaking of, would you like to eat--
Tenuta: TAH-NOO-TAH ANTICIPATE THIS QUESTION AND PREPARE SLIDE JUST FOR OCCASION. TAH-NOO-TAH SAY YOU LOOK!
Weis: Agreed. Tony's subs it is. Let's go and work on the details of your hiring.
Tenuta: YOU HIRE TAH-NOO-TAH COACH DEFENSE?
Weis: Sort of.
Tenuta: MONEY? NO MORE SCROUNGE FOR FLATMEATS?
Weis: No, no more bounty of the highway for you. We'll pay you in money.
Tenuta: HAPPY YOU HAVE MADE ME FAT MAN.
Weis: Glad to have you on board. And just leave the rest of that deer thing here on the floor. Phyllis will clean it up.
Tenuta: TAH-NOO-TAH TAKE WITH FOR SNACK. (Flies buzz around the deer.)
Weis: Fine. Just save some for me!
Tenuta: TAH-NOO-TAH ALWAYS SHARE WITH FRIEND!
Weis: I'm just kidding. Even I'm not touching that with a ten-foot pole, man.
Nextel: (CHIRP!) Seriously, Charlie! The wishbone! Just imagine it! And don't forget Wii fit!
Weis: I'm taking that into consideration, Reg. Off to lunch!
Nextel: (CHIRP!) The Baked Lay's this time, Charlie! The baked ones!