Mike Bellotti: Hey, Dennis. Is that Ryan Leaf over there?
Dennis Dixon: Who?
Ryan Leaf: Hey guys! Man, it's great being on the sidelines again! I feel like I could suit up!
Bellotti: DAMMIT!!! Get him the hell off the sidelines! NOW! DON'T YOU KNOW WHAT HE CAN DO!!!!NOW!!!!
Leaf: What, man? I'm just throwing the ball around over here, watchin' my little bro play...
Dennis Dixon: AAAAAAGGGGGHHH!!!! FUCK!!!!! My knee! My potentially nationally titled, amazingly gifted yet fragile knee!!!
Dixon's knee: I'm not supposed to bend like an elbow, right?
Dennis Dixon: Um, no. Fuck.
Bellotti: I told you. It's too late now, but remember that I tried to warn you. All we can do now is meditate and hope for peace and serenity as I'm doing right now.
Arizona fans: WOOOOOOOOO!!!! GO CATS!!!!! OWWWWWWW BURRRRRRRRRRN!!!
Leaf: What, man? I DIDN'T DO ANYTHING!!!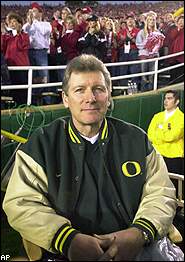 Bellotti: You don't understand, do you? Even after all these years. You are a harbinger of inescapable disaster, Ryan. Whatever you associate with implodes, loses, or suffers incalculable trauma. Say the words Bangladesh, for example.
Leaf: Bangla-where?
Entire republic of Bangladesh: DAMN YOU RYAN LEAF!!!
Leaf: That's crap, man! What if I just said the words, "Alex, my friend who trains Beluga Whales." What would...
Alex: MRPRHAPHFMRPH DAMN YOU LEAF MRRPHH MPRRRRPHA AAAGGGHHH
Whale: REVEEEEEENNNNNNNGGGGEEE!!! I AIN'T WORKIN' FOR HERRING NO MORE!