It's November. You have no excuse to be outside.
Pat White. Thursday night. Louisville's defense. This could get ugly.
THURSDAY NIGHT LIGHTS
LOUISVILLE at WEST VIRGINIA (7:30 ET • ESPN)
The classic "Time Machine" game: West Virginia is still a frontrunner, and even Louisville is still technically alive in the Big East at 2-2 in the conference, but this barely consequential showdown bears no resemblance to the clash of unbeaten, BCS-bound titans it was last year, or that ESPN no doubt expected again. In lieu of far-reaching national ramifications, prepare thyself, viewer, for pointless hype of Pat White and Steve Slaton directed at certain individual awards, and at least two replays of a certain play that propelled a certain color announcer to said award more than two fucking decades ago, and some pro scout drooling over Brian Brohm moments before he's intercepted for severely underthrowing an open man.
Watch for: End zone angles of West Virginia's unearthly blocking, opening mile-wide lanes against overpursuing defenses since 2005. Also: Noel Devine, who will do something completely jaw-dropping in place of Slaton in the second half, because that what Noel Devine does.
Provincialism: Tennessee State at Samford (6:00 ET, ESPNU), TCU at BYU (9:00 ET, Versus)
TGIF, UNLESS YOU HAVE NOTHING BETTER TO DO THAN WATCH...
RUTGERS at ARMY (8:00 ET • ESPN2)
Our brave future fighting men have played one much stronger team tough at home each of the last two years –Iowa State in 2005, Texas A&M last year – but still carries something like a twenty-eight year losing streak against winning teams. I didn't look that up, but you'll hear the real number at the first sign of Rutgers distress Friday, and then a few times again until RU lays down the hammer. But make no mistake: sooner or later, the hammer will be laid. Army is sloooooow. Watch for: The play Army safety Caleb Campbell hits Ray Rice so hard his helmet pops off, and Rice is revealed to actually be a fifty-story-tall monster made of flames the Black Knights must work together to slay before they can graduate to victory, aka an extended tour in Afghanistan.
(Yes, I know that was a Marines commercial, but they're all shooting at the same targets. Anyway, the Army monster as personified by Ray Rice is way bigger).
Provincialism: Fordham at Columbia (7:00 ET, YES), Bowling Green at Eastern Michigan (7:30 ET, ESPNU)
SATURDAY – EARLY AFTERNOON: THERE IS A RACCOON. FLUSH HIM FROM THE WALL IN TIME FOR...
Main Course: Michigan at Wisconsin (Noon ET • ESPN)
P.J. Hill may not play, meaning the Wolverines may have to actually hit a moving target, a tall task to date for this particular version of the Michigan D. Then again, the Badgers ran for all of twelve yards without Hill at Ohio State last week and have allowed an average of 221 yards rushing to the last four non-MAC offenses they've faced, three of them in losses. So Mike Hart's ankle does not necessarily need to be 100 percent. Watch for: Okay, like, this may not be a big deal for Midwesterners and other Northern types, and there's all like global warming and whatever, right? But for those of us who grew up sweating in the desolate Southland well into the Fall months, even a glimpse of snow on the tube is an exotic, vicarious thrill. Football in a blizzard? We don't want to be there, we just want to see it. The game's already an instant classic. OMG hi-def snowstorm! The god who denies us this seasonal pleasure is a cruel numen indeed.
On the Other Channel...
WAKE FOREST at CLEMSON (Noon ET • ESPN2)
Impromptu Geico trivia: which one of these teams still has a chance to catch Boston College in the Atlantic division? Answer: both of them – the Deacons and Tigers are 4-2 apiece, though Wake is eliminated by tie-breaking procedures if B.C. beats Maryland Saturday. If it wins, Clemson can set up a winner-take-all showdown with the Eagles in Death Valley next week. Watch for: Half of Clemson's team is knocked out of the game after appropriately-named defensive lineman Jock McKissic loses his balance on the way down the hill during the Tigers' opening ceremony, triggering a chain reaction that claims the entire starting secondary and most members of the receiving corps. C.J. Spiller is spared, however, by alertly leaping over the entire mass of humanity, performing a double salto with a full twist on the first flip and landing on his feet. Spiller then runs for 274 yards and two touchdowns as part of a five-man offense, only to watch Wake steal the win in the closing seconds (if you don't think Wake would let a five-man offense hang around for 59 minutes, you don't know Wake. Last second is just how some of us roll).
Bacher: Works things out, but...does he know how to change?
INDIANA at NORTHWESTERN (Noon ET • ESPN Classic)
What, exactly, is classic about this third tier pillowfight, other than its mediocrity? Both teams are collectively 0-5 against opponents with a winning record; Indiana is already technically bowl-eligible at 6-4, and Northwestern is a win away at 5-5. If the Wildcats win and both teams end up 6-6 (they'll be underdogs next week against Purdue and Illinois, respectively), both could fall short of the conference's seventh-place spot in the Motor City Bowl. Hopefully good enough for the Motor City Bowl! Classic! Watch for: Northwestern quarterback C.J. Bacher, whose look is best described as "vaguely Asian," whose greatest achievement is yet to be seen and who is not afraid to admit that his favorite song on his iPod is Boyz II Men's "Water Runs Dry."
TEXAS A&M at MISSOURI (12:30 ET • FSN)
The Tigers offer an interesting juxtaposition for A&M: you have the Aggie offense on one hand, and what the Aggie offense is trying to be on the other. Every positive attribute you hear ascribed to Stepehen McGee during the first few minutes of the broadcast, apply it to Chase Daniel, as well, only for real. You won't have to do that for very long. Watch for: Dennis Franchione slowly removing his headset, handing off his clipboard, putting his hands in his pocket and walking off the field in the middle of the third quarter following a moment of epiphany. What's the point, you know?
Provincialism: A rare treat for SEC fans and unfortunate transplants to said territory, who get – count 'em – not one but TWO! exciting Lincoln Financial options at 12:30: Alabama at Mississippi State and Arkansas at Tennessee. Double the graininess! Double the Yellawood ads! Double the Daves! (You know they're going to find three more guys named 'Dave' for the extra duty right?) Everyone else can pick those games up live via the generous feed on Yahoo! Sports.
Elsewhere: Penn State at Temple (Noon ET, ESPNU), Michigan State at Purude (Noon ET, Big Ten Network), Minnesota at Iowa (Noon ET, Big Ten Network), North Carolina at North Carolina State (Noon ET, Lincoln Financial), South Florida at Syracuse (Noon ET, Metro Atlantic Sports Network/ERTV), Amherst at Williams (Noon ET, Northeast Sports Network), New Hampshire at Massachusetts (Noon ET, SNY...for two other states' flagship schools?), Villanova at Towson State (Noon ET, CSNA), Kansas State at Nebraska (12:30, Versus), Lafayette at Holy Cross (1:00 ET, CSTV), Yale at Princeton (1:00 ET, YES)
LATE AFTERNOON: KEEP AN EYE ON THE COWS, MA
Main Course: AUBURN at GEORGIA (3:30 ET • CBS)
You may not realize it, but this is the oldest rivalry in the South, forging valiantly into a second century of tradition that would equally horrify both sides of the game's segregationist founders. It's one thing to let muscular negroes run the same ball as the white players, but foot-ball without the ceremonial mid-drive heifer rape? The Colonel won't stand for it! Watch For: Knowshon Moreno, conquistador of homely co-eds campus-wide and the rest of the SEC's worst nightmare for the next three-plus years.
On the Other Channel...
Your Mouse-Eared ESPN on ABC Overlords Bestow Upon an Unworthy and Grateful Public...
ILLINOIS at OHIO STATE / FLORIDA STATE at VIRGINIA TECH / TEXAS TECH at TEXAS / ARIZONA STATE at UCLA (3:30 ET • ABC/ESPN)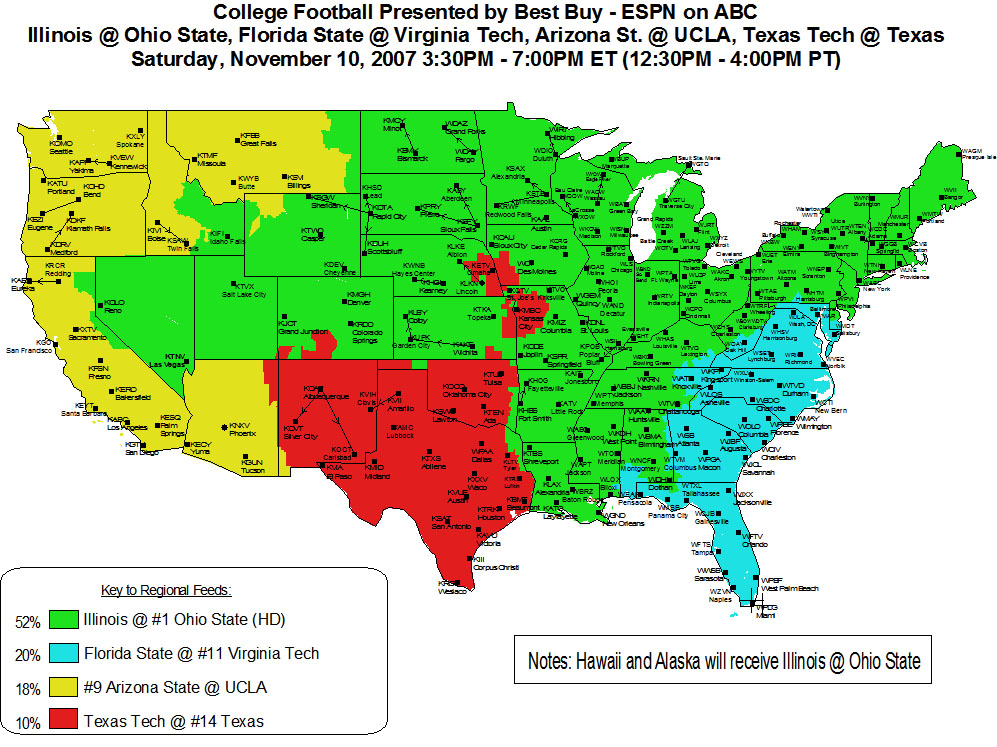 Look at this map and tell me: how did they decide on those precise boundaries in Idaho, Montana and Wyoming for who would get Ohio State-Illinois and who would get UCLA-Arizona State? "Remember, boys, Southeast Idaho, they love 'em some Big Ten. They can't get enough. But Montana? They better get the game in L.A. or there'll be hell to pay, believe you me. And whatever you, do, don't even think about trying to put on Ohio State in that one little diamond-shaped sliver in Western Wyoming. We all remember the Laramie Riots of '92. Yep, live and learn, boys. Live and learn."
Watch For: The comical contrast of Jim Tressel's icy resolve and Coach [Redacted]'s goofy pep, ending in a long closeup of one of them fighting back tears as the clock winds down on an afternoon of unambiguous punishment in the fourth quarter. I won't tell you which one.
AIR FORCE at NOTRE DAME (2:30 ET • NBC)
The Irish are a slight (+2.5) underdog at home, to a physically overmatched service academy that runs the triple option, which makes complete sense to anyone who saw last week's game. And Jimmy Clausen is back in the saddle for the game that could officially make these Irish the losingest team in school history? What kind of lottery did the rest of the country win? Watch For: Schadenfreude doesn't die. It multiplies.
Provincialism: Colorado State at New Mexico (1:00 MT, Mtn.), Boise State at Utah State (1:00 MT, KJZZ/KTVB), Connecticut at Cincinnati (3:30 ET, ESPNU), Wyoming at Utah (1:30 MT, CSTV), Furman at Georgia Southern (3:30 ET, SportsSouth), Kent State at Northern Illinois (3:00 CT, Cox Sports-Chicago), New Mexico State at San Jose State (1:00 PT, Comcast/Aggie Vision), East Carolina at Marshall (4:30 ET, MASN, WITN)
HERE COMES THE NIGHT
Main course: Your Mouse-Eared ESPN on ABC Overlords Bestow Upon an Unworthy and Grateful Public...
BOSTON COLLEGE at MARYLAND / KANSAS at OKLAHOMA STATE / USC at CALIFORNIA (8:00 ET • ABC/ESPN)
Oh, read it and weep, folks: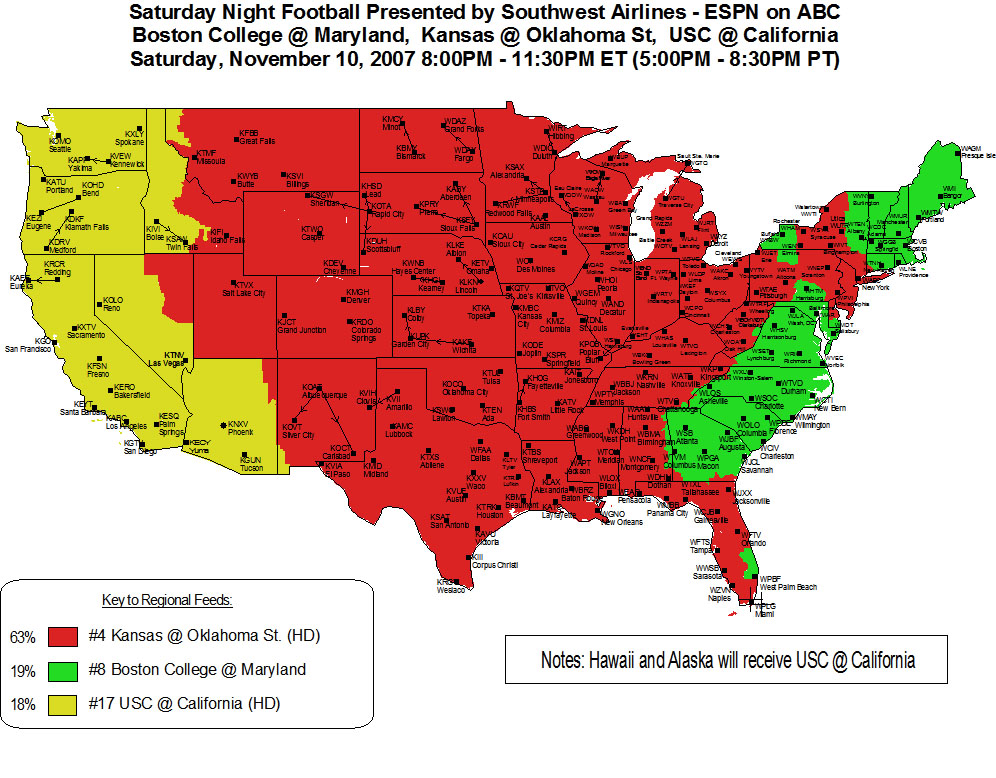 It's the Kansas-Oklahoma State game you've always dreamed of, consumer. No, no – thank us later. Watch For: Visually seeing the final molecules of air go out of Cal's dream season. Jeff Tedford will try sustaining its last vestiges by holding his breath and puffing out his cheeks, until Pete Carroll claps his hands on either side of Tedford's face to force out the rest.
On the Other Channel...
FLORIDA at SOUTH CAROLINA (7:45 ET • ESPN)
The Gamecocks have strategically timed their annual offensive revival to coincide with a defensive collapse of potentially staggering proportions, just in time for Tim Tebow, Percy Harvin, Gators brittle young secondary and your staggering windfall on the 'over.' Watch For: The tragic destruction of the "Cockaboose Railroad" when the lead cockaboose strikes an absentminded Tebow crossing the tracks prior to the game.
Can nothing stop Tebow's trail of rail destruction?!
VIRGINIA at MIAMI (7:15 ET • ESPN2)
What's worse: that the Cavs are in first place in the ACC Coastal with the nation's 104th-ranked offense, or that Miami still has a chance to catch them with a win? Welcome to the new ACC, baby. Watch For: There is no acceptable reason to watch any game in the ACC, especially one featuring one offense quarterbacked by Kirby "1 of 14" Freeman and another coached by Al Groh. Holly helpfully suggested the following themes:
Sundresses versus hot pants.
Juleps versus 40s.
Maypoles vs. Luther Campbell.
Popped collars versus popped caps.
I don't think they wear sundresses in Virginia, but whatever a 'Maypole' is, with apologies to Luther, I'm there.
FRESNO STATE at HAWAII (11:00 ET • ESPN2)
It's a midnight tradition: Random West Coast game! Random West Coast game! Watch For: If you can't drunkenly watch Colt Brennan hang 450 yards on a team you will not be able to identify in the morning before passing out, you are not American.
Provincialism: Stanford at Washington State (3:30 PT, Fox Spors Northwest/Bay Area/Pacific), Baylor at Oklahoma (5:30 CT, FSN), Central Florida at UAB (6:30 CT, CSTV), Washington at Oregon State (7:15 PT, FSN), San Diego State at UNLV (9:00 MT, CSTV)