Wednesday night and football go together like the Tilt-A-Whirl and a belly full of suspect, past-date chicken wings and jello shots. Yet here they are, slammed into the middle of the week whether you like it or not, and you will watch because it's YAY FOODBALL!!! and therefore at least worthy of a peek. You've already wasted half the week--why stop now?
(We would have had this up sooner, but our server had a stroke. It's doing fine and resting comfortably now.)
10. The many poses of Dave Wannstedt, pt. 1: "I'd hit that."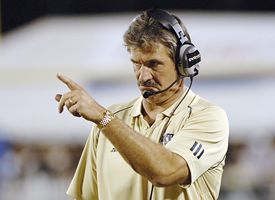 Seriously. I would.
9. Wannstedt has already demanded 28 points from his offense. He has also requested that Firefly be brought back on air. He's just in a demanding kind of mood today.
8. Navy quarterback Kaipo-Noa Kaheaku-Enhada and his name, which is Kaipo-Noa Kaheaku-Enhada, which will be pronounced with glee by the announcers every shot they get.
7. Davis/Holtz/May will call the game, meaning that with the inclusion of Holtz, the broadcast to this game just went from "scattered amusement" to "partly amusing with a 75% chance of being totally fucking surreal."
6. The many looks of Dave Wannstedt, part two: "Dave Sings Benny Mardones."

I'd pick youuuuuuuu up...and take you into the night....
5. Watch for mention of Pitt running back LaRod Stephens-Howling, the most aristocratic name in all of college football who should be sitting on the bench sipping a Pimm's while clipping the thorns off his prize rose bushes.
4. Navy's defense gave up 46 to Duke, so Pitt definitely stands a chance of putting up 20. Maybe.
3. The many looks of Dave Wannstedt, part 3: "The whole right side of my face is going numb!"
2. Again. Lou Holtz is calling this game. He may say anything or do anything. He can do magic. He can even dance, as evidenced by the end of this clip.
1. Navy runs the triple option, and we adore cromag football. It doesn't get more cromag than that.