This is the real thing, fans: quality on Thursday, quality in the morning', quality in the evenin', quality at supper time. You would have regreted missing last week's games, but you wouldn't have been wrong. You couldn't have known, really. Don't beat yourself up about it.
But make no mistake: this is the week to atone. There is no regret in football, not in a schedule like this:
You've got Thursday night fever, and the only cure is more Andre.
THURSDAY NIGHT LIGHTS
KENTUCKY at SOUTH CAROLINA (7:30 • ESPN)
Admit it: you love Andre Woodson. It's the old thing for men in blue (what is that? I don't know - but if it feels right, just go with it). You want to embrace his funky, full-bodied windup and share milkshakes with him after yet another interception-free victory. Of course he'll wear the visor. And confess further, while you're at it: you haven't really seen him play. Oh, maybe you've see glimpses. There was the end of the Louisville game, a few plays here and there against Arkansas, during commercials. A little bit of the Music City Bowl. That one dreamy shot in Lindy's (you know the one I mean...right. That one). But tonight, at last, tonight is the night you've been waiting for so long, when Andre steals America's heart right out of its cholesterol-padded chest and threads it between the safeties for another touchdown. A touchdown that bellows Kentucky's arrival on the national stage, a touchdown none of the skeptics can deny. A touchdown...for love. Watch For: Craig James popping a blood vessel attempting to restrain himself from making a horrible pun about South Carolina starting a quarterback named "Smelley," then hospitalizing Doug Flutie as the diminutive passer who once threw an incredible Hail Mary to beat Miami that you have to see to believe! tries to pull James off of Chris Fowler, who said to hell with the production meeting and attempted the pun anyway, with limited success. James' bail is posted by an Alzheimer's-stricken SMU booster.
TGIF, UNLESS YOU HAVE NOTHING BETTER TO DO THAN WATCH...
UTAH at LOUISVILLE (8:00 • ESPN)
This decidely non-marquee matchup bears the footprint of 2004, when Utah ran the table as the original BCS Buster and Louisville was three points and a dropped fourth quarter interception from upsetting mighty Miami in Brian Brohm's first extended action and the Cardinals' only loss in 12 games. Both coaches and one of the quarterbacks of those teams are rich, bitch, whereas their former schools are rich only in humiliating defeat: Louisivlle's loss to Syracuse is as bad as deflating losses come, but the Utes' choke job in a shutout loss to UNLV – just a week after blowing out UCLA for their first win – is pretty close. Watch For: A deluge of Papa John's commercials, probably, in order to capitalize on the super marketing opportunities that come with come with stadium naming rights in the Big East. Also: continued bafflement at the ability of Louisville's defense to allow 500 yards and five touchdowns to the nation's 104th-ranked total offense, ignoring the fact that it is, after all, Louisville's defense. Brohm is scheduled to be fitted with a crown of pepperoni thorns in a ceremony at halftime.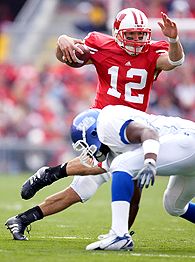 Donovan: Not intent on destroying his team's chances with turnovers. Could be a problem for Team [Redacted].
EARLY AFTERNOON: THERE IS A BAKE SALE. SWING BY WITH SOME OREOS AND BE HOME IN TIME FOR...
Main Course: WISCONSIN at ILLINOIS (Noon • ESPN)
The Badgers are a shadow of their former defense, currently ranked 53rd in yards allowed after finishing fifth in 2006 as Team [Redacted] enters with momentum, the Big Ten's deepest and most productive running game and a freshman wide receiver who breaks ankles just by making eye contact when walking into a room. Watch For: The inevitable killer mistake by Juice Williams, who had two interceptions last week against Penn State and won't get away with that shit again. Bold prediction: given the ball on four consecutive possessions in opposing territory with a chance to win, Tyler Donovan will not lead the Badgers to four consecutive turnovers and zero points.
On the Other Channel...
KANSAS at KANSAS STATE (Noon • FSN)
Kansas has rolled like a prairie giant awakened to find someone has run off with his plain but hearty wife, and taken it out on the first unlucky peasants he comes across in the wheat fields. Who just happen to be from the mediocre corridors of the MAC and other dregs of the Bowl Subdivision, which just happens to be cuddly enough to allow the Jayhawks the top-ranked scoring defense and widest average margin of victory in the country through September. Last year's KU win in this game, for the record, came one week after K-State upset Texas in Manhattan, albeit against Josh Freeman set on 'true freshman.' He had three interceptions, unlikely to repeat at this stage of his developent. Watch For: Mark Mangino, in that same curious, cringing way you watched pirated "Faces of Death" clips in junior high. You don't know when the camera's going to show it, or exactly what it will look like, but...you know you might want to skip the spaghetti beforehand. Freeman is the Dexatrim "After" sample by comparison.
MIAMI at NORTH CAROLINA (Noon • ESPN2)
Obvious storyline: Buth Davis' old team faces his new team. Less obvious: in context, UNC is the most excusable 1-4 team in the country: close, last-second losses to East Carolina and Virginia by a combined five points, and losses the last two weeks to South Florida and Virginia Tech. Watch For: Davis dropping hints that he saved the Canes from despair the last time, and if Ken Dorsey is a more gifted quarterback than Kyle Wright, he'll shave his head. What? Oh, that's from what? Shit, dude, my bad.
Provincialism: Bowling Green at Boston College (Noon, ESPNU), Eastern Michigan at Michigan (Noon, BTN), Minnesota at Indiana (Noon, BTN), Northwestern at Michigan State (Noon, BTN), Georgia Tech at Maryland (Noon, Lincoln Financial), Vanderbilt at Auburn (12:30, Lincoln Financial)
LATE AFTERNOON
Main Course: OKLAHOMA vs. TEXAS (3:30 • ABC)
I had a professor once who repeatedly used sports as an example in class, always certain to mention that they didn't really matter because they are fundamentally grown men playing a children's game under millionaire chaperones. He would die at this game.
Watch For: The "color line," where UT and OU fans visibly split the Cotton Bowl right down the middle, thus intentionally fostering an environment (as every sporting event should, especially a rivalry) that maximizes the odds of fan-on-fan violence. This event occurring annually in Texas, it's a surprise it's never devolved into an actual shootout, especially in any game featuring Chris Simms.
On the Other Channel...
GEORGIA at TENNESSEE (3:30 • CBS)
Quick: who is Tennessee's leading rusher*? Receiver**? The Vols have no identity and might as well pack their bags for Shreveport with a loss here, which would drop the Vols to 0-2 in the SEC with Alabama, South Carolina, Arkansas and Kentucky still to go. Watch For: The early stages of meltdown mode if Georgia begins pulling away in the second half. Tennessee has the 110th-ranked scoring defense by virtue of allowing 45 and 59 points, respectively, to Cal and Florida nad 100,000 people will be warming up their souvenir cups for an old-fashioned heavin' if the Dogs take this one for the fourth time in six years.
* - Arian Foster (74. 3 ypg) ** - Lucas Taylor (95.5 ypg)
IOWA at PENN STATE / N.C. STATE at FLORIDA STATE (3:30 • ABC/ESPN2)
Most of the country is getting the UT-Oklahoma hate fest it no doubt covets, but in the Midwest and East, the Disney Corporation has your "Mickey Mouse Loves ESPN Zone!" t-shirt-clad back, consumer:
Atlanta is thrilled about this arrangement, we're sure.
Watch For: Kirk Ferentz as a possible heir to JoPa at Penn State? They said that about that whippersnapper Frye, and where is he? Brain food. Also: the last time Iowa and PSU hooked up? 6-4 in 2004, the contest that still replaces every other in the time-honored argument that the Big Ten needs to get its head out of its ass and throw the goddamn ball already.
Has completely forgotten which sideline to stand on, but will lead it to victory.
ARIZONA STATE at WASHINGTON STATE (4:00 • FSN)
Arizona State is undefeated by a pretty impressive margin, which means it's about time for it to lose to the team that just lost to Arizona by four touchdowns. Watch For: Dennis Erickson, who vows to enjoy himself at his old stomping grounds either way. Did he ever tell you about that time he and Timm Rosenbach called Tuineau Alipate from a canoe in the middle of Steptoe Street at like 1 a.m.? Aw shit, man, they were so stoned...
Provincialism: TCU at Wyoming (2:00, Mtn), Miami, Ohio at Kent State (3:00, FSN Ohio), South Florida at Florida Atlantic (3:30, ESPNU), Youngstown State at Southern Illinois (3:30, CSTV), Fresno State at Nevada (4:00, CSNW), Florida A&M vs. Winston-Salem State (4:00, NFL Network), San Diego State at Colorado State (5:30, Mtn)
The Wild Card: VIRGINIA TECH at CLEMSON (6:00 • ESPN)
For one glorious week after fileting Georgia Tech – hell, a short week at that – C.J. Spiller and James Davis were the natioal übermenschen tailback tandem of the highest order: young, sleek, powerful, purple. Virginia Tech, described everywhere a week earlier as "reeling" after its second loss got the Hokies called out by Kirk Herbstreit for bitching at each other on national television at Boston College, came home and buried the Tigers' backs, establishing the formula that cost the Tigers three of their last four games. Phil Steele says Clemson has lost four straight to Tech, all by double digits. Watch For: A frustrating lack of Davis and Spiller, who ran 21 times between them in last week's loss to Georgia Tech for 62 yards. An exciting opportunity for Cullen Harper to die a slow painful death not get his head knocked in by Vince Hall. That's all you can ask for, right?
Main Course: FLORIDA at LSU (8:28 • CBS)
CBS goes prahm-tahm with the most specific kickoff time ever listed, perhaps because I snag these times from an LSU site whose goal in listing Tiger games is to wring every last second of drankin' from pre-game festivities (by festivities, I mean merciless, uncivilized belittling of the opposing team and, in this case, a Gillooly-like attempt on Tim Tebow's life and/or limb. If you think this is hyperbole you've never experienced Saturday night in Tiger Stadium!). Watch For: Obviously: juggernaut game of the week, maybe the year, Auburn loss notwithstanding. Also: LSU will roll out Mike VI for the first time, and maybe "accidentally" open his cage near the warm-up zone of a certain all-purpose quarterback? You can't expect all the kinks to be worked out on the first night.
Actually, Tebow thinks the whole 'sword' thing is pretty unfair to the tiger.
On the Other Channel...
OHIO STATE at PURDUE (8:00 • ABC)
The vast majority of the country will receive the Buckeyes-Boilers over Notre Dame at UCLA, which will be limited to the West Coast, Northern Indiana and sadomasochistic pay-per-view subscribers. Watch For: Purdue is averaging 45 points per game, all the better to capture the faces of disillusioned home crowd when Ohio State methodically, mercilessly snuff the life out of Curtis Painter's season.
CINCINNATI at RUTGERS (8:00 • ESPN2)
The Bearcats crushed Rutgers' undefeated season in a 30-11 blowout last year in Cincinnati, the first game of an eight-game Cincy win streak based on turnovers and (aside from the Knights) horrendous competition. Watch For: Ray Rice. While two quarterbacks with ten years' college experience between them try to out-efficient one another in the short passing game, Cincy has no answer for Rutgers' workhorse.
OKLAHOMA STATE at TEXAS A&M (7:00 • FSN)
One of these teams will be virtually eliminated from the Big 12 South race, and it's about time already. Neither should have made it to the second conference game unscathed. Watch For: So many coaching jokes, so little time. Take a shot every time cameras pan to Dennis Franchione saying anything on the sideline and you're the first to yell, "IT AIN'T TRUE!"
NEBRASKA at MISSOURI (9:15 • ESPN)
De facto Big 12 North championship in the preseason, but remember: sketchy as the Huskers have played, Missouri hasn't won any kind of conference anything since 1969 and has never had a winning conference record under Gary Pinkel. Watch For: Chase Daniel, who, if Wake Forest and Ball State blistered Nebraska's run defense, might make the Blackshirts bubble and boil like a Gremlin exposed to water. Whatever emerges would have to be better for Nebraska than what it's seen so far.
Provincialism: Stanford at USC (7:00, VERSUS), Tulane at Army (7:00, ESPNU), Central Florida at East Carolina (7:30, CSTV), UNLV at Air Force (9:00, Mtn).