There comes a time in every season, on certain days, when one must look at the schedule and think "Eh, no biggie," and so we reach our first dramatic trough in the narrative of the season. It's easy to underestimate a day of games that offer but a single showdown of undefeated opponents a mere three weeks in.
Yet I would submit that these are the days that can offer the greatest surprises. The weakest day of games last year ultimately produced three top ten upsets from nowhere – Arizona over Cal, Kansas State over Texas, Cincinnati over undefeated Rutgers – as well as Wake Forest over Florida State by thirty and South Carolina and Florida to the final play in one of the games of the season, where the only possible "marquee" match of the day (Tennessee-Arkansas) was a one-sided rout from the kickoff.
Now, gentlemen, in the past you might have never had the opportunity to see any of those games, or any of the thrills destined to follow them in a matter of hours. But, I'm happy to say, in this country our televisions are the great levelers. In our televisions, all games are created equal. That's no ideal to me. That is a living, working reality!
The moral: all football commands your full attention at all times. As its servant, you bow before its prescripts from the couch, the recliner, the barstool, in front of the tiny, sketchy set in the parking lot as part of your ritual pilgrimage. In whatever way you must to fulfill your obligation to the anarchic, walk-on-fuelled drama unfolding in unexpected locales every hour of the day. Did you see that fake punt? That double reverse flea flicker? Highlights, you know, will only fill your sould with a palpable sense of loss only the slightly time-delayed moment could possibly replace. If you missed the "Bluegrass Miracle" when it happened, really, why go on living?
The football gods created weekends, and filled them with games. And yea, they saw that it was good. This is not up for debate. Only sweet, sweet obedience.
This week on the tube (all time Eastern unless otherwise noted):
TGIF, UNLESS YOU HAVE NOTHING BETTER TO DO THAN WATCH...
OKLAHOMA at TULSA
The anachronistically-named Hurricane – whose mascot is not a hurricane at all, but a tornado that resembles "Powdered Toast Man" – have lost ten straight games to the Big 12 since beating Oklahoma State in 1998. This could be the best Tulsa outfit since that game, and if that wasn't also potentially true of the Sooners, the automatic OU smashing might be worth a second thought. But it's not, so it's not. Watch For: Malzahnification hits primetime: running the ex-Arkansas coordinator's vaunted "Hurry-Up, No-Huddle " spread, Tulsa combined with BYU last week for 102 points, 1,289
total yards, 1,027 passing yards, 59 first downs on 164 plays in regulation. Tulsa won, 55-47.
Captain Cane with Tulsa's backup quarterback.
SATURDAY, NOON: THERE IS A TRUCK. CHANGE ITS OIL BEFORE...
Main Course: NORTH CAROLINA at SOUTH FLORIDA (Noon • ESPN)
Carolina has lost its last two games by a combined five points, with even the Virginia managers playing their part to foil the best-laid and only accidentally illegal plans for Butch Davis' first I-A victory in Chapel Hill. THE MAN HAD CANCER, MATT GROTHE. Hasn't he suffered enough? Watch For: Your first look at UNC redshirt freshman T.J. Yates, who's passed for 900 yards and nine touchdowns in the first three starts of his career and again will not have a running game or defense to undercut the huge demand for his arm.
On the other channel...
EAST CAROLINA at WEST VIRGINIA (Noon • ESPN2)
The good news for the Pirates: ECU leads Conference USA in rushing defense and held West Virginia to its lowest yards-per-carry of the season last September. The bad news: the Mountaineers still won by 17 by putting up their third-best passing total of the year against ECU's stil-porous secondary. Steve Slaton maybe had like mono or a hangover? I dunno. And Noel Devine was still in high school (technically speaking). Watch For: The cat-quick Devine, if you missed him last week against Maryland. I don't have to remind you if you saw that game, since that little hop step and acceleration will have you back like cooked crack.
They're all touchdowns with Noel Devine.
ARMY at BOSTON COLLEGE (1:00 • ESPN Classic)
Last week's classic game with Louisville and Kentucky kinda was a classic, in that no-defense, "whoops,I forgot to cover the guy running for the winning touchdown" sort of way. Much less so this week as B.C. belatedly sets its schedule to 'jog' on the heels of a three-game ACC sprint out of the blocks. Watch For: The confirmation of your undying love for our servicemen. Just in case. I mean, not to suggest that you're being secretly monitored for un-patriotic activity by programs that do not, in fact, exist. And anyway, you'd always support Army, because that's the sort of devoted countryman you are, whether anyone's watching or not. Which they most definitely are not. And even if they were – again: just forget about that – anyway, you do love America, don't you? Don't you?!
Provincialism: Best ACC game of the morning may be Clemson at N.C. State on Lincoln Financial (Noon); SEC folks get the Daves doing the LF game in Oxford, against Florida (11:00 CT) ... Viewers are excused from their patriotic duty to watch Army bludgeoned by B.C. if they prefer to watch Navy's precise flexbone carve up Duke on CSTV (1:00). It's prefered, actually ... Barrels of fun with NFL rejects on ESPNU, where Chan Gailey shares his oatmeal recipes as Al Groh scowls fiercely before Georgia Tech's game with Virginia (Noon) ... And, also at noon Eastern, Illinois and Indiana have the Big Ten Network all to themselves.
EARLY AFTERNOON: YOU CAN'T DO THAT ON DAYTIME TELEVISION
Turns out taking a knee in the first quarter is not part of the Ball Coach's plan.
Main Course: SOUTH CAROLINA at LSU (3:30 • CBS)
The Tigers could get away with that sort of thing on cable, in late night, but on network during family hours, the FCC has issued a strict ban against all forms of sharp-edged genitalia. Bo Pellini is appealing. Also: Matt Flynn is not 100 percent but does expect to start, phallic imagery or no, but will be without Early Doucet. Watch For: South Carolina's narrow losses to overlords Auburn and Florida made for fascinating viewing and tense finishes almost entirely because of the OBC's uncanny knack for mixing up safe passes and draws that moved the chains, controlled the clock and kept the Cocks' overmatched defense off the field. His defense is more experienced and probably less of a liability this time around, but the immediate image of Blake Mitchell behind a young O-line in the face of LSU's standard pressure on the road is "Sean Glennon, Part Deux." It will be interesting to see how Spurrier tries to offset the obvious gap in athleticism up front.
On the Other Channel...
PENN STATE at MICHIGAN (3:30 • ABC)
One 38-0 win over the most high profile cupcake in the country, and suddenly the Wolverines are, like, back or something? Believe this meme only if Michigan survives to 1-0 in the conference on Sunday, at which point it is immediately hailed as the Big Ten frontrunner. Watch For: An inevitably tight game born of two conservative, essentially lame duck coaches determined to keep their quarterbacks out of trouble. That one is a true freshman and the other a fifth-year senior is of no consequence: whether it's the zone for Mike Hart or the traditional man-on-man mauling for PSU, the off-tackle reigns.
MICHIGAN STATE at NOTRE DAME (3:30 • NBC)
This is about the point every season John L. Smith's fast-starting team permanently hit the skids in obvious, run-down-Main-Street-on-fire fashion, and the Irish themselves provided the gasoline for MSU's self-immolation in the rain last year in East Lansing. I'm not sure such tendency for psychological collapse survived the changeover at head coach (and quarterback as well), but I am certain that, however mentally deranged Michigan State or any other opponent may be at any point, it's on more stable footing than the Irish offense. Watch For: Morbid yuks and delicious schadenfreude. If it's not for Michigan State's annual spectacular implosion, the ongoing black comedy that is Notre Dame's offense trying to score a point should keep the haters rapt. Since I like watching, you know, close games that matter, I've missed Jimmy's auspicious outings each of the last two weeks, but the unbelievable incompetence is a siren call. It's like Faces of Death for offense.
TEXAS TECH at OKLAHOMA STATE (3:30 • FSN)
Whatever cachet OK State brought into the season off the bowl win over Alabama was administered its last rites at Georgia and pronounced dead last Friday at Troy, where the Cowboys allowed 41 points and 562 yards total offense. Watch For: Mike Leach meets the unit ranked 11th in the Big 12 in pass, pass efficiency and scoring defense? Need I say more?
Turns out taking a knee with a five-touchdown lead in the fourth quarter wasn't part of Mike Leach's gameplan.
NORTHWESTERN at OHIO STATE (3:30 • ESPN)
As if Northwestern and Ohio State aren't coming from different enough starting points already, the Wildcats enter Columbus Saturday as fresh victims of the most toothless, longest-suffering marmoset in the country just as Ohio State found its offensive chi in a second half rout at once-surging Washington. Watch For: Tresselball's triumph in a tight game that comes down to the final minutes. Somehow, we all know that's where this is headed, right?
Provinicalism: Mountain West fans can have their choice of Air Force at BYU – possibly a de facto league championship game, given the Falcons' fast start over the MWC's other summer favorites, Utah and TCU – at 2 p.m. MT on Mtn. and Colorado State at Houston at 3:30 Central on CSTV. Dish Network subscribers outside of Ohio can also pick up Wyoming and Ohio U. (3:00) on something known as the Sky Angel Network, or order it on ESPN Gameplan ... Maryland at Wake Forest should be a fine, low-scoring game on ESPNU (3:30) ... Idaho residents who can't be there can check out the smallest stadium in D-IA when Northern Illinois visits the Vandals' Kibbie Domeon CSN Northwest (3:00 MT) or the Vandals' own local network, appropriately named "Go Vandals."
HERE COMES THE NIGHT: S-E-URGENCY
Main Course: GEORGIA at ALABAMA (7:45 • ESPN)
See, now this is the sort of shit Nick Saban has time for (though only barely): 'Bama gets a ranked conference foe at home for the second straight week, albeit this one not featuring Darren McFadden in its backfield. The Dogs will be tougher defensively than Arkansas, though, at least to the extent that they won't stay in man coverage for an entire quarter while John Parker Wilson and D.J. Hall bomb them into a three-touchdown hole. UGA also brings a little balance Arkansas didn't with Matt Stafford, making his first significant road start as something other than a fingers-crossed freshman just hoping to keep his shit together out there. Watch For: The sobering moment early in the fourth quarter, after a gaping hole opens up that Knowshon Moreno takes for 30 yards into scoring range on a run that puts him over 100 for the night, that makes clear the Tide's problems against the run extend well past its inability to contain the best back in the country.
On the Other Channel...
IOWA at WISCONSIN (8 p.m. • ABC)
You're LOOKING LIVE! at the most disappointing "Saturday Night Football" selection since the inception of the idea last year. This is something of a rivalry game among neighbors, for SEC partisans moving at too great a rate of speed to locate Madison on a map – and one usually played in November, at the close of the season; what's with making this the conference opener? – but holds little pizazz in the wake of Iowa's embarrassing loss at Iowa State last week, to say nothing of Wisconsin's lackluster comebacks against UNLV and The Citadel it its last two games. Watch For: The "Jump Around" between the third and fourth quarters, which will get too cliché to be cool soon enough but still looks like the most fun any single set of fans can have on a weekly basis for now.
KENTUCKY at ARKANSAS (6:00 • ESPN2)
If it's going to command attention, Kentucky might as well get used to hearing every game described in terms of a shootout, because however tantilizing Arkansas' secondary looks to Andre Woodson after allowing a career high to Parker Wilson, the UK front seven/eight is just like a big, soft banana split to McFadden et al. Both teams spent last Saturday night running up and down the field on, and in pursuit of, their key September opponents, to very difficult results, which makes this a much more urgent track meet for the Razorbacks. Watch For: Woodson and McFadden, two of the best players in the country dedicating three and a half hours to trying to top the other.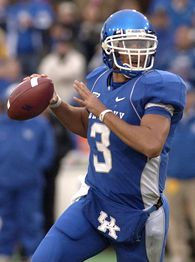 Are you not entertained?!
RICE at TEXAS (7:00 • FSN)
The Longhorns really need a game like this before hitting Big 12 play next week against Kansas State, against a thoroughly overmatched, 0-3, academic weakling that lost its first game to Nicholls State. With ritual lambs Arkansas State and Central Florida putting up too much of a fight to truly sanctify the slaughter, UT fans are getting restless for the sustaining blood of a patsy blowout before the real battle. Watch For: Unless you self-identify as a Texas fan, Rice fan or a particularly sadistic sadist, I can't think of any reason to watch this game unless the ticker miraculously shows the Owls within a touchdown in the fourth quarter. And maybe not even then.
PURDUE at MINNESOTA (9:00 • ESPN2)
The potential for Purdue's offense in this game can't be stressed emphatically enough: the Boilermakers are averaging 535 yards and 50 points per game and had 300 yards on four touchdown drives in the first quarter last week against Central Michigan. Minnesota has allowed a little over 550 yards per game to Bowling Green, the Ohio-based Miami and Florida Atlantic. Watch For: Falling single-game passing records, along with tiles from the Metrodome if Curtis Painter gets really carried away.
WASHINGTON at UCLA (10:15 • FSN)
Two teams with coaches and confidence on-edge after bad, exposing losses last week, neither with a history of rebounding from such games with stabilizing verve. Watch For: Washington's reckless, punishing quarterback Jake Locker, if you haven't seen him yet, but by the time the day winds down to "random Pac Ten game" and the alcohol's starting to run low and your friend didn't call back about that party...they all look pretty much the same, don't they?
Provincialism: In lieu of the mediocre Big Ten showdown, ABC brings USC's likely massacre of Washington State to the West Coast to open the Pac Ten season (5:00 PT) ... Mtn. comes back with Portland State at San Diego State (3:30 PT), neither of which located in the mountains, followed by Utah-UNLV (8:00 MT), which are more in the desert than the mountains, I think, but are closer ... Arizona and California square off on Versus (3:00 PT) ... And TCU attempts to get its season on track against hapless SMU on CSTV (7:30 CT) after two straight losses.