The ESPN Who's Now set fades into the screen. The camera prowls, because that's what cameras at ESPN do when not locked onto a talking head: they move like panthers, dammit. On the left sits Stuart Scott. On the right sits John Krasinski, Megan Fox, Mike Greenberg, and the Silver Surfer, who floats three inches off his chair at all times.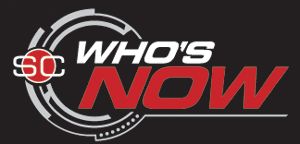 Stuart Scott: The passion of sports. The hype. The gaze, if you will--it has all come down to this, the last round of our ESPN "Who's Now" competition where we ask you who the most "NOW" athlete in the universe is. And we mean universe, people, because we're getting intergalactic with a supernova bang tonight: Our number 2 seed, mah boy Tom Brady, cool as the other side of the pillow, going up against the biggest appetite in the galaxy, the original G, Galactus, Eater of Worlds. HOLLA!
With me, the sultry--and I mean, daaaaayum sultry--Megan Fox, a sports fan in her own right. What's crackin, Ms. Fox?
Megan Fox: I like paste. It's low-cal.
Stu: For shizzle, MF. And also here John Krasinski, who's starring with the lady Fox in the upcoming movie Fatwa of the Bride. Holla at ya boy, JK.
John K: Um, yeah. Sure. (Turns head, raises eyebrows, stares with slight smirk at camera.)
Stu: How'd you get the cultural understanding to play a Palestinian American dentist who has to go back to Gaza Strip to marry his Jewish-American model/CIA agent of a wife?
John K.: Um...I went to Brown. (Turns head, raises eyebrows, stares with slight smirk at camera.) And Tim Allen does a great job playing the wacky Orthodox rabbi who makes it all work.
Stu: Educated, intelligent, and handsome all to boot. To the right: Mike Greenberg.
Mike G: Hello.
Stu: And finally, our smooth man to the right, someone who knows a bit about who we're talking about today: the herald of Galactus, smooth Kelly Slater of the Stars, the Silver Surfer.
Surfer: ALL THAT YOU KNOW IS AT AN END.
Stu: Whoa. Intensity there.
Surfer: THANKS FOR HAVING ME ON YOUR SHOW, STUART SCOTT. MY PLEASURE.
Stu: No problem, dog. So: on one side Tom Brady.
Megan: OMG he is hot. Sooo hot. I love hockey players. When they take out their teeth, they give--
Greenberg: --um, ha, Tom Brady's a football player, I think you mean to say.
John K.: No, Mike, you're mistaken, I think. (Turns head, raises eyebrows, stares with slight smirk at camera.)
Greenberg: --No, he played at Michigan first, and then he was drafted---
Surfer: --BY THE NEW ENGLAND PATRIOTS IN THE SIXTH ROUND.
Stu: Surfer, droppin' knowledge like some kind of pantsless Socrates, here.
Megan: OMG, he's really not wearing pants? Where's your dick?
Surfer: THE POWER COSMIC IS BETTER THAN GENITALS. I ADVISE YOU TO FLEE YOUR PLANET IMMEDIATELY.
Greenberg: Tom Brady's seen longer odds than that, friend. Coming off the bench in relief of Drew Bledsoe, rising to being as "Now" as he is, um...now.
Stu: And...there's the models thing. Dude's got play.
Megan: I'd fuck him. OMG, would I fuck him.
John K: (Turns head, raises eyebrows, stares with slight smirk at camera.)
Surfer: YOU'RE GOING TO HAVE TO GET A THIRD EXPRESSION KRASINSKI. ACTORS NEED RANGE.
Greenberg: Would you fuck me? In the Harold Reynolds hug closet? Like, now? My wife thinks I'm an idiot. Seriously. Hasn't touched me in years. And I work out. I need.
Stu: We're gonna have to edit that. But you can't deny that the dude is utterly and completely NOW, right?
Surfer: WHAT DOES THAT MEAN?
Mike Greenberg: No, he's totally now.
John K: He's so now, it's like he's tomorrow fast-forwarded to today.
Megan: I dropped my water. It was so heavy! Can someone please get me some more water.
Surfer: I STILL DO NOT UNDERSTAND WHAT YOU MEAN. AND I, TOO, WOULD LIKE SOME MORE DELICIOUS POLAND SPRING WATER, THE OFFICIAL WATER OF ESPN'S WHO'S NOW.
Stu: Sure, we can do that. And that was a smooth promo, Surf-dogg.
Surfer: I AM A PROFESSIONAL STUART SCOTT. I REPEAT: LEAVE YOUR PLANET OR BE DEVOURED BY MY MASTER, GALACTUS, EATER OF WORLDS.
Mike G: Speaking of that guy, it's hard to be more now than someone who's threatening to end all life on the planet. I mean, that's NOW.
Megan: Who?
Surfer: GALACTUS, EATER OF WORLDS, ONCE KNOWN AS GALAN OF TAA--
Stu: And a total baller.
John K: I wasn't...aware...that he was an athlete--
Surfer: GALACTUS POSSESSES ALL ABILITIES KNOWN AND UNKNOWN TO YOUR PEOPLE.
John K: So he actually is, say, the best center in the history of the game of basketball.
Surfer: IF YOU SEE HIM AS THIS, THEN HE WILL APPEAR AS THIS.
Mike G: Will he still have the helmet? You gotta love the helmet.
Surfer: OF COURSE. THE HELMET IS A TRADEMARKED PROPERTY OF GALACTUS, INDUSTRIES.
Megan: You really don't have balls or a cock, do you? OMG that is fucked up I have to take a picture of this on my camera phone.
Stu: So, let's talk head to head, now. I mean, Brady's got three rings, the babymommas off the runway, he's doing magazine shoots, he's...
John K: Galactus takes entire planets and crams them into his maw. Um, that's pretty now, if you ask me. I know the word 'maw' because I went to Brown. Maybe you've heard of it. (Turns head, raises eyebrows, stares with slight smirk at camera.)
Surfer: HE WILL DO THE SAME TO YOUR PLANET IN 86 OF YOUR EARTH HOURS. CAN SOMEONE PLEASE GET ME SOME MORE OF THAT DELICIOUS POLAND SPRING WATER.
Megan: I have no idea what you guys are talking about right now. You know what, though? I like pickles. Just love them. You can't eat them because they make you fat, like bread.
Mike G, looking desperate: Who doesn't like pickles? I mean, come on. They're delicious, right?
Surfer: (raises hand, looks sheepish.)
Stu: Really? Hate for pickles, then?
Surfer: THEIR DESTRUCTION IN THE GULLET OF GALACTUS WILL BRING ME NO SORROW. BY THE WAY, WHICH EYE SHOULD I LOOK AT?
Stu: (dejected.) The left one's fine, man. Just look there.
Mike G, to Megan, leaning in: Seriously. Two minutes. That's all I need. You won't even remember it.
Megan: What?
Surfer: THANKS, STU. THAT WAS HAUNTING ME THERE FOR A MINUTE.
Mike G: Back to the topic at hand: Brady had a 21 game winning streak, man.
Surfer: GALACTUS SURVIVED THE EXTINCTION OF HIS UNIVERSE.
Stu Scott: And he's got that debonair, Rico Suave meets All-American Dawson's Creek think going on, man.
Surfer: THE FACE OF GALACTUS IS SO POWERFUL ITS FULL VISAGE WOULD SCORCH YOUR RETINAS.
John K: And to be fair, he's unstoppable in the two minute drill. He just eats whatever defense you throw at him alive.
Surfer: MY MASTER DEVOURED THE WORLDS OF X573 AND U723 IN TEN MINUTES BETWEEN TWO SLICES OF LOW-CARB BREAD. IT'S ALWAYS ON SALE THESE DAYS, YOU KNOW. THIS SEGMENT SPONSORED BY WHOLE FOODS, YOUR SOURCE FOR NEIGHBORHOOD ORGANIC AND FRESH.
Stu: You're straight killing the promos, Surf.
Greenberg: Certainly. You wanna come replace Golic on the show? He's dead weight anyway.
Surfer: NO I AM BOUND BY OATH TO GALACTUS AS HIS HERALD. PLUS YOU ARE INSUSBTANTIAL AND ANNOYING, JUST AS ESPN RADIO HAS BEEN SINCE THE DEPARTURE OF KORNHEISER AND HIS MAGNIFICENT RADIO SHOW. YOUR DEMISE, LIKE THAT OF PICKLES, BRINGS ME NO TEARS.
John K: (Turns head, raises eyebrows, stares with slight smirk at camera.)
Stu: So, do we have a winner?
Megan: I just farted! EWWWWW! Gross!
Mike G: It's like the aroma of freshly baked bread, babe. Two minutes. I won't even let Salisbury watch this time.
John K: I'm going Galactus, since he downed the entire city of Mumbai last night just to show how serious he is.
Megan: No wayyyy! Tom Brady. He's the hottest basketball player I've ever seen. Eeeps! I totally farted again.
Mike G: (Sniffs long, exultant snootfuls of the air around him.)
Surfer: YOU SHOULD CONSIDER LESS FIBER IN YOUR DIET, MS. FOX. OR CHANGE BUTCHERS, PERHAPS.
Stu: I know you're biased, man, but what's your vote.
Surfer: BRADY. YOU MAY KEEP YOUR VAINGLORIOUS AWARDS. YOUR TIME IS FLEETING AS IS, AND MY MASTER'S HUNGER INSATIABLE.
Mike G: Downer!
Surfer: PLUS MR. BRADY IS EXCEPTIONAL AT READING COVERAGES, SOMETHING MY MASTER STRUGGLES AT, ESPECIALLY WITH THE ZONE BLITZ TO THE WEAK SIDE. IT'S A TRUE CONUNDRUM FOR EVEN THE EATER OF WORLDS.
Stu: Mike G?
Mike G: I'm going Brady.
Stu: Then it's settled. For ESPN, this is Stu Scott--
Surfer: FLEE, EARTHLINGS. I BEG OF YOU.
Stu: --saying peace out to the world. Out!
Special thanks to Holly, who came up with "Fatwa of the Bride," and to Reed Richards, who's kept us safe from Galactus...for the moment.