The great search for a quarterback at Ole Miss--now four years and running following the departure of Eli Manning from Oxford--may have reached an improbable conclusion in the form of one ferocious piece of fighting okra, Delta State transfer Seth Adams.
Brent SCHAEF-FAH, lauded transfer from Tennessee via the College of the Sequoias, was supposed to be the starter going into 2007, but fizzled last year as starter with a 9/10 TD/INT ratio and an underwhelming on-field presence as signal-caller. Enter Seth Adams, a former Delta State Fighting Okra who went 16 for 20 in the spring game and has "a leg up" in the competition according to Ole Miss head coach/manbeast Ed Orgeron.
Correct, reader: Ole Miss' potential quarterback is a transfer from Delta State. YO YO YO YO YOOOOOO, YO YOOOOO...OK-RA!!! This should be immensely fun, especially given the fact that Adams gives everyone a chance to say the words "Fighting Okra" at least a zillion times over the nexy season.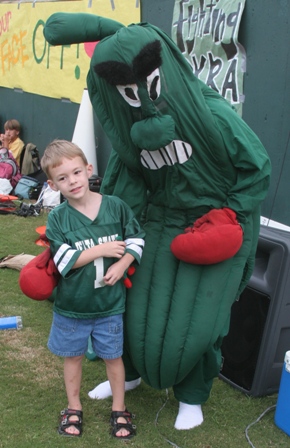 Delta State's Fighting Okra: qb mill for the Orgeron.
Don't mock the name, either. As anyone whose eaten more than a small serving of okra at a time, okra does indeed fight, albeit in your lower intestine mostly. It'll run through you with a Patton-esque speed and determination, a connection the designers of the Delta State outfit must have had in mind when they stitched together that turdulent, Mr. Hankey outfit seen above.