The most enthusiastic responders to our call for spring practice/game reports came from none other than the Ohio State Buckeyes camp, showing that they either hold no hard feelings towards us after the national title game, or think they actually have to obey our orders as a condition of the loss. If it's the latter, please donate a thousand dollars each to the EDSBS Paypal account NOW SERFS NOW!!!
We received not one but two quality rundowns from Ohio State contributors.
The first, from Buckeye Dan:
It's late April in Columbus, so that means it's time for the annual spring game. Rosters are checked to see who the walk-on scrub who just lost 5 yards was, concessions are expensive, and no conclusions of any value can be drawn. Woo spring!
Questions heading in: Who will replace Troy Smith? How will a new wide receivers corps adjust to this new, unknown quarterback? Will Mike Conley call anything involving an iso block?
The answers leaving: Not Rob Schoenhoft. God, he sucks. Think "Sexy Rexy," but without the talent. Fuck it. He's throwing downfield, and by God, it will leave his hand at mach 8.

Fuck it, he's going deep.
Antonio Henton, the redshirt freshman drawing Troy Smith comparisons is, well, young. He's showing the ability to make accurate throws, but if his first option isn't there immediately, he's taking off. He looks good doing it, but he needs to learn patience, not unlike Mr. Smith himself, many moons ago.
Todd Boeckman has the job as of right now. He's been in the system for eleventy billion years. I think he and Greg Oden's grandkids play together at day care.
The new wideouts: Ray Small, Brian Robiskie, and Brian Hartline all saw limited time last year, and none of them should have too many problems stepping up. I did notice some communication errors between them and the quarterback (mostly Schoenhoft), and a dropped ball or two, but it's nothing to be concerned about at this time.
As for iso blocks: I have no fucking clue. I don't know anything about line play. Sue me.
Running back Chris Wells has been held out of spring practice with a tweaked ankle, so Maurice Wells has been getting most of the carries. He's definitely not a between the tackles runner, but he showed some nice cutbacks today in the first few series. While I have some reservations about giving him much playing time, I think he'll be decent enough holding down the fort when Beanie takes a break.

Maurice Wells: overwhelmingly decent running back.
Anyway, it was a nice day here in Columbus. 75,000 paid their $5 for the first glimpse of the 2007 edition of Buckeye football (minus incoming freshmen). Not many questions were answered, but it will hold me over for the next 4 months of the barren wasteland that is the lack of college football.
Fine work, Dan. Our second contributor is commenter Bhors, who immediately gets into our good graces by slagging on Tennessee. We would like to point out that Tennessee has had nary a whisper of trouble this season as a matter of editorial responsibility, but say that we're pleased nonetheless. Here's Bhors' review of tOSU's spring performance:
Well, it's a Sunday, so I figured Tennesee players were taking a break from committing petty thefts, and Cheeseburger Charlie Weis was sitting at home counting Jenny Craig Points, thus not much news on the homefront. So I thought I'd send this to Orson, and if he posted it, I'll just read it at work tomorrow since tax season is over. The OSU spring game was Saturday with a shade over 72,000 in attendance to watch the Buckeyes. It was widely debated about who would be the starting quarterback for the upcoming season. On the shortlist is Todd Boeckman, a 4th year junior, Rob Schoencroft and Antonio Henton, a much heralded recruit from Georgia that reminds people of Troy Smith. Henton did have a very Smith-esque game, going 8/16 for 40 yards, 3 picks, and 2 fumbles.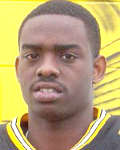 Had a Troy Smith-esque day: Antonio Henton.
The gray squad won the game, 17-9, despite trailing most of the game. Of course this is just a scrimmage, and there were 8-10 players sitting out do to injury, but the Buckeye offense looked much like it did about 4 ½ months ago in [Game Retracted]. Henton started the game, and you can tell the speed of the game is just too fast for him right now, as he would just make one read and take off running. It doesn't help though that man-child Vernon Gholston and Lawrence Wilson were constantly terrorizing the QBs.

Vernon-Not afraid to eat your children.
All-in-all, no one really proved that they were heads and shoulders above anyone, although Boeckman was the most consistent. Hopefully, with OSU's cupcake schedule, the offense will be able to find an identity and build some confidence by the end of the year. The defense looked really good, and the D-line should be able to wreck havoc for opposing linemen.
Either way, I'm just looking forward to September so I can get really, really drunk and puke on myself again, much to my mom's delight.
Atta boy, Bhors. Much thanks to our two contributors for their fine fieldwork. Esteem and excellence showers your every move, sirs.