Oh, you want trash talk Tennessee? SERIOUS FUCKING TRASH TALK? You're not ready. Don't even act like you're ready for this. Okay, we told you, but you're just gonna find out for you own pitiful self. Yeah, go ahead. We dare you to look at this quote from Tony Joiner:
"We really want to get into somebody else and take their cheese. Make a sandwich in the kitchen. Ham and cheese with a little turkey, mustard and mayonnaise."
Ohhhhhh SNAP! We got sandwiches, bitches. You just died a little, didn't you?
Sandwiches.
(Serious hat tip: WATB.)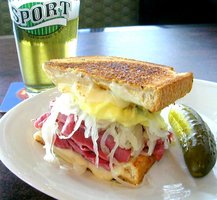 We're coming to make a Reuben, baby. REUBENS!