There's a Black Cat fireworks warehouse on Highway 231 in Alabama. A simple aluminum box holds an armory's worth of explosives, keg-sized bastard furies stacked in two story grey shelving with names like THE CHOSEN ONE and EXTREME ON STEROIDS. If one were to do something really foolish and light up a Cohiba, take a few delicious last draws, and toss the lit punk into the bin of 20-pack firecrackers...one testicle would likely end up in Shanghai, and the other would likely be streaking into orbit around the moon in a matter of seconds. And as you exited this mortal coil, flying in a thousand screaming, supersonic pieces into the ether, you would think for one shining instant: fuck yeah.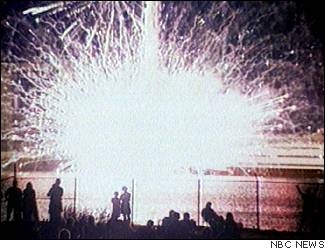 September 16th: Fuck yeah!
That hellbox on highway 231 only begins to describe what could happen to you on the third week of the season. Not since last year has an array of sheer terror, joy, hatred, violence, stress-induced incontinence, and nervous musk-sweat pillaged its way into your football soul in a single week. Game by soul-wrenching game, we present a wine flight of games sure to get you over the legal limit of crackeditude by 8 p.m. EST.
The Platypus Genius Game: Thursday, September 14th. 8 p.m. Maryland at West Virginia. If this were an appetizer, it'd be Maryland soft shell crabs deep-fried in ground up cheetos followed by a belt in the head with a bottle of Jack. (We've got the recipe Phil, if you don't already. Harumphharumph at yahoo, in case you want it.) Armchair generals everywhere will get an unadulterated dose of Friedgenetics, the art of calling just the right play at just the right time to generate a pleasing glow in the minds of the observer while conjuring up the phrase "UFIA" for the opposing defense. With OC Charlie Taaffe gone, Friedgen's gone hands-on, including becoming his own qbs coach. Rich Rodriguez will be running his platypus freak genus show on the other side of the ball: the 3-3-5 defense (which, according to Friedgen, should always set off "alarm bells" in the head of the opposing OC) and the spread option, which should have already reduced two teams to blubbering goo by this game. A Thursday night amuse bouche with implications extending deep into the season for both teams.

The noise you hear? Just the mascot discharging a firearm in public.
The King of Howling Wastes Game: Saturday, September 16th, 12:05 EST. Iowa State versus Iowa. The Big 12's leading returning passer? Iowa State's Bret Meyer, who's got a chance to be the biggest thing to hit Ames since that pair of Starbucks opened up in the Hy-Vee supermarkets. (No shit, there: Ames has not one, but two Starbucks. We're so bypassing the obvious meth substitute jokes...but not.) Iowa disappeared in a dust devil of horrendous play in Ames last year in a 23-3 defragmentation, but did that Kirk Ferentz, unflapped by Armageddon thing to recover and make the Outback Bowl. (Where Florida beat them. Viva la offsides!) Iowa State went on have a virtually identical year, working in alternating win-loss streaks of 3-3-4-2 before kersputtering to a halt in their bowl game versus TCU. A potential Big 12 North Championship for Iowa state and a superb dipstick game for Iowa mean compelling early viewing, especially with Drew Tate in his senior year lurking under the national radar and wanting to put up some NFL draft cred early.
FNORD! Illuminati Takeover Trio, Game One: Saturday, September 16th, 3:30. Miami at Louisville.
There's no reason other than completely distracting most of the United States simultaneously in order to seize power in scheduling three games of megatonnage like Miami-Louisville, Michigan-Notre Dame, and Auburn LSU all at 3:30 on the same day. Enjoy your freedom before the Illuminati subtly overturn two hundred years of democracy on September 16th; we'd like to fight it, but the bastards have us right where they want us--sitting catatonic with pleasure in front of a flickering television screen.
It'll be a pleasant demise, however. The marquee game of Petrino's career at Louisville was versus Miami when an allegedly outmatched Cardinals squad went all Trick Daddy on them at home (as in the line from "Scarred"--dat's right cause you mah bitch now.) The bitch-owning only lasted for three quarters, however. We'll go ahead and make the call that if Petrino gets this victory and a win over West Virginia this year, he's gone. Actually, we'd make that call anyway, since betting on Petrino to leave is much like including Pete Doherty in your dead pool, a bet that's sure to cash in sooner rather than later. Miami's got a new OC and the same old collection of whirling evil on the defensive side of the ball, but Brian Brohm and Michael Bush will be enough to push digits on them along with Louisville's no-name corps of wideouts. When points start flying it'll look like two Cuban featherweights with cut eyes wailing desperately at each other. We think this'll happen somewhere around the third quarter, with Louisville winning by a nose (beak.)

That's right cause you mah bitch now.
FNORD! Illuminati Takeover Trio, Game Two: Saturday, September 16th, 3:30. Michigan at Notre Dame. The Dodge Rambler versus the Porsche, at least through the veil of preseason expectations: Notre Dame should smoke stodgy Michigan and their mistake-prone, Lot's Wife qb in the first ten minutes with an onslaught of points and cruelty, with Jeff Samardsijdknoajwa running wild through soft zones for easy scores. Last year's game was 17-10. Oh, but robot genius Quinn echoes improved defense home advantage, you say! Well, we suppose we can't argue with logic like that--especially when ESPN's got the Matt Leinart/USC kneepads out for them--other than by saying that Michigan will keep the ball away from Notre Dame if it has to snap the ball with one on the play clock starting in the first quarter, and that if Notre Dame thinks of ease in victory for an instant they're in trouble. Playing Michigan is like fighting a blind Kodiak bear with mittens on; you can get your shots in, run, outwit it, and still end up losing strictly because the bear won't give up. Or you can shoot it dead on first sight with the right tools. Miss, and you're in deep, deep trouble, though.
FNORD! Illuminati Takeover Trio, Game Three: Saturday, September 16th, 3:30. LSU at Auburn. Fight! WOOOOOOO! Just practice saying this over and over again. It's a deep from the gut but high from the nose vocal exercise, often accompanied by a wave of a flag, shake of a fist, or punch of whomever's next to you. It helps if you say it while wearing a sleeveless t-shirt slit to the waistband, too; there will be tons of this going on at LSU/Auburn, where JaMatt PerriFlynnell or whoever's qbing the Tigers this year will take on an Auburn defense that will, in the words of Paul Westerdawg, "be blitzing off the bus" with new DC Will Muschamp in command. Advantage Auburn: at home, at ease with their run-heavy variation of the West Coast offense, flush with steady talent throughout the roster and blessed with a running back who would really like to high-step a kneecap into your teeth, Kenny Irons. No one's scoring over 24 here in a game that will feature at least one hit so hard it knocks the drink out of your hand. WOOOO!!!!

WOO!!!
Tigers Eat Their Old Game: Saturday, September 16th, 7:45 p.m. Clemson at Florida State. Clemson's tempting preseason hedging again, which means run from them at all costs if you've got anything more than a peso on them. Unless you're simply betting on close games, which new model Tommy Bowden Clemson Tiger teams specialize in, win or lose. They don't get blown out and they don't blow out, unless you're talking about putting up fifty on a derelict Lou Holtz South Carolina team circling the drain in 2004. ("I wath very dithappointed in that game," seth Lou.) In the gone-but-not-forgotten show Dinosaurs, a dinosaur who reached sixty was thrown into a volcano by an in-law before they were wracked with the indignities of old age (piles, arthritis, dementia, placing your incompetent son in charge of your world-class collection of college athletes.) We'd love for this game to be that: a Freudian drama of revenge, anger, hate, love, and ultimately Bobby Bowden being put to the sword by his son on national television. It could be that. Or it could be another Clemson deflation on the big stage. We honestly have no clue whatsoever, even though it's at Doak Campbell Stadium.

We see this image quite a bit in our dreams.
The Bill Callahan Career Arrest Watch Starts NOW Game: Saturday, September 16th, 7:30 p.m. Nebraska at USC. For Nebraska diehards an upset here would signal a breach in the brimming reservoir of potential of Callhan's tenure at Nebraska: a victory against a top 5 power on the road and on national television, a vindication of a topsy-turvy coaching search, and a long-awaited return to national prominence. For USC, it will be a victory in solid but unspectacular fashion, and we'd bet our dog's balls on it.
The Glorious Workers' Four Hour Hate: Saturday, September 16th, 8:00 p.m. Florida at Tennessee.
Yes, I did it. I killed Yvette. I hated her so... much... it... it... the... it... the... fee... flames... flames... on the side of my face... heaving... breathless... heaving breaths...
Everything--all the football fabulousness of this day--all of it comes to a burning hot pikepoint of hate here. Sometimes you just hate a coach; other times, just the fanbase. And then sometimes you just hate the whole kit and caboodle: the entirety of the state, the fanbase, the tags on their t-shirts, their dogs and yes even their cute puppies, the moron who stands over the interstate before the game on a horse with a huge orange flag, the reeking clouds of methane and cigarette smoke they call air...ohhhh, how we hate the dog named Waffles we call Tennessee.
The Vols, devoid of virtue, intelligence, and hygiene, are still very skilled and unfortunately sometimes drag your team to a corner and beat the body hair off you. Ainge is Cutcliffe's latest rehabilitation project at quarterback, and unless he's got an inner Peyton choke mechanism he'll be like every other qb they've cranked out under him: intelligent, quick, and presented with easy throws in the 5-7 yard range all day. UF's storyline is the offensive line; if they have one, you'll know it in the first quarter. If not, Leak dies in the third, along with his hopes of ever winning an SEC title or getting laid (per his own promise that he wouldn't have a girlfriend until they won a national title.)
Either way we'll be watching it in a loincloth with our hair braided into smoking points like a pirate. With a gun. And a bottle. Whatever happens afterwards, you didn't see a thing...

When it comes to the Tennessee game, things get ugly in the Swindle house.