Warren calls us out...we bring the outs. You might also call this "smack," a word we detest since it reminds us of Jim Rome reading...things....very...slowly. We have our theories as to why he does this: the original, goatee-less Rome, a twerpy, annoying creature parodied by the immortal John C. McGinley in Any Given Sunday, died in an altercation with former NFL qb Jim "Chris" Everett on live television. Forced to improvise, ESPN called in the big guns and brought in a squad of chicken-blood covered gris-gris masters from Benin to resurrect Zombie Rome on the spot. A few incantations and burned locks of hair later and Zombie Rome rose again, much the same but slower and wearing a goatee to reflect his change to "Evil Rome," a less clever creature with subhuman IQ and penchant for wearing sports jackets with massive shoulder pads built into them to make him appear larger than he is.


Zombie Rome: talking brains smack.
Now he just gets force fed dialogue shown to him through the glass on giant sheets of posterboard or on the teleprompter; when each segment breaks, he's fed a small portion of human brains, which he devours hungrily before settling in for the next bit. Notice that he's never actually on camera with anyone else, a policy enacted by ESPN following a horrible, disfiguring attack on Willie McGee in 1997. The accident, despite improving McGee's looks, led them to ban Rome from appearing with fresh-brained guests for the lifespan of his program.
Where the fuck were we going with this...oh, yes. Smack. Or in the vernacular..."trash talking." Warren wrote this the other day concerning author Michael Chabon's cancellation of a talk at the University of Florida on the night of the national championship game in basketball:
I suggest Chabon reschedule for the evening of this year's SEC Championship game in Atlanta. I predict Gators fans will be free that night.

Orson? Orson...??
Warren says bring it on? Awwwww, it' s been broughten, Warren. Here's exactly what other SEC teams will be doing that night as Florida plays Auburn--the one that's beaten the Tide four years in a row and will likely make it five--in the SEC championship that night.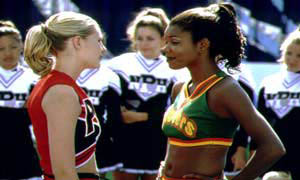 Oh, it's been broughten, Warren.
Tennessee: If country songs are any indication, at home cleaning guns and thinking about long lost high school love in the back of a stylin' 1991 conversion van.
Either that or thinking about just how great life is; with new country, you never know what kind of candy ass, "got three kids and I make 35K a year and ain't it great!" shit you'll get. Likely monitoring spiraling pain in left arm and gurgling noises in chest cavity with insufficient alarm.
Vanderbilt: Also likely at home, wearing powdered wig and breeches, and drinking their third vodka and blood-of-the-innocents of the evening while watching the "Fancy Lad Living" channel, all the while flipping with pleasure to the live feed of the illegal immigrants' Fight Club going on in their basement. "Chauncey, please, next time tell him to go light on the Belvedere and heavy on the special juice, will you?"


The average Vandy fan: relaxing at home, drinking the blood of the innocent.
South Carolina. One word: cockfightin'. Oh, and drinking hundreds of tiny little liquor bottles to dull the pain.
Georgia At home in their jorts, wondering why all these assholes in jorts get to go to the SEC championship game. Cannot watch Auburn-Florida game due to potential of head explosion, opts instead to spend night lighting candles and praying at Herschel Walker shrine in spare bedroom for meteor to strike Georgia Dome.


Ideal outcome of an Auburn/UF SEC Championship game for UGAers.
Kentucky. Extending Rich Brooks' contract to 2016 following 1-10 season.
Auburn. At SEC championship game.
Alabama. Coping with the complete deadlock of the state's court system following a record 1,283 discrete lawsuits filed in connection with the Tide's 6-5 season and fifth consecutive loss to Auburn. Outstanding cases:
--Burleen Strikes' suit against Edmund Gretch of Montgomery, claiming that Mr. Gretch's "callous and harmful obstruction of her view of the Auburn game with his bigass head ruined Ms. Strikes' attitude about the game, thus ruining the Tide's play on the field. "I got to see the game to feel the game," said Ms. Strikes. "And if I ain't feelin' it, the Tide don't win." Ms. Strikes claims this is based on prior evidence including the bout of indigestion that lost the 1994 SEC championship game versus Florida, a case of shingles that ruined most of the 2000 season, and a domestic dispute with her boyfriend Floyd that spoiled last year's LSU game. " That fatheaded man's got to move or the Tide ain't winning a game. And that's gospel truth."
--Logan Young vs. Logan Young Groundbreaking self-sue case. Both maintain their innocence.
--Jim from Hoover vs. Paul "Bear" Bryant. Filed over airwaves on Finebaum at 3:18 p.m., October 17th. Plaintiff is a frequent caller, while defendant is a total stiff. Plaintiff blames coach for dying and deserting team. No comment from the defense as of yet.


Lionel Hutz: busy with football lawsuits in Alabama.
Ole Miss. Likely watching entire team set sail on trireme from Biloxi to Cuba, where Coach Orgeron, pacing decks with bullwhip and wearing centurion's garb, takes the 4-7 Rebels to Guantanamo for "re-education" in football fundamentals.


Real champions crave the oar, Wild Boyz!
Arkansas. Sitting at home wondering why Coach Nutt finally flipped out at halftime of LSU game, ate entire bench towel, and stripped naked before hijacking a helicopter and flying to exile in Haiti. Also wondering why interim head coach Bill "the Thrill" Clinton keeps requesting new equipment girls for late night tutoring sessions...
LSU. Fixing gumbo, preparing hexes, shielding eyes from glare of Les Miles' supernaturally white hat while exposing breasts to passersby for strings of shiny plastic beads. Eyeing levees nervously...
Mississippi State. Hoping Agents Mulder and Scully don't find their mother on her buckboard under the bed. Listening to Johnny Mathis' "Wonderful, Wonderful." (This is a hardcore X-Files reference, so if you don't get it...horseman, pass by!)