Who's hot? Who's not? The bulls and bears are everywhere this week in our EDSBS Mad Money review.

"If you'd bet on Minnesota choking you're eating the giant invisible hoagie of disappointment baby I'm hearing-oooooohhhh yeahhhhh--BULLS FOR GLEN MASON AND THE GOPHERS BUY BABY BUY BABY YEAHHHHH!!!"
Stranko's Buys:
Penn State: I missed the boat on them last week when I made them a sell figuring they had peaked for the year. Well, they proved me wrong and showed that their defense makes them a contender and they have just enough offense to win any game they are in this year.... not that they will, but at least now I believe they can.
UCLA: Drew will be sitting in Manhattan in December. He's a dynamo who propelled UCLA to a huge victory over Cal.
Orson's Buys
Michigan State Drew Stanton is the nationwide leader in passing efficiency rolling into this week's matchup with an Ohio State team that has simplified the complex game of football by eschewing the troublesome concept of offense altogether. The defense is Roman gladiator badness, but the blueprint for Buckeye football '05 is set: play close and lose. Didn't Corso and Herbstreit pimp the hell out of these guys for the MNC? Shouldn't we remember that come pundit-roundup time?
Texas Tech . Benefitted from the mother of all lineman fantasies gone horribly awry when nose tackle Le Kevin Smith made un grand mistake by fumbling un pick from from Msr. Cory Hodges during a tres ill-advised retourne. The Huskers' faithful was truly a bout de souffle a few seconds later as Texas Tech then threw the game-winning TD with ten seconds left on the clock. Wethinks team luck and scheme can carry this charmed team through a home game with grumpy, underachieving Kansas State, keeping Mike Leach munching happily on his KFC for yet another week. The real question is this: does Leach even know his team's record at this point? Does he care?
Florida A pick less for Meyer's ibuprofen-chomping E.R. of a team than daring fate and Les Miles to prove us wrong about him being the SEC's Zook-substitute. Tennessee broke their back at home; why a better-coached Florida team that beat them can't do the same is open for debate. Watch our beloved Gators take the confidence bestowed by an EDSBS pick and go down 78-3 before the officials call the game due to suck.
Stranko's Sells:
Michigan: Probably the most over-rated team of the pre season... unless you count...
Tennessee: With their defense, offensive line, and Riggs they could be undefeated with better play calling and lack of turnovers.
Orson's sells.
Virginia. Al "The Shrug" Groh is enough reason to sell on the Wahoos, but asswipe Brad Butler's all-century cheap shot on Mathias Kiwanuka solidifies their firm slot on the crusty turd list of teams to dump rapido. They've been fatwa'd by us, which means...well, their beer's gonna taste unpleasantly hoppy no matter what they do for the rest of the season. (Some superheroes get flight, eye rays...we get the ability to slightly spoil beer from hundreds of miles away...with our minds.) Take that!
Georgia Tech. We thought about actually walking down the street and taking in last Thursday's game against the Wolfpack until we remembered that:
1. Chan Gailey was still coaching the Yellow Jackets, and
2. It was raining.
After watching them call 53 passes in a tight game with a qb who can't complete half of his passes, we're so glad we didn't waste the energy, since watching two Official Lucky Bastard Coaches© steal another week's salary from their respective universities wouldn't have been worth the five dollars we'd have had to pay on a 28 dollar ticket to get in. Tech's early season bump now looks less attributable to any genius on Gailey's part in the Auburn game and more due to Al Borges' hairbrained plan to let a first time starter chuck the ball 40+ times in a game against a jailbreak defense.
Michigan. Sorry, Brian. You are correct: your team is, in fact, fifth-grade gay.
Stranko's Holds:
Notre Dame: All they have to do is hang tight with USC to let the world know they are back. With two weeks to prepare, I expect they will keep it close until the very end.
Cal: Lost in a shoot out to UCLA. If they can learn to play a little defense they might have a shot a pulling of a big upset this year.
USC: Still the best... even if they keep coming out sluggish.
Orson's Holds:
Penn State. Ooh, magic! Look at the sparkly colors! They...are...Penn...State. And Ohio State is, as a complete team, totally...not...worth...a...shit. Suspicious, especially since we suspect Paterno and Bowden roam the streets of their respective college towns at night wearing elegant Victorian bowlers, enticing the young with absinthe and then satisfying the lust of their ancient curse by draining their bodies of life with their fangs. Both show unusual photosensitivity: Bowden's got the hat, Paterno's got the dark glasses. We're convinced both saw London burn in 1666 and laughed about it over a nice glass of port and a hookah of the Ottoman Empire's finest while watching from a rowboat floating safely in the Thames.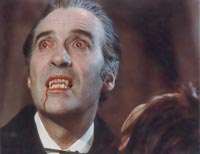 Paterno, sans glasses, enjoys a midnight snack.
Louisville. Like the time we bought a Teenage Fanclub record, losing to USF is an experience bound to haunt one for a long, long time. A classic Petrino scoreboard breaking win over WVU in the "Fuckin' Faggot" Dome this weekend would do a great deal to shake that hangover.
Florida State. Why won't we commit to this team? Is it just waiting for them to face a team with a good defense AND a good offense? Or do we just not trust anything with the words "Jeff Bowden" attached to it? At this rate, the next real game they get may be in the ACC championship game.